Candlelight vigil for the love of animals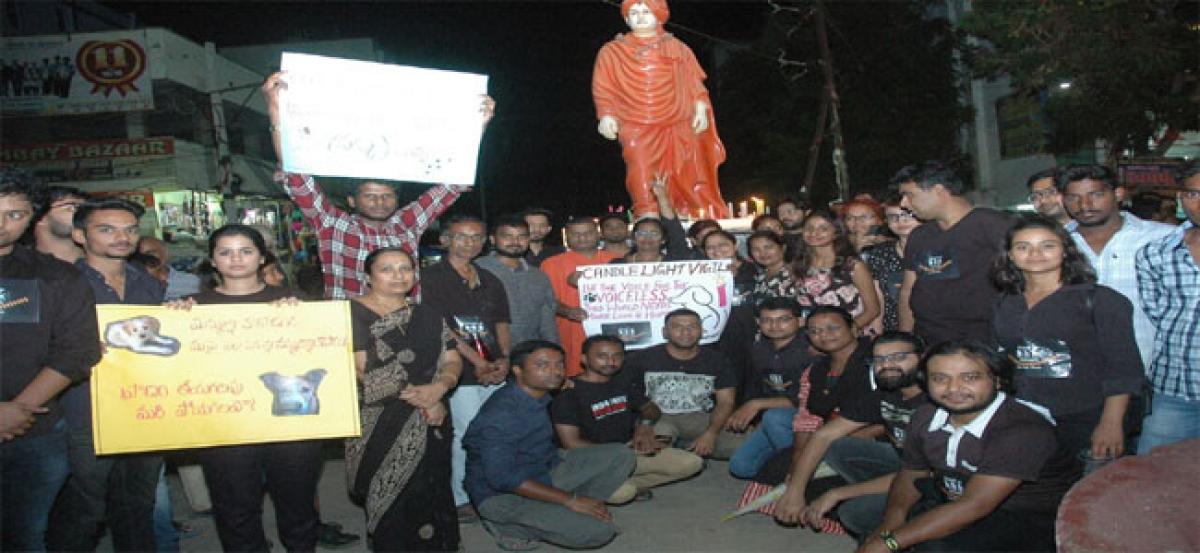 Highlights
A large number of animal and environment lovers come together on Sunday to pay tribute to 150 plus dogs poisoned by local municipality workers.  The dead dogs were found in Kongara Forest.  Sanjeev one of the organizers said, "We aim to condemn this horrific incident and hope to plant seeds of compassion, spread awareness that may motivate and inspire animal and environment lovers of Meerpet."
Jillelaguda: A large number of animal and environment lovers come together on Sunday to pay tribute to 150 plus dogs poisoned by local municipality workers. The dead dogs were found in Kongara Forest. Sanjeev one of the organizers said, "We aim to condemn this horrific incident and hope to plant seeds of compassion, spread awareness that may motivate and inspire animal and environment lovers of Meerpet."
It has been almost a month since the FIR was lodged and samples have been sent for forensic report. The Police until today has not arrested the accused, questioned or tried to investigate but Padmavathi's (the complainant) grief is still fresh as the memories of her sogs still flash and Balakrishna is still on duty. Krishna Reddy is also one of the pet owners who lost his dog.
It s alleged that a municipality worker took a inhumane decision to kill every stray dog that comes into his sight. "With the help of few other workers he arms himself with poison, ropes and nets," says Sanjeev. He then arranges for trolley tractors and shifts the dead bodies to nearest Kongara forest . It is believed that this was being done for almost all a week. Dogs are neutered and municipality does not pick up neutered dogs for animal birth control program. Padmavathi grew suspicious and consulted People For Animals who suggested to check CCTV footage which showed that a municipality worker was taking the dead dogs in a trolley.
Padmavathi says, "When she confronted Balakrishna, the worker gave a false assurance that her dogs will come back soon." Many from the Police department are not even aware that there are Laws to Protect Animals from abuse and harm. Finally with the intervention of PFA, FIR was lodged in Crime No. 366/18 u/s 429IPC, 11(1)(L) of Prevention of Cruelty on Animals Act 1960 Dated 16 May 2018. FIR No 366/2018.

Interested in blogging for thehansindia.com? We will be happy to have you on board as a blogger.