Cheriyal paintings help Secunderabad Railway Station bag third prize for beautification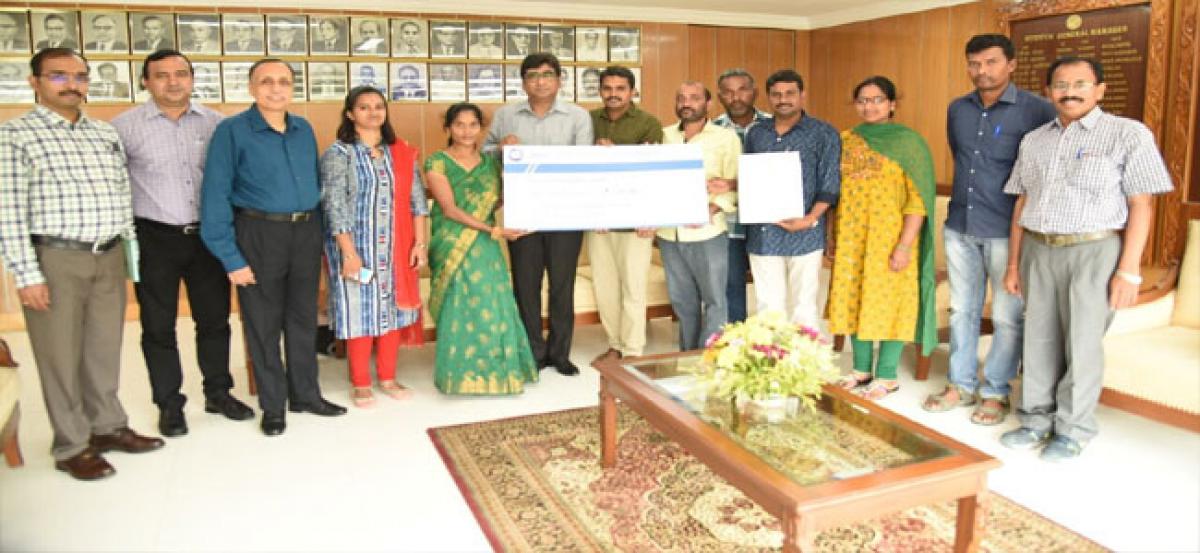 Highlights
Painting the concourse area on both the entry sides as well as waiting halls at the Secunderabad Railway Station have not only caught the attention of passengers but also the higher ups The Secunderabad Railway Station has bagged the third prize for station beautification amongst all stations on Indian Railways
Secunderabad: Painting the concourse area on both the entry sides as well as waiting halls at the Secunderabad Railway Station have not only caught the attention of passengers but also the higher ups. The Secunderabad Railway Station has bagged the third prize for station beautification amongst all stations on Indian Railways.
The South Central railway, general manager, Vinod Kumar Yadav said that the credit to a large extent goes to the Cheriyal Nakashi painting artists who took up the work of beautifying the precincts of Secunderabad Railway station. The artists team comprising eight persons took around a month to complete the work. The team was led by the experienced artists N Ganesh & the brothers D Venkat Ramana & D Pawan Kuma, whose father Chandraiah has been a national awardee for his Cheriyal paintings.
The team had also undertook the painting work of Kacheguda Railway station later.

Cheriyal Nakashi Painting is a very ancient art form, unique to the state of Telangana and occupies a significant niche in Asian artistic traditions. All the team members belong to Cheriyal village of Siddipet district of Telangana. The main occupation of the team is only painting of Cheriyal Nakashi painting. The painting involves choosing subjects out of Mythology, Puranas and Culture and depicting them on the canvas.
While the indoor paintings are generally done in water colors, the bigger canvas outdoors is undertaken with use of acrylic colors. At Secunderabad, the themes included the Bathukamma festival, Telugu marriage, Sankranthi season, Pot making, Agriculture, Village culture and Telangana talli. The painting work needs high standards of workman ship, requiring tough physical and mental exertion.
Other than Secunderabad station, the team did work at various places all over India such as painting works at C&W workshop at Lalaguda, Lalita Kala Academy at New Delhi, Indira Gandhi Rashtriya Kala Kendra, New Delhi, Indira Gandhi Maha Sangrahalaya, Bhopal, Bharat Bhawan Workshop, Bhopal, South Central Zone Cultural Centre, Nagpur, South Central Zone Cultural Centre, Tanjore, South Central Zone Cultural Centre, Chennai, Cultural Centre at Udaipur, Lalitakala Academy, Chandigarh, and Dakshina Chitra, Chandigarh. The artists associated with Cheriyal Nakashi painting are N Vanaja & N.Ganesh; D Deepika & D V Ramana; D Sowmya, D Pawan Kumar, N Ilaiah and B Srinivas.

Interested in blogging for thehansindia.com? We will be happy to have you on board as a blogger.