Talasani undergoes eye test at 'Kanti Velugu' centre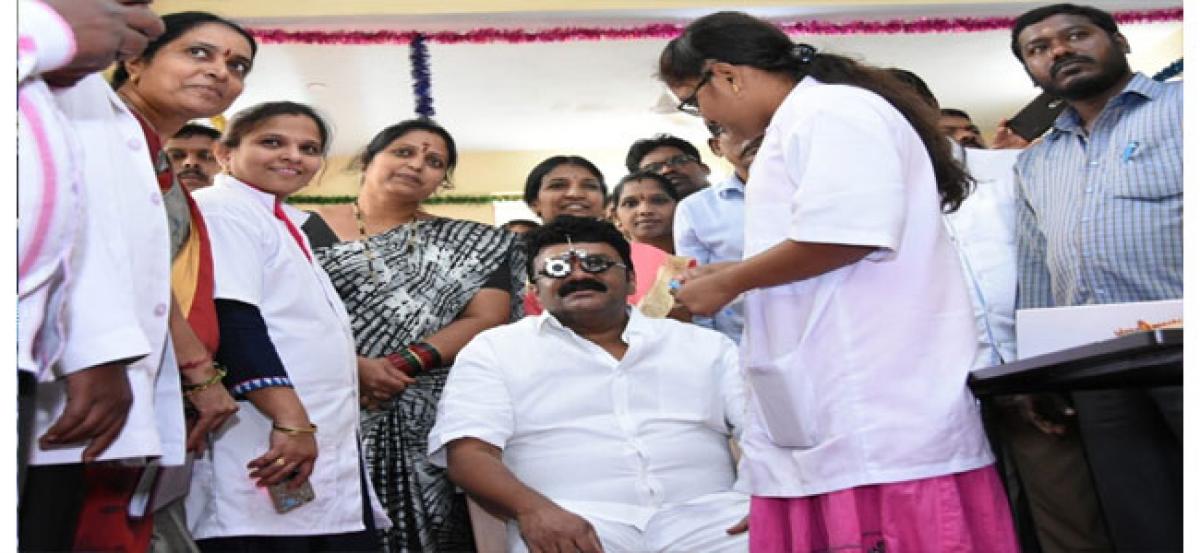 Highlights
Minister Talasani Srinivas Yadav and Corporator Athelli Aruna Srinivas Goud on Thursday visited the Kanti Velugu centre at Victoria Ganj Community Hall The Minister underwent eye test He made enquiries about the doctors functioning
Ramgopalpet: Minister Talasani Srinivas Yadav and Corporator Athelli Aruna Srinivas Goud on Thursday visited the 'Kanti Velugu' centre at Victoria Ganj Community Hall. The Minister underwent eye test. He made enquiries about the doctor's functioning.
Addressing the gathering, Talasani stated that the TRS government had taken up the 'Kanti Velugu' as a prestigious programme by setting up centres across the State. He said this would reflect the efforts being made by Chief Minister K Chandrasekhar Rao for ensuring people's welfare by providing free spectacles.
He said the credit for performing free eye operations should go to KCR, thus bringing light into the dark lives of the visually challenged, who could not afford to approach hospitals for eye tests. Keeping the needs of such people, the government had launched the 'Kanti Velugu' programme. It would prevent blindness. Talasani appealed to people to make use of the programme. Among those present were Greater Hyderabad Municipal Corporation (GHMC) Deputy Commissioner Shailaja, Secunderabad MRO Balashankar, ACHO Rajasri.