South Korean President Park Geun-hye denies charges of fraud and abuse of power as trial begins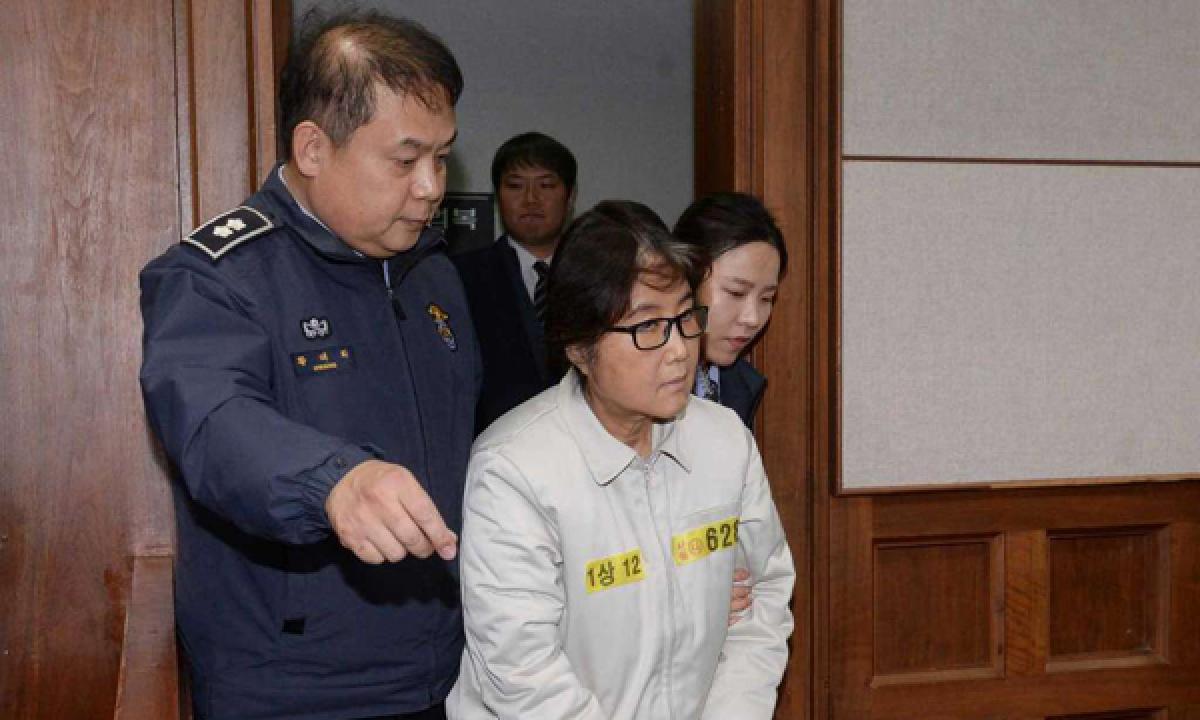 Highlights
A friend of South Korean President, Park Geun-hye at the centre of a corruption scandal that led to Park\'s impeachment in parliament denied charges of fraud and abuse of power on Monday on the first day of her trial. The friend, Choi Soon-sil, 60, is charged with pressuring big businesses to pay money to foundations that backed Park\'s policy initiatives. Prosecutors have named Park
A friend of South Korean President, Park Geun-hye at the centre of a corruption scandal that led to Park's impeachment in parliament denied charges of fraud and abuse of power on Monday on the first day of her trial.
The friend, Choi Soon-sil, 60, is charged with pressuring big businesses to pay money to foundations that backed Park's policy initiatives. Prosecutors have named Park as an accomplice, although she has immunity from prosecution while in office.
Park's powers have been suspended since the December 9 vote by parliament to impeach her, giving the Constitutional Court up to 180 days to uphold or overturn the decision.
In a brief court hearing, Choi denied all charges brought against her by prosecutors. Her lawyer argued that Choi did not collude with Park or other defendants in the case, and also denied the fraud charge.
"I need to clarify the facts now," Choi was quoted as telling the court by Yonhap News Agency. Two former presidential aides who have been indicted along with Choi did not attend the hearing, but their lawyers told the court that they had been following Park's orders.
Choi also said she did not want a jury trial. South Korean courts normally hold criminal trials presided over by a panel of judges, who deliver a verdict and sentence, while defendants in select cases are given the choice of a jury trial.
Her lead lawyer, Lee Kyung-jae, rejected the charge that Choi colluded with Park and one of the former aides to the president, An Chong-bum, to exert pressure on various "chaebol" conglomerates. "We stressed that there was no collusion between Choi and An Chong-bum and the president, and we look forward to having an intense examination over this point," Lee told reporters after the hearing.
Choi, who had not appeared in public since arriving at a prosecutors' office on October 31, was led into court by two correctional officers, her head down, wearing a bulky grey prison suit with a number across the chest. She spoke softly and was barely audible in a brief comment to the court. The next hearing is set for December 29.
Mastermind ?
Park, 64, whose father, Park Chung-hee, ruled the country for 18 years after seizing power in a 1961 coup, has described Choi as a friend she had turned to at difficult times and apologised for carelessness in her ties with her. Park has denied any legal wrongdoing.
Park's lawyers arguing against the impeachment vote in an opinion filed at the Constitutional Court have said the case had no legal basis and was also procedurally flawed, and that the impeachment was based largely on unproven suspicion and charges that were now under investigation and trial.
"This goes against the constitutional principle of presumption of innocence," the lawyers said on Monday. Prosecutors have portrayed Choi as the mastermind in several schemes to gain financial benefit from companies she controlled.
Choi's friendship with Park dates to the time when Park served as acting first lady after her mother was killed in 1974 by an assassin who had intended to kill her father. Her father was shot dead five years later by his disgruntled spy chief.
Choi is the daughter of a religious figure named Choi Tae-min, who was referred to in a United States (US) diplomatic cable as the "Korean Rasputin" for his perceived influence over Park.
The intensely private Park was long criticised for relying on a group of advisers who closely guarded access to her. Choi Soon-sil has been portrayed in media as having inherited her father's influence over Park, who has never married and is estranged from her siblings.