Trump vows to unify US and bring back jobs on inauguration eve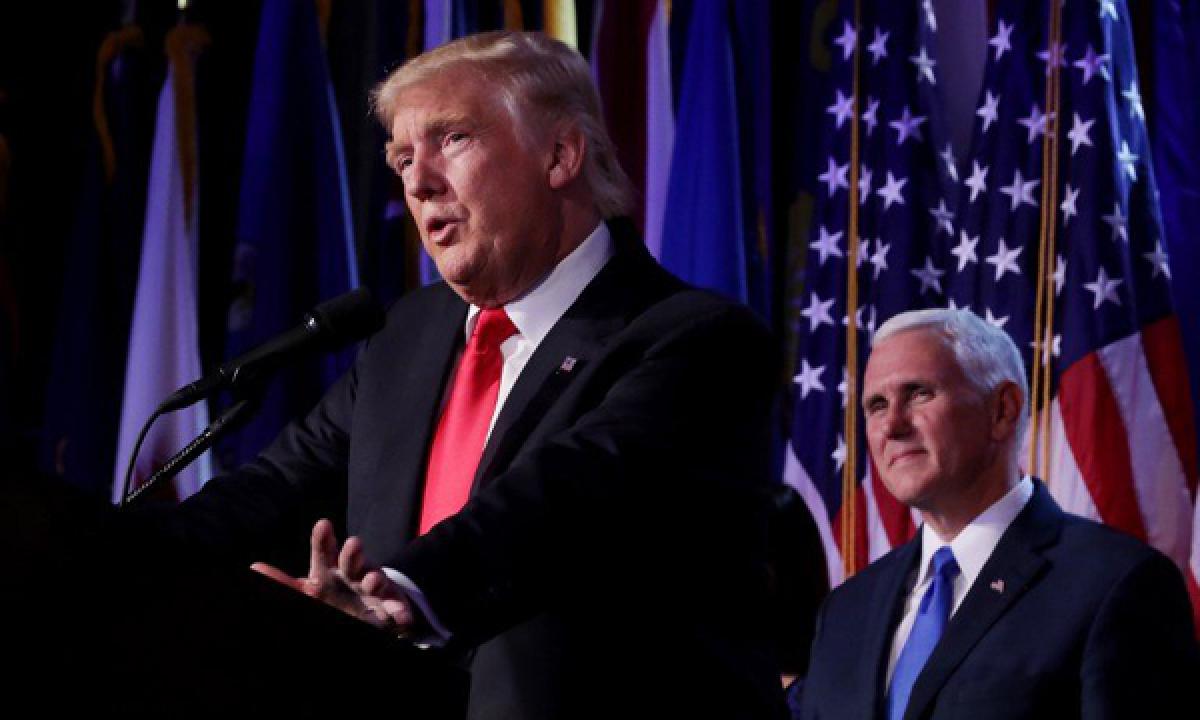 Highlights
Billionaire Republican Donald Trump on Thursday pledged to bring unity to America as he swept into Washington on the eve of the most consequential moment of his life -- his inauguration as 45th president of the United States. On Friday, Trump will cap an extraordinary and improbable run for the White House when he takes the reins from President Barack Obama at mid-day, launching the nation into un
Washington:Billionaire Republican Donald Trump on Thursday pledged to bring unity to America as he swept into Washington on the eve of the most consequential moment of his life -- his inauguration as 45th president of the United States.
On Friday, Trump will cap an extraordinary and improbable run for the White House when he takes the reins from President Barack Obama at mid-day, launching the nation into uncharted waters.
The 70-year-old leader-in-waiting traveled from New York aboard a government jet to a military base near the capital with his wife Melania.
He then spent the afternoon in Washington attending pre-inaugural festivities that have become traditions for presidents-elect.
"We're going to unify our country," Trump told a cheering crowd of thousands in front of the Lincoln Memorial after a concert that ended in a burst of fireworks.
"We're going to do things that haven't been done for our country for many, many decades," he added. "It's going to change. I promise you."
Earlier in the day, Trump lunched with Republican congressional leaders and his cabinet nominees. He then was whisked to Arlington National Cemetery, where he and Vice President-elect Mike Pence laid a wreath at the Tomb of the Unknown Soldier.
He then crossed back over the Potomac River to speak at the marble memorial, where at one point he looked up and saluted the seated statue of Abraham Lincoln.
"There's never been a movement like this," he said, describing the wave of support among working-class Americans who pushed Trump to victory over Hillary Clinton in one of the most divisive elections in US history.
"Well, you're not forgotten anymore," he said. "We're going to get it turned around. We're going to bring our jobs back."
Later he tweeted: "Thank you for joining us at the Lincoln Memorial tonight -- a very special evening! Together, we are going to MAKE AMERICA GREAT AGAIN!"
'American Revolution'
Trump's swearing-in on the steps of the Capitol -- scheduled to be administered by Supreme Court Chief Justice John Roberts at 11:47 am (1647 GMT) -- will be carried live Friday on screens around the globe. Rain is forecast.
Three former presidents will be in attendance along with numerous dignitaries, including his Democratic presidential rival -- a former first lady and secretary of state.
Protesters have vowed to be out in force Friday, and thousands marched in New York on Thursday night, joined by A-list actors Robert de Niro and Alec Baldwin, Oscar-winning director Michael Moore and singer Cher.
But Trump supporters were gathering in Washington to trumpet the success of their man.
"It honestly feels like we won the American Revolution again," gushed Jake, a Trump supporter from California who did not give his last name.
"I really feel like we've taken back our culture, we've taken back our country, because we've really been under attack from a lot of the establishment on both sides of the aisle."
Trump's working-class supporters have sent him to Washington to turn the page on the Obama era and upend the political status quo.
Trump has vowed to act, and swiftly.
He is expected to sign four or five decrees Friday, and then a raft of others beginning Monday to dismantle every policy he can without waiting for congressional approval.
Among his pledges for day one: sign orders to speed deportations of convicted criminals, begin building a wall on the US-Mexico border, and cancel billions of dollars in US funding to United Nations climate change programs.
"He is committed to not just day one, but day two, day three, of enacting an agenda of real change," incoming White House press secretary Sean Spicer told reporters.
Trump's first major legislative lift will be dismantling the health care reforms known as Obamacare.
Congressional Republicans, led by House Speaker Paul Ryan, have sought for years to repeal the Affordable Care Act, and now Trump, despite potential pitfalls, has a golden opportunity.
Farewell
Just blocks away, the Obamas were finishing their packing as they prepared for their last night in the White House.
In some of his final acts as president, Obama commuted the sentences of 330 people, mostly drug offenders, called Chancellor Angela Merkel to declare US-Germany ties "essential," and took a parting shot at Congress for blocking his efforts to shutter the military prison at Guantanamo Bay.
Friday will revolve around the age-old ritual of the swearing-in, when Trump will transform from ordinary citizen to the leader of the world's most powerful nation.
While Trump has confided that he sought inspiration from John F. Kennedy and Ronald Reagan while writing his inaugural address, Spicer said the words will be Trump's own: a personal statement that will be "more of a philosophical document" than a to-do list.
Democrats opposed to a Trump presidency are organizing.
About a third of US House Democrats will boycott Friday's ceremony. In the Senate, Democrats are obstructing the path of Trump's cabinet nominees, only a handful of whom look to be confirmed Friday.
Trump completed his 15 cabinet selections Thursday by naming Georgia ex-governor Sonny Perdue to be agriculture secretary.
For the first time since 1989, the cabinet will feature no Hispanics.
The new administration has asked over 50 individuals to remain in critical posts to "ensure the continuity of government," Spicer said, including Obama's special envoy to the coalition fighting the Islamic State group, Brett McGurk.