Trump order puts Telugu weddings on hold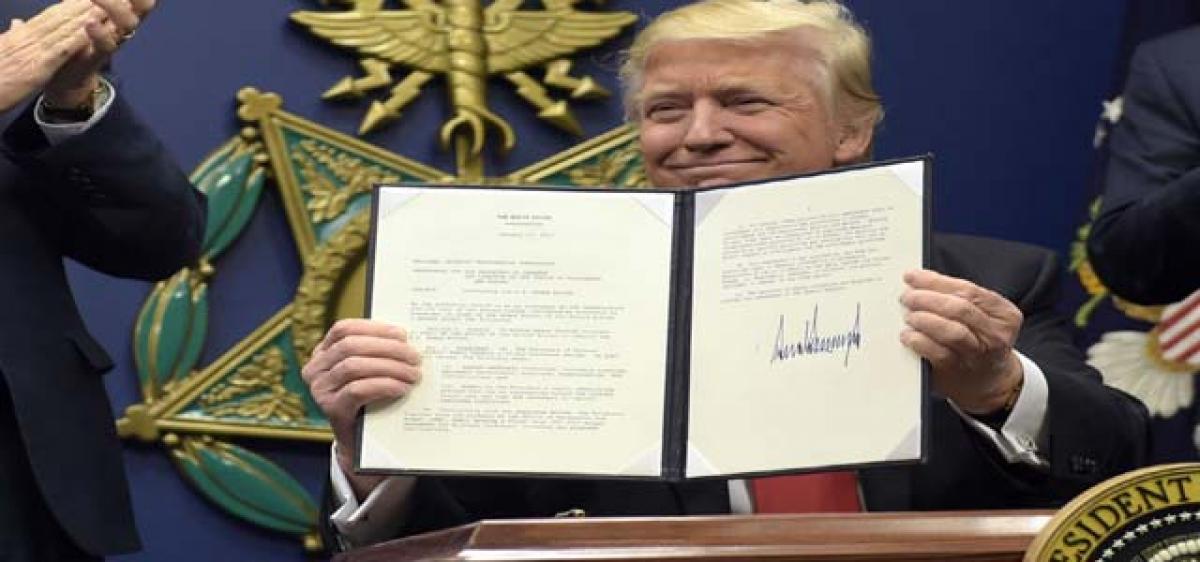 Highlights
A WhatsApp message doing the rounds reads dowry 'rates' this wedding season have plummeted sharply vis-a-vis NRI grooms due to the uncertainty on the...
​Hyderabad: A WhatsApp message doing the rounds reads dowry 'rates' this wedding season have plummeted sharply vis-a-vis NRI grooms due to the uncertainty on the future of H-1B visa holders.
Not just dowry figures, wedding plans of scores of prospective brides and bridegrooms have been stalled, though temporarily, following President Donald Trump's changes in granting H-1B visas.
J-Hub spoke to families who admitted that though this is an auspicious season for weddings, they have put their plans on hold, especially when it involves H-1B grooms. They are adopting a wait-and-watch policy while the H-1B holders' decision not to travel has broken many hearts.
Take the case of a sobbing and heart-broken, Vaishnavi, software techie in an IT firm in Gachibowli. "I was preparing for the marriage after being in relation with a NRI guy for years but now after the new regulations were imposed, I am doubtful that my marriage would ever take place with him as my parents are having second thoughts," she narrates.
Prateek (name changed) working for a software company for three years in the US and is waiting for his H-1B visa to be renewed. His parents succeeded in finding a suitable match for him in Hyderabad through a matrimonial service.
All premarital decisions were taken and Prateek was supposed to touch base to tie the nuptial knot. His stout refusal to travel around this time has put the bride's family in a fix. This has shocked the bride's parents who turned their backs on the groom's family after making all the arrangements, including mobilising the loan amount for dowry.
Perhaps, it is a blessing in disguise, they said and added that "we wanted our daughter to settle down in the US but not in the present uncertain circumstances which could land our daughter in an awkward situation."
"Thank God! I did not get engaged to the H-1B holder from California though my parents were in favour," says Ritu.
"With tougher regulations, all my dreams would have crashed and I would have been left sulking throughout my life," she says.
Madhusudhan Rao, father of 29-year-old Vishnu, BTech, MBA and working as a financial accounting executive in a multi-national company in Hyderabad is hopeful that at least now, parents of would-be brides will realise the importance of prospective bride grooms who have preferred to work in India.
He has been searching for a bride and found it difficult to digest the fact that parents and girls alike were rooting only for NRIs or H-1B holders.
Parvatheesham, who runs a matrimonial service in an informal setting and only for her well-known contacts, points out that there are enquires for grooms in Canada, New Zealand, Australia and European countries.
Yes, there is a perceptible change in the mindset of people towards H-1B holders, she adds Commenting on this sharp drop, C L Pramoda, an Assistant Professor in Communication, says that President Trump's moves have shattered the dreams of many. "We need to understand that today's aspirational generation know what they want and do not compromise.
Look at the matrimonial ads. They are a testimony to this," she says and points out that the West, particularly the US, with its charm and opportunities, has lured the middle and lower classes which have seen an upward social mobility.
This could be the primary reason for the urge to get hitched to US educated software techies. Will the happy days return, only time will tell. Till then all the youngsters have to shelve their plans to say the proverbial, "I do."
Subscribed Failed...
Subscribed Successfully...