California gunman kills wife, self as she teaches class; student also dead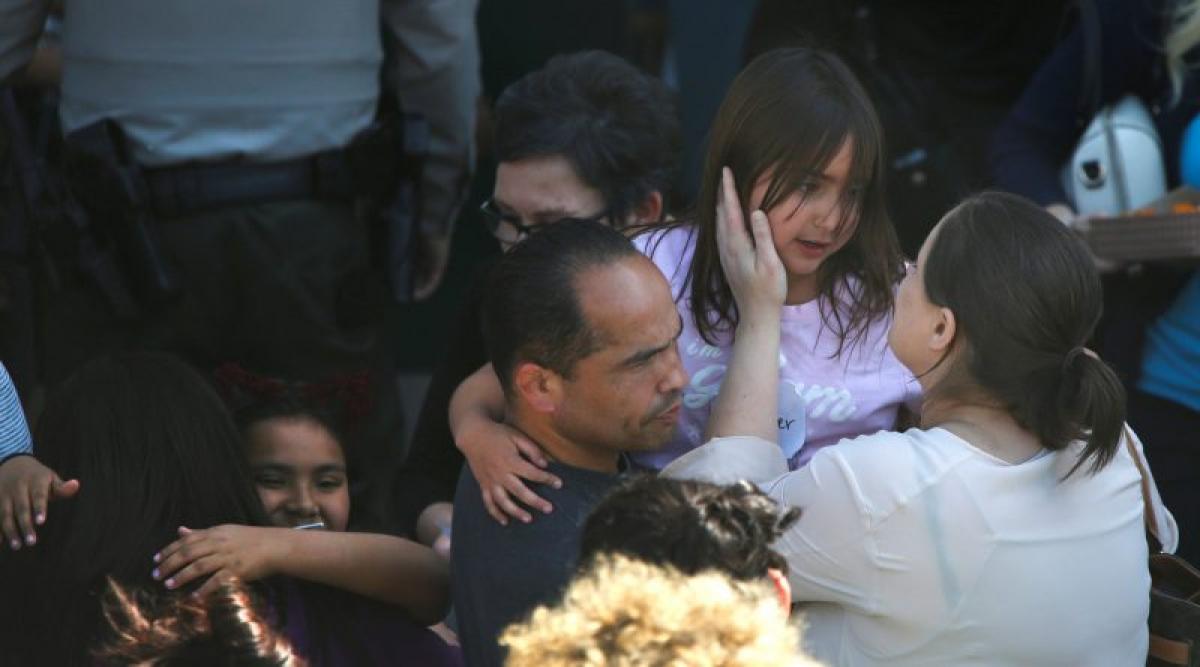 Highlights
A special education teacher and one of her students were fatally shot by her estranged husband when he opened fire with a high-caliber revolver before killing himself in her classroom at a San Bernardino, California, elementary school, police said.
A special education teacher and one of her students were fatally shot by her estranged husband when he opened fire with a high-caliber revolver before killing himself in her classroom at a San Bernardino, California, elementary school, police said.
A second student was badly wounded by the gunman, who authorities said had a criminal history that included weapons charges and domestic violence that predated his brief marriage to the slain teacher.
Police said the two students, both boys, were believed to have been inadvertently caught in the gunfire as bystanders to Monday's shooting, which took place about 8 miles (13 km) from where a radicalised Muslim couple killed 14 people in a December 2015 shooting rampage.
Police Chief Jarrod Burguan said the shooting at North Park Elementary School in San Bernardino, about 65 miles east of Los Angeles, was an apparent murder-suicide. It was the latest in dozens of cases of gun violence at U.S. school campuses.
The gunman was identified as Cedric Anderson, and his wife as Karen Elaine Smith, both 53. Burguan said the couple had been married briefly and had been separated for about a month or month and a half.
The two students struck by gunfire had been standing behind Smith, the chief said. One 8-year-old boy, identified as Jonathan Martinez, died from his wounds. A 9-year-old classmate who was not publicly identified was admitted to a hospital, where he was said to be in stable condition.
Fifteen students and two adult teacher assistants were in the classroom along with the couple at the time of the shooting, police said.
Police said Anderson was welcomed into the school as a legitimate visitor, stopping by the "drop something off with his wife," and kept his weapon concealed until opening fire in the classroom, Burguan said.
Aerial television footage showed children holding hands and walking single-file across the campus to waiting buses.
Parents waved and cheered as they greeted their children, who school staff had plied with bottled water, sandwiches and snack bars while waiting for parents to arrive.
"I'm glad my daughter is fine," said Angelique Youmans, 31, as she hugged her 10-year-old daughter. "She is too young to understand what happened." Samantha Starcher, 25, said she waited four hours to be reunited with her 6-year-old daughter.
"When I heard about the shooting, I started praying, asking God to keep my daughter safe" she said. "She heard two gunshots but she didn't know what it was. I'm not going to tell her (about the shooting) because I don't want to traumatise her." School officials said North Park Elementary would remain closed for at least two days.
The city of San Bernardino last made national headlines on Dec. 2, 2015, when a husband and wife who authorities said were inspired by Islamic extremism opened fire on a holiday office party of county health workers, killing 14 people and wounding more than 20. The couple, Syed Rizwan Farook and Tashfeen Malik were killed by police during a shootout.
Mounting school gun violence
The school shooting came two days after a fitness instructor returned to a Florida gym a few hours after he had been fired and shot two former colleagues to death.
An estimated 10,000 people are murdered with guns each year in the United States, according to federal crime statistics.
The United States has had an average of 52 school shooting incidents a year since a gunman killed 26 young children and educators in Newtown, Connecticut, in 2012, according to Everytown for Gun Safety, a gun-control group founded in response to that massacre.
Total school shootings, a figure that includes elementary schools, high schools and colleges, regardless of whether anyone was killed or wounded, rose from 37 in 2013 to 58 in 2014 and to 65 in 2015, before declining to 48 in 2016, according to the group's data.
With Monday's San Bernardino incident, the United States has had 12 school shootings this year, on pace to match 2016's tally.
Mayor Carey Davis said he had spoken about the shooting to White House officials who said President Donald Trump expressed "concern for students and teachers" at North Park.
Security experts said schools have few options to limit such incidents, given the prevalence of guns in the United States.
"If people have guns, people are going to use guns, so it's literally the price that we pay for that freedom," said. John DeCarlo, a criminal justice professor at the University of New Haven and the former chief of police in Branford, Connecticut.
One answer, he said, would be for all schools to sweep everyone who entered with metal detectors like those used at airports and sports venues. U.S. Education Department data said just 2 percent of U.S. schools require people entering to pass through metal detectors, up from 1 percent in 2000.
Gun control activist Shannon Watts, who founded Moms Demand Action for Gun Sense in America following the Newtown shooting, said her group will continue to push for regulation on gun access rather than metal detectors as a solution.
"It's a cultural question," she said. "Do we want to become a country of magnetometers and safety checkpoints and gun lockers?"