Childhood that chokes behind brick-kilns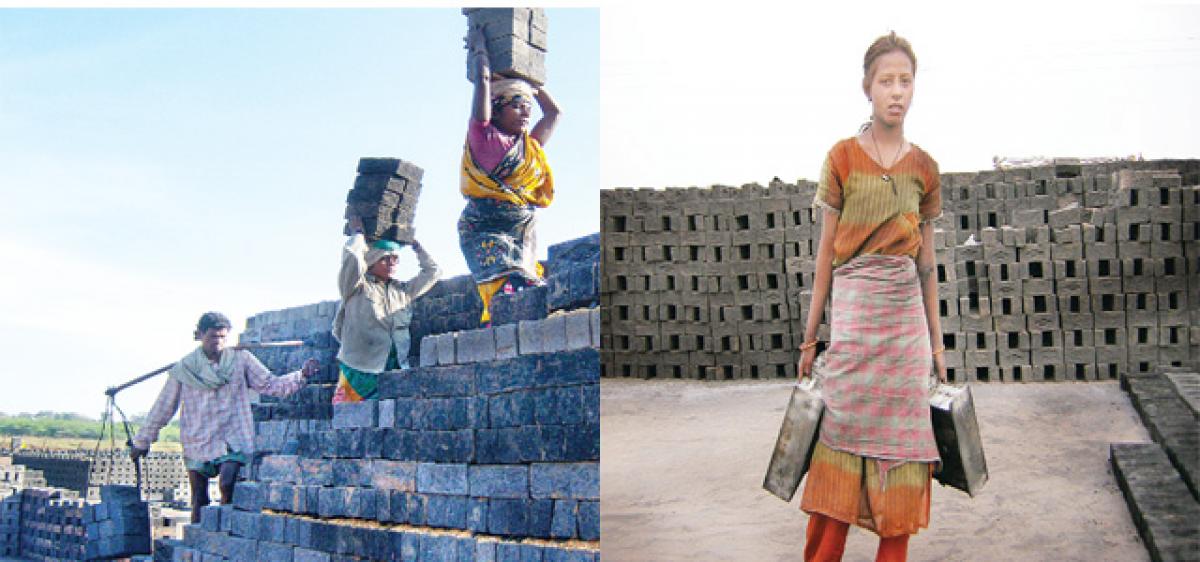 Highlights
Hyderabad: A latest survey conducted this year by Solidarity Committee for Odisha (Western) Brick-Kiln Workers in Telangana State and Telangana Vyavasaya Union shows that there are 554 brick kilns across 55 villages in 22 revenue mandals in Telangana
Hyderabad: A latest survey conducted this year by Solidarity Committee for Odisha (Western) Brick-Kiln Workers in Telangana State and Telangana Vyavasaya Union shows that there are 554 brick kilns across 55 villages in 22 revenue mandals in Telangana but they are devoid of schools for children.
In all, over 18,836 labourers are working in brick-kilns across Telangana, while nother 12,000 to 15,000 children lend a helping hand.
A Krishna of Prayas, an NGO working for minimum wages for brick-kiln workers, said, "There has been no effort by the Sarva Shiksha Abhiyan to ink an MoU with the Odisha government as 90 per cent of the workers hail from the State, to set up schools."
Most workers come to Telangana from Bolangir, Teetlaghar, Kalahandi and other places in Odisha. Earlier this month, as many as 200 children were rescued from brick-kilns in Choutuppal by the Rachakonda Police, but people in the know of things said it was just the tip of the iceberg.
There are thousands of children as young as five-year-olds who work from five in the morning.
Out of the 554 brick kilns, about 300 are in the radius of 100 km from Hyderabad and the remaining are in 120 to 150 km away. A total of 109 brick-kilns are situated in Dundigal area with 3,892 adults and close to 1,500 children working in them.
Bhubana, a worker from Bolangir at Dundigal said, "If a school is set up and teachers from Odisha are brought, our children would not face the same problem we face."
Children turn over bricks that are placed for drying every few hours and transfer the bricks from one place to another.
As per the government rules, Sarva Shiksha Abhiyan schools need to be set up at the site. The government schemes such as Rashtriya Swasthya Bima Yojna remain non-starters.