Kinnerasani, Palair Old Canal commissioned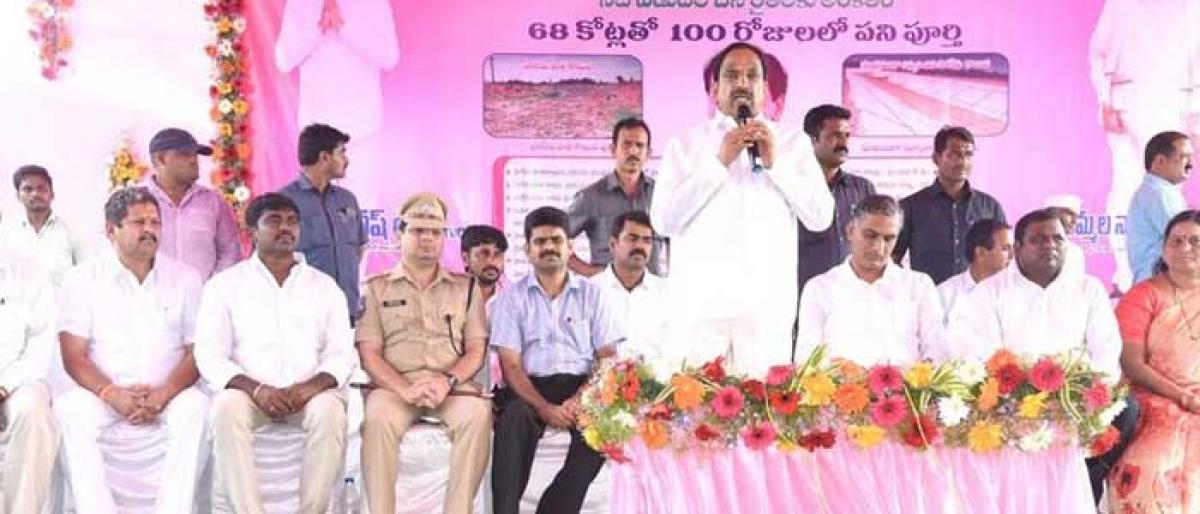 Highlights
History will be created very soon by bringing the Godavari waters to the Palair, assured the Irrigation Minister T Harish Rao here on Monday.
Palair project will irrigate more than 21,000 acres in Nelakondapalli and Kusumanchi mandals
Khammam: History will be created very soon by bringing the Godavari waters to the Palair, assured the Irrigation Minister T Harish Rao here on Monday.
The Irrigation Minister along with Roads and Buildings Minister Tummala Nageswara Rao released water at Palair on the occasion of successful completion of modernisation works of Palair Old Canal by investing Rs 64.50 crore, here in Kusumanchi mandal of Khammam on Monday.
Speaking on the occasion, the Irrigation Minister said the State government was creating history by completing the developmental works before the prescribed time limit as per the promise.
With the firm determination of R&B Minister Tummala Nageswara Rao and with the blessings of Chief Minister K Chandrashekar Rao, the Bhakta Ramadasu works were completed in the record time of just nine months.
And now by completing the modernisation of Palair Old Canal works within four-and-a-half months, the State government has created history, Harish said.
"Previous government did not take initiation in repairing canals and did not complete any work out of 34 projects that they started under Jalayagnam. And by implementing EPC system in construction works, many leaders of previous governments resorted to graft," he alleged.
By suspending the EPC system along with handing over the survey and designing works to the departments concerned, the state government has completed projects such as Palair Old Canal, Palair Vagu, Low level canal works in Nalgonda and Manthini project in Karimnagar in the prescribed time limit, Harish boasted.
He added that after the completion of land acquisition, the Sitarama Project works would be completed on war foot to supply water for two crops through Nagarjunasagar left canal.
The Roads and Buildings Minister said, "It is my dream to bring Godavari waters to the Palair which is fulfilled today. With the initiation taken by the Irrigation Minister T Harish Rao, many projects are completed in record time in the State."
Under Palair Old Canal, which runs about 23 kilometres, more than 21,000 acres, in Nelakondapalli and Kusumanchi mandals, can be brought under farming, said Tummala.
Later, the Ministers felicitated Nagarjunasagar Project Engineers C Sunil, CH Sai Baba, M Venkateshwarlu, Manmadha Rao, Banala Ramesh Reddy and contractor Mogili Srinivas Reddy for completing the Palair works in a short span.
SC Corporation Chairman Pidamarthi Ravi, Zilla Parishad Chairperson Gadepalli Kavitha, District Collector D S Lokesh Kumar, Commissioner of Police Tafseer Iqbal, DCCB Chairman Muvva Vijay Babu, MLA Banothu Madan Lal, Agriculture Market Chairman R J C Krishna, MPP Kavitha, and Palair Sarpanch R Madhavi Reddy were present along with others.
In Kothagudem: Tummala Nageswara Rao released water from Kinnerasani project through the left canal and asked farmers to raise commercial crops as the lands are very fertile.
Dedicating the left canal of Kinnerasani project to farmers, he said the Koilsagar, Nettempadu and Kalwakurthy lift irrigation schemes would be completed soon.
The left canal has been executed at a cost of Rs 36.82 crore. Tummala asked the farmers to use sprinkler and drip irrigation and cultivate crops instead of sowing the water-intensive crops.
Meanwhile, Irrigation Minister T Harish Rao, who was expected to release the water from the project, had to left for Hyderabad due to inclement weather.
Bhadradri-Kothagudem District Collector Rajiv Gandhi Hanumanthu, MPs from Khammam and Mahabubabad Lok Sabha seats Ponguleti Srinivas Reddy and Prof Sitaram Naik, MLC Balasani Lakshminarayana, Pinapaka MLA Payam Venkateswarlu, TRICOR Chairman Tati Venkateswarlu, Joint Collector Ram Kishan, Irrigation Executive Engineer Venkateswar Reddy and others took part in the programme.