Solving public problems, transparency core agenda of government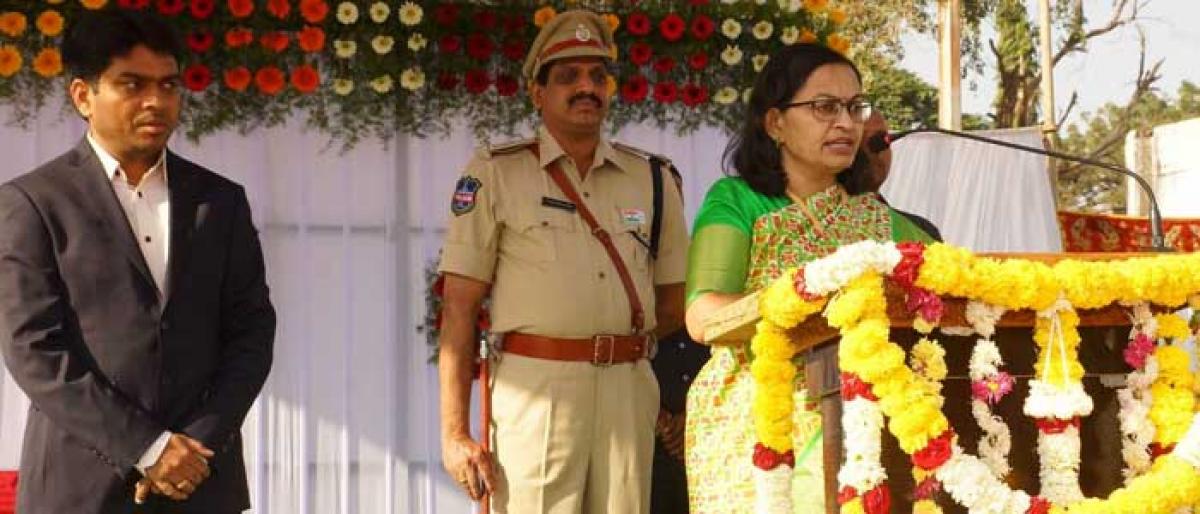 Highlights
The 69th Republic Day was celebrated on a grand note in Nalgonda, Suryapet and Yadadri districts on Friday. After hoisting the tri-color flag at parade grounds in respective district headquarters, Collectors Guarav Uppal, Surendra Mohan and Anitha Ramachandran respectively, stated that the State government was working with an agenda to solve public issues along with ensuring transparency in the ad
Nalgonda/Suryapet/Bhongir: The 69th Republic Day was celebrated on a grand note in Nalgonda, Suryapet and Yadadri districts on Friday. After hoisting the tri-color flag at parade grounds in respective district headquarters, Collectors Guarav Uppal, Surendra Mohan and Anitha Ramachandran respectively, stated that the State government was working with an agenda to solve public issues along with ensuring transparency in the administration.
In Nalgonda, Collector Gaurav Uppal informed that the government had taken up Dindi Lift Irrigation project to solve fluoride problem in Munugodu and Devarakonda constituencies in the district. Under this project about 23.68 TMCs water would fill the proposed reservoirs at Singarajpally, Gottimukkula, Kishtarampally, Chintapally and Shivannagudem. About 5,800 acres have been acquired and tenders were called for Rs 4, 637 crores for the construction of reservoirs agreements were made with different agencies. So far, works of reservoirs worth Rs 300 crores were completed, he added.
Gaurav informed that the works of Mission Bhagiratha are going on a fast pace to provide 100 liters of water per person in villages and 135 liters in towns. Rs 472 crores were sanctioned for the construction of internal pipelines. So far, 966 OHSR tanks were constructed and pipelines for a stretch of 98 km were laid against the target of 2,767 km. By the end on June this year, all the habitations in the district will get safe drinking water, he added.
Giving details about Mission Kakatiya, he said restoration of 1,274 village tanks were taken up under four phases in the district with an estimated cost of Rs 478 crores. Restoration of 799 tanks were already over with an expenditure of Rs 156 crores and restoration of the remaining tanks will be completed by June this year.
He informed that the State government had sanctioned Rs 420 crores for the construction of 8,155 double bedroom houses in the district. The construction works of 67 houses were already completed and works of the remaining 1,019 houses were under progress.
The Collector said that the Jana Mythri progrramme by the district police was giving good results, 756 CCTV cameras were installed in various towns in the district to keep an eye on suspicious persons and to keep a tab on crime.
Tableaux of different departments depicting welfare schemes being implemented by them attracted the spectators. The demonstration of SHE Teams using drone cameras to watch selected areas became the centre of attraction. Cultural programmes presented by students of different schools filled the air with patriotism at the respective venues.
So also Suryapet Collector Surendra Mohan and Yadadri-Bhongir Collector Anitha Ramachandran in their speeches explained the status of welfare and development activities being carried out in the districts and achievements since the formation of the respective districts.