Annamaya musical concert held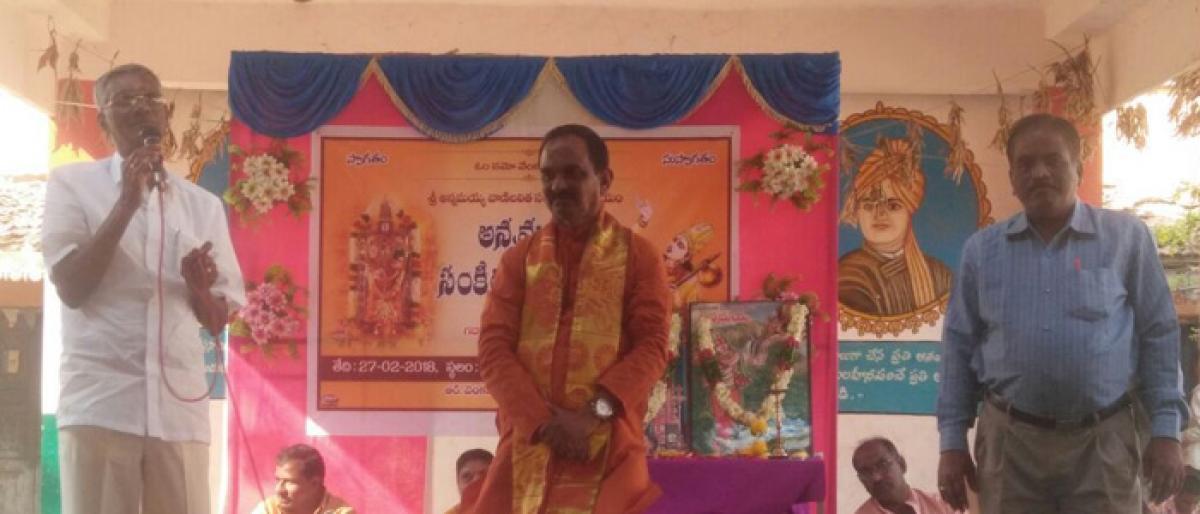 Highlights
With modernity and western style of music, pop songs and other frenzy stylish zaps becoming popular, youth have lost touch with social, cultural and traditional value. In view of this the teachers at Zilla Parishad High school (ZPHS) boys at Marikal have made an attempt to rejuvenate and instil among the youth rich cultural and traditional music by conducting a one-day programme called 'Annamaya S
Mahbubnagar: With modernity and western style of music, pop songs and other frenzy stylish zaps becoming popular, youth have lost touch with social, cultural and traditional value. In view of this the teachers at Zilla Parishad High school (ZPHS) boys at Marikal have made an attempt to rejuvenate and instil among the youth rich cultural and traditional music by conducting a one-day programme called 'Annamaya Swararchana' on Thursday.
As part of this, senior teacher Balalingaiah of ZPHS Marikal roped in leading traditional melody singer Gadwala Chandrasekhara Rao and recited all the popular Annamaya Keertahanas at a programme organised at the school premises. While speaking on the occasion Balalingaiah said, "Youth and students are very much addicted to disco and pop music of the present-day.
In order to protect our culture and our traditions, this kind of programmes may bring some change in the youth and rejuvenate cultural and traditional values among the generations to come."
The singer Chandrasekhar Rao recited various devotional and melodious songs like 'Adigo...alladio Srihari vasamu... , Nijama nigamantavarnitha manohara..., and oke kulam oke matam andaru okate..., etc songs which instilled the youth with devotion and inspired them to be patriotic with these songs.
Manohar Reddy a senior advocate, social worker and a philanthropist attended the programme as the chief guest and exhorted the youth to not to get carried away by the westernisation and advised them to take forward our rich culture and traditional values.
Madhusudhan Reddy M EO, Narayana, Rajesh, Mallesh, Srikanth Reddy , Surender Reddy and other teachers participated in the programme. R Venkat Prasad also philanthropists contributed for the successes of this programme.