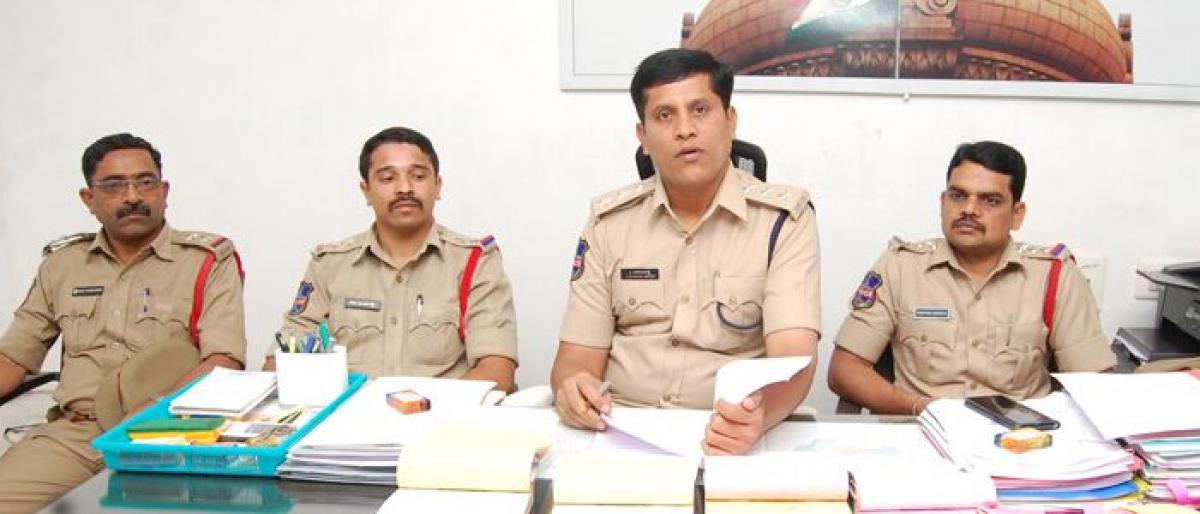 Highlights
Kodad police on Thursday arrested nine persons in connection with illegal sand transportation with fake permits and bills and seized five tractors and fake bill books and rubber stamps from the alleged kingpins accused Naveen and Srinivas
Kodad: Kodad police on Thursday arrested nine persons in connection with illegal sand transportation with fake permits and bills and seized five tractors and fake bill books and rubber stamps from the alleged kingpins accused Naveen and Srinivas
The arrested were identified as Yendarthi Yugender (26) of mudigonda mandal, Anumulapuri Naveen (21) of penphad mandal, Narinedi Srinivas (32) of kodad town, Jinkala nagaraju (24) of Kodad mandal, Mathangi Naresh (23) of jaggiahpet manadal of Krishna district, Vallapu Upender (25) of Kodad mandal, Cherukuri siadulu (26) of Mudigonda mandal of Khammam district, Thipparthy Satyanaryana (40) of Jammigadda of Suryapet town and Chittoju Nagaraju (38) of Suryapet town.
Producing the arrested before the media, DSP Ramana Reddy said that, on February 24 as a part of routine checking, kodad police checked the bill of a sand tractor being supplied to Utttam Padmavathinagar in the town , the bill was on the name ofA.Anjaneyulu of 22nd ward of town. On suspicion, police sent the bill to Penpahad mandal Tehsildar office for cross-checking and found it a fake bill with forgery signatures and duplicate official stamps.
Police took the tractor owner Anumulapudi Naveen into the custody. and during the investigation, he revealed that he along with Narinedi Srinivas in a bid to make fast buck, with the help of saidulu, sand permits and bills with label of Penphad mandal tehsildar office were printed at Swathi printing press of Suryapet and Sindhu printing press of Kodad and prepared rubber stamp of respective office at Venkata ramana runbber stamps making shop .
Using duplicate stamp and stolen rubber stamp by Srinu and printed bills, they prepared sand permission bills by forgery signature of official concerned.
By Using fake sand permission bills, Villakari Srinu transported the sand of 500 trips, whereas Anumulapudi Srinu transported 200 trips of sand illgally from Dosapahad to Kodad town. Anumulapudi Srinu bought a tractor with earned money from illegal transportation.
Anumulapudi used his easy money (Rs 5,00000) for his personnel needs and to pay EMIs to a tractor which he bought for suppling of sand.
Police arrested four tractors drivers of Srinu and Naveen for extending cooperation for their illegal sand business.also arrested the Swathipriniting press owner, Venkat Ramana stamp maker. Police seized two sand tractors, two rubber stamps and two bill books from Anumulapudi Srinivas and three sand tractors, three rubber stamps and two bill books from Srinivas.
DSP Ramana Reddy complimented the police for arresting the san mafia.