MSP, a joke for TRS: TJAC chief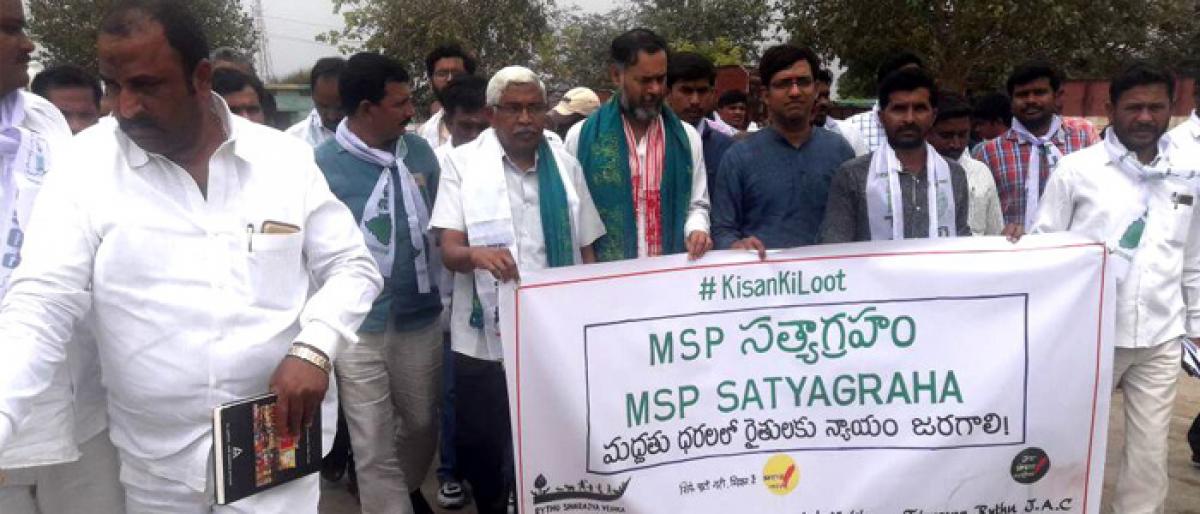 Highlights
Telangana Joint Action Committee (T JAC) Chairman Prof M Kodandaram here on Friday felt that "the minimum support price (MSP) for farm produce has become a joke in the State under the TRS regime."
Suryapet: Telangana Joint Action Committee (T JAC) Chairman Prof M Kodandaram here on Friday felt that "the minimum support price (MSP) for farm produce has become a joke in the State under the TRS regime."
As part of MSP Satyagraha Yatra along with Swaraj Abhiyan party national president Yogendra Yadav, Prof Kodandaram interacted with farmers in Suryapet and Kodad.
Speaking on this occasion, T JAC Chairman accused the State government of completely failing to provide MSP to farmers for their produce. Groundwater levels in the State had depleted due to 24-hour power supply, he said. He demanded that the government pay compensation todamaged crops due to untimely rains and dry conditions. There is a huge gap between government promises and budgetary allocations for the farm sector, he pointed out.
Stating that the government has shut the red gram purchasing centres though the farmers still have the produce to sell. The farmer, who sold the red gram in the purchasing centre, did not get payment even after the lapse of one month, he said.
The budgetary allocation for providing input subsidy at the rate of Rs 4,000 to each farmer cannot cover all the farmer. The funds allotted in the budget can help only 60 per cent of farmers, he said. He described the State budget as mere numbers game. A large number of farmers along with local JAC leaders welcomed Prof Kodandaram.