Officials told to speed up land acquisition for various projects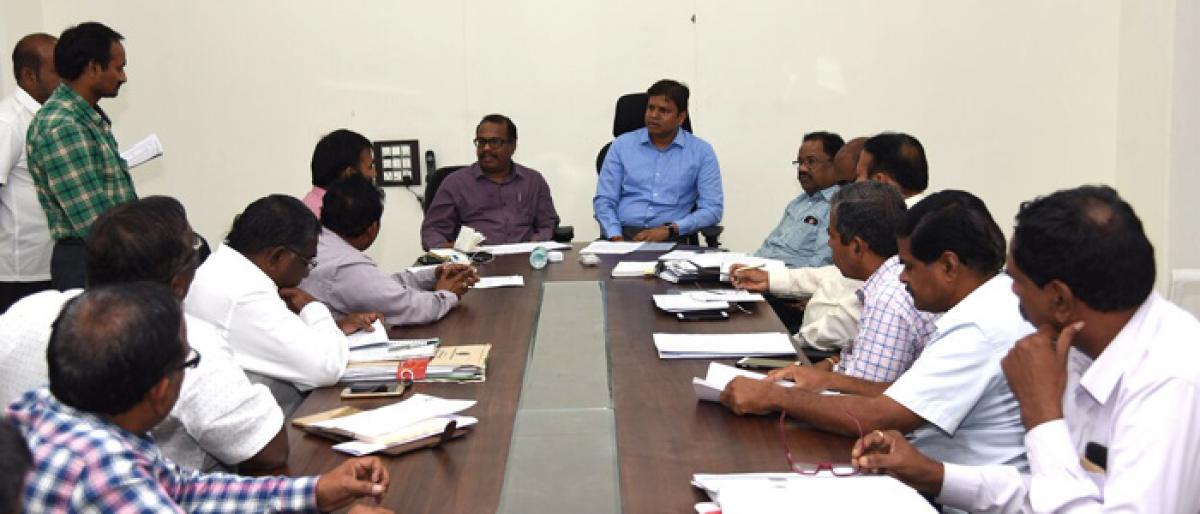 Highlights
As various projects taken up in the district are moving on a slower pace, the district administration lead by Sub-Collector Krishna Aditya and Joint Collector S Venkat Rao reviewed the progress of construction of national highway, railway line doubling works, construction of new bypass road and other R&B works
Mahbubnagar: As various projects taken up in the district are moving on a slower pace, the district administration lead by Sub-Collector Krishna Aditya and Joint Collector S Venkat Rao reviewed the progress of construction of national highway, railway line doubling works, construction of new bypass road and other R&B works. The officials directed the officials concerned to revisit the reasons for delay and asked them to first accelerate land acquisition process for all these projects on a war foot and ensure all these projects were completed in a targeted time period i.e., by end of next year.
Addressing the officials at the Collector's chambers on Tuesday, both the officials expressed their displeasure over land acquisition process of Koilsagar project. "Even though 95 per cent of the project is completed, about 5 per cent works left incomplete due to slow pace of land acquisition. We have directed the concerned revenue officials to first complete the land acquisition and speed up works to ensure the remaining over works are completed in time," said Joint Collector S Venkat Rao.
Particularly, the Koilsagar project is being delayed due to land acquisition of a small chunk. The process of land acquisition is going on at a snail's pace as the officials concerned are not concentrating much on that project. The officials also enquired from the officials of national highway and R & B authorities on the problems faced by them in land acquisition for bypass road and for NH 167 and asked them to resolve all the issues on priority.
The district authorities also enquired about the railway track doubling works at Jadcherla and sought information on land requirement for the construction of new railway station at Maganuru mandal. The officials from National Highway said they required 25 acres at Makthal and informed the district authorities that if markings on national highway at Jadcherla and Midjil mandals were completed, it would facilitate to carry out survey works at a faster pace and necessary required land can be acquired for the construction of national highways in the district.
Later, the officials also enquired with the R&B authorities about the road works being taken up from Nawabpet mandal to Jadcherla mandal. They asked the officials to complete land acquisition works on war foot at Teegalapally, Karukonda and Siddotam, and directed the concerned departments to ensure all works were completed in the stipulated time.
The Sub-Collector also focused on the progress of ongoing works of Palamuru Ranga Reddy Lift Irrigation project (PRRLI) and asked the concerned engineers, contractors to submit weekly report on the progress of works. "As the state government is very serious to complete all the ongoing works of roads, PRRLI works, irrigation projects, we are reviewing all the developmental works on weekly basis. Farmers who are losing lands as part of the projects and road widening, the officials are directed to pay compensation without any delay," said Joint Collector Krishna Aditya.