MRPS conducts cycle yatra in Khammam for social change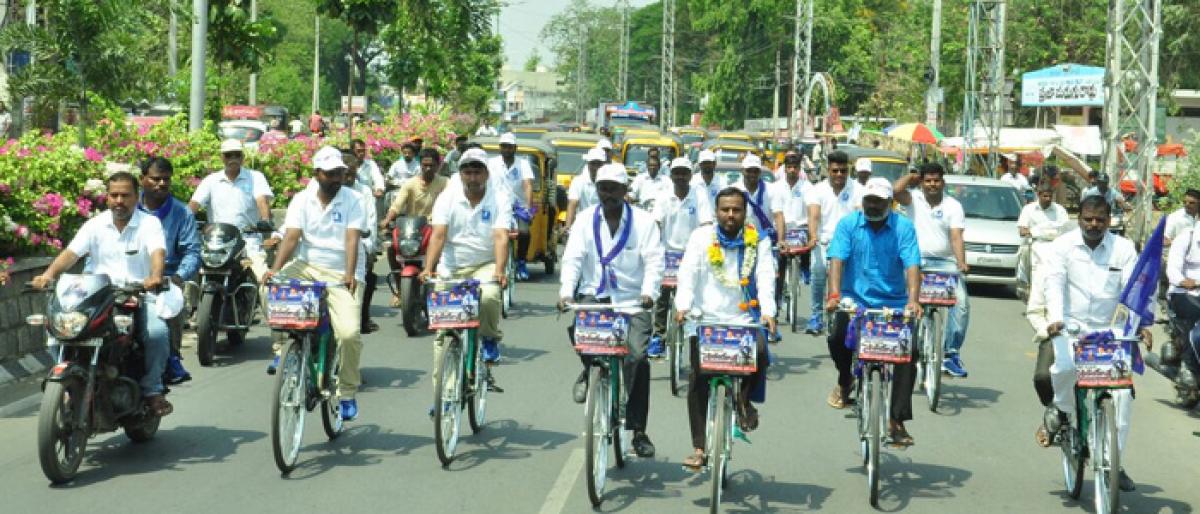 Highlights
Working president of Madiga Reservation Porata Samiti (MRPS-TS) Vangapalli Srinivas Madiga here on Thursday said a cycle yatra was conducted to usher in social change. He demanded that the government establish Social Welfare University in the district. Representatives of the MRPS-TS, led by Srinivas Madiga, held the cycle yatra from Nelakondapalli mandal on Wednesday. The yatra reached the Khammam
Khammam: Working president of Madiga Reservation Porata Samiti (MRPS-TS) Vangapalli Srinivas Madiga here on Thursday said a cycle yatra was conducted to usher in social change. He demanded that the government establish Social Welfare University in the district. Representatives of the MRPS-TS, led by Srinivas Madiga, held the cycle yatra from Nelakondapalli mandal on Wednesday. The yatra reached the Khammam on Thursday.
Speaking to the media, Srinivas said the upper castes took the advantage of education for their economic development. He exhorted the Dalits to focus on education for their development. The government, which showed interest in allowing private Universities in the State, is not making efforts to establish an university for Dalits, he said.
Official spokesperson of MRPS-TS Perla Madhu Madiga and the District President Lanka Venkateshwarlu along with others welcomed the cycle yatra when it entered Khammam.
Led by Srinivas Madiga, the MRPS-TS leaders Kolluri Venkat, Kongara Shankar, Marapaka Narendar, Thappatla Praveen, Shaganti Rajesh, Adimalla Govardan and Varigaddi Chandu participated in the Cycle Yatra.