May Day observed on a grand note in Kothagudem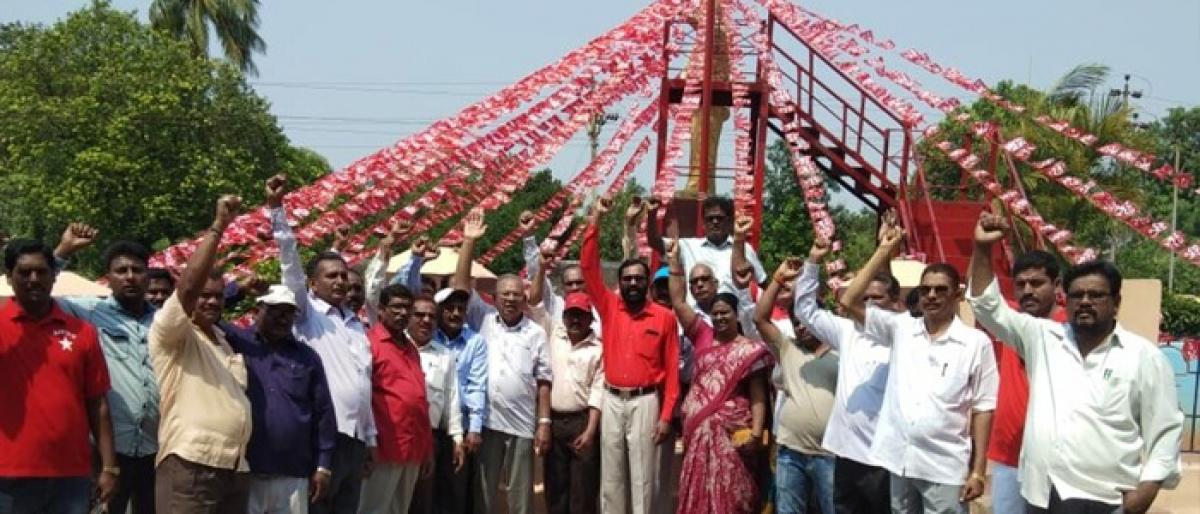 Highlights
Various trade and labor unions across the district celebrated the May Day on a grand note in the district on Tuesday.  All the district centers were...
​Kothagudem: Various trade and labor unions across the district celebrated the May Day on a grand note in the district on Tuesday. All the district centers were decorated with red flags and all roads witnessed rallies led by trade union workers and leaders.
Unions INTUC, TBKS, CITU, IFTU,and AITUC have organised conducted various programmes in the district. CPI State joint secretary and former MLA Kunamaneni Samba Siva Rao attended the programmes and participated in the rallies along with party workers. He hoisted the party flags at all the centers in Kothagudem and Palvoncha.
Addressing the party workers, Samba Siva Rao said that Chief Minister K Chandrashekar Rao was ruling like an autocrat by adopting anti-labour policies. Both the governments at the Centre and the State have been trying to suppress the rights of labourers, which they earned after sacrificing several lives. Not only that, the governments are trying to amend the laws to suit corporate companies, he criticised.
Party district secretary Shabbir Pasha gave a call to the workers to make a united fight to protect their rights like wages, social security etc., on this May Day. Singareni Collieries Workers Union leaders Seshaiah and Vanga Venkat said that May 1 has been celebrated as workers' right day to commemorate the martyrs, who sacrificed their lives for protecting the rights of workers in the historic movements held at Chicago city in 1886. During the time, they were trying to hoist the flag on the occasion in the coal area centers.
CITU leaders also conducted rallies in all centers and leaders have hoisted the party flag. During the rallies, the leaders and workers raised slogans of May Day. Union district secretary A Satyanarayana, CPM secretary A Kanakaiah and CITU Singareni leaders M Narasimha Rao participated in various programmes.
They alleged that the workers of various organisations were unable to get minimum salaries for the hard work they put in and without a job guarantee due to the anti-people policies adopted by both the State and Central governments. The government was arresting those, who demand their rights, they added.
Kothagudem, Palvoncha, Yellandu, Aswaraopet, Manuguru, Sarapaka and Bhadrachalam were heated up with the slogans of May Day from morning hours.
Subscribed Failed...
Subscribed Successfully...