Rajinikanth, Sivakarthikeyan pays last respects to Karunanidhi, people throng Rajaji Hall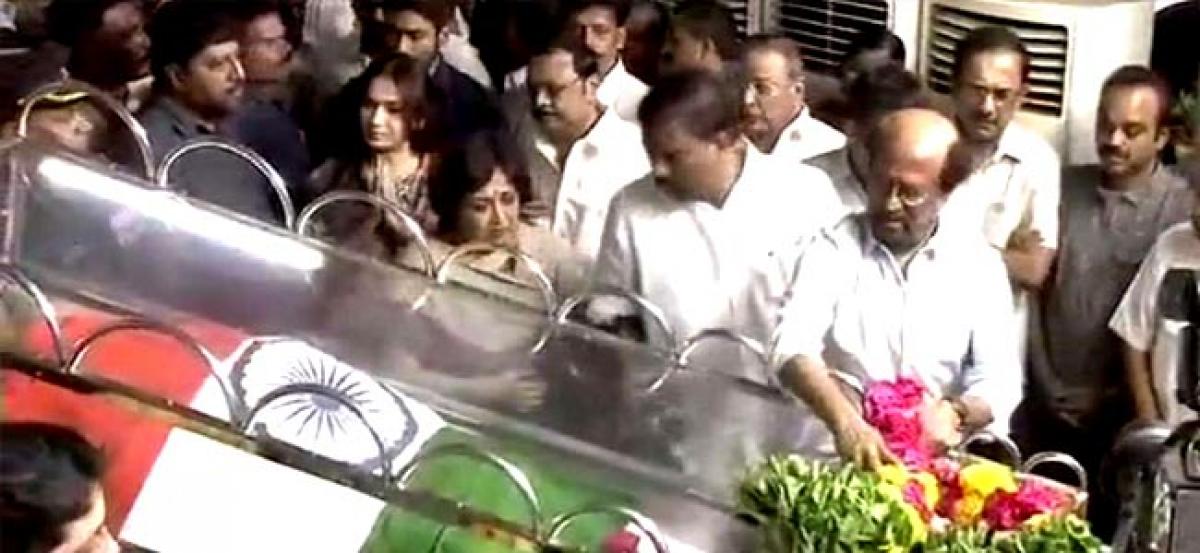 Highlights
People queued up in large numbers early this morning at Rajaji Hall here to pay their last respects to DMK president M Karunanidhi who died yesterday after prolonged illness
Chennai (Tamil Nadu):People queued up in large numbers early this morning at Rajaji Hall here to pay their last respects to DMK president M Karunanidhi who died yesterday after prolonged illness.
Tamil Nadu Chief Minister K Palaniswami and his deputy O Panneerselvam, Lok Sabha Deputy Speaker M Thambidurai, senior state ministers, AMMK leader and RK Nagar MLA TTV Dhinakaran, superstar Rajinikanth and his family, and actor Sivakarthikeyan among others paid homage to Karunanidhi.
Speaking to reporters, Palaniswami said Karunanidhi's demise was a "big loss to Tamil Nadu".
He extended his sympathies to DMK working president and Leader of Opposition, MK Stalin, Karunanidhi's family, and the DMK workers.
Palaniswami and Panneerselvam had a brief conversation with Stalin during which they apparently extended their sympathies to him over the loss.
Karunanidhi's body was earlier brought to the stately Rajaji Hall from his CIT Nagar residence for the public to pay homage to the former chief minister.
The Indian tricolour was draped over the body of Karunanidhi. His relatives, including children Stalin, MK Selvam and Kanimozhi, were seen standing beside the mortal remains of the Dravidian stalwart.
Prime Minister Narendra Modi among others are scheduled to pay homage later in the day to the leader, fondly addressed as Kalaignar (artiste).
Grim-faced party leaders and MLAs were seen seated along the stairs of Rajaji Hall.
Supporters and mourners started pouring in at Rajaji Hall early in the morning, with some of them raising slogans hailing their 'thalaivar' (leader).
Chants of supporters seeking a space at the Marina beach for the burial of Karunanidhi could also be heard, especially during the visit of the AIADMK delegation.
The DMK had late last night moved the Madras High Court against the government's refusal to its demand for space at the Marina for Karunanidhi citing certain court cases.
The AIADMK government had offered to allot space at Sardar Patel Road, near the memorials of former chief ministers C Rajagopalachary and K Kamaraj.
A high court bench is slated to delver its verdict on the matter today.
The 94-year-old leader breathed his last at the Kauvery Hospital in downtown Chennai at 6.10 pm yesterday after waging a grim battle for life for 11 days.