KCR seeks fresh mandate for 'golden Telangana'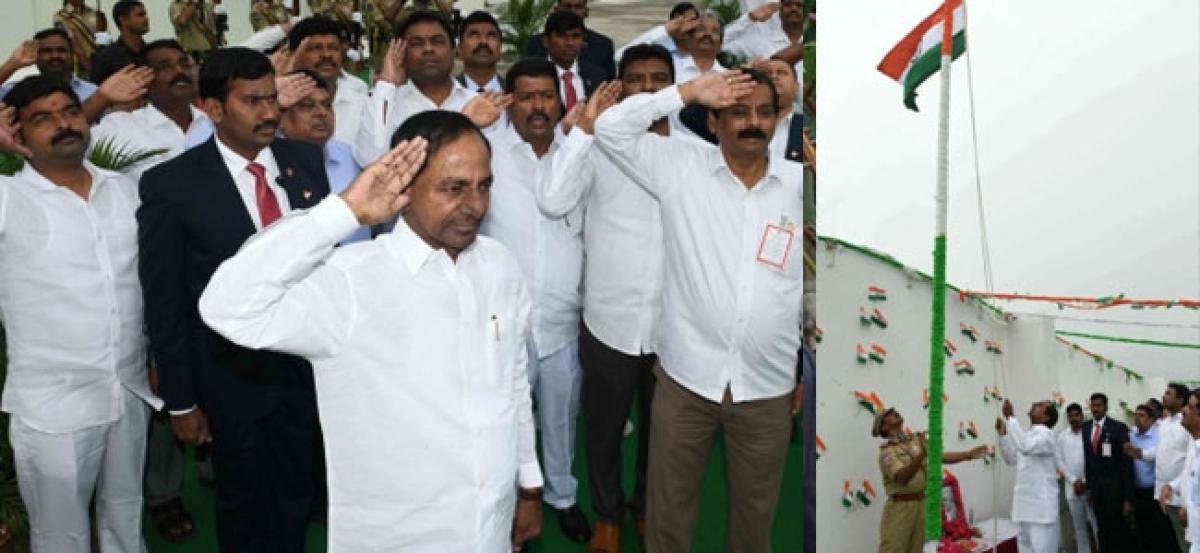 Highlights
Amid talk of early polls, Telangana Chief Minister K Chandrasekhar Rao on Wednesday appealed to people to continue their support in his pursuit to transform the state into a golden Telangana
Hyderabad: Amid talk of early polls, Telangana Chief Minister K. Chandrasekhar Rao on Wednesday appealed to people to continue their support in his pursuit to transform the state into a 'golden Telangana'.
The Telangana Rashtra Samithi (TRS) chief, who recently dropped hints of polls being advanced, said the blessings of the people were a source of strength for him.
In his speech at the main official function to mark India's 72nd Independence, he recalled the struggle for Telangana state under his leadership and said the people did not rest till achieving the goal which was considered impossible by many.
He claimed that the government not only put to rest all doubts about the viability of Telangana as a state but made it a model for the entire country.
In his hour-long address, he spoke at length about the initiatives taken by the state during last four years for all-round development and welfare of all sections of the society.
KCR, as Rao is popularly known, also referred to Prime Minister Narendra Modi's recent speech in Parliament in which he praised Telangana. He said Modi lauded Telangana for acting with maturity after bifurcation of Andhra Pradesh by focusing on development.
"As he said we refrained from playing cheap politics and raking up unnecessary disputes."
Without naming any party, KCR said attempts were still being made to stall the state's march on the path of progress. Stating that for last four years the state was registering annual growth rate of 17.12 percent, he vowed to use the surplus revenues for eradication of poverty.
He claimed that with annual expenditure of Rs 40,000 crore on 40 welfare schemes, Telangana had the largest welfare budget in the country.
KCR spoke about waiver of loans of farmers, investment support to farmers at the rate Rs 8,000 per acre per annum, overcoming electricity shortage, 24 hour free electricity to farm sector, completion of pending irrigation projects, revival of irrigation tanks, drinking water supply to every household.
He announced that the government was launching from Wednesday two new schemes to provide free eye care to the entire population and Rs.5 lakh life insurance to farmers.
The Chief Minister said during last four years, the IT sector attracted huge investment and the annual IT exports had reached Rs 1 lakh crore.
He claimed that since the launch of new industrial policy to give all approvals for industrial units within 15 days, the state attracted Rs 1.32 lakh crore investment, providing employment to 8.37 lakh people.
Under the new policy, 7,697 approvals were granted and out of them 5,570 units commenced production.
KCR said the government was undertaking infrastructure projects worth Rs35,000 crore to make Hyderabad a global city. He announced Rs 50,000 crore will be spent in the next five years to further improve the infrastructure and basic amenities in the city.
He said a 330 km long regional ring road would be constructed around Hyderabad to provide better road connectivity between the state capital and other towns.
He announced the second phase of Hyderabad metro rail project will be thrown open next month.