Titli hits coconut, cashew farmers hardly - Ten years time required for revival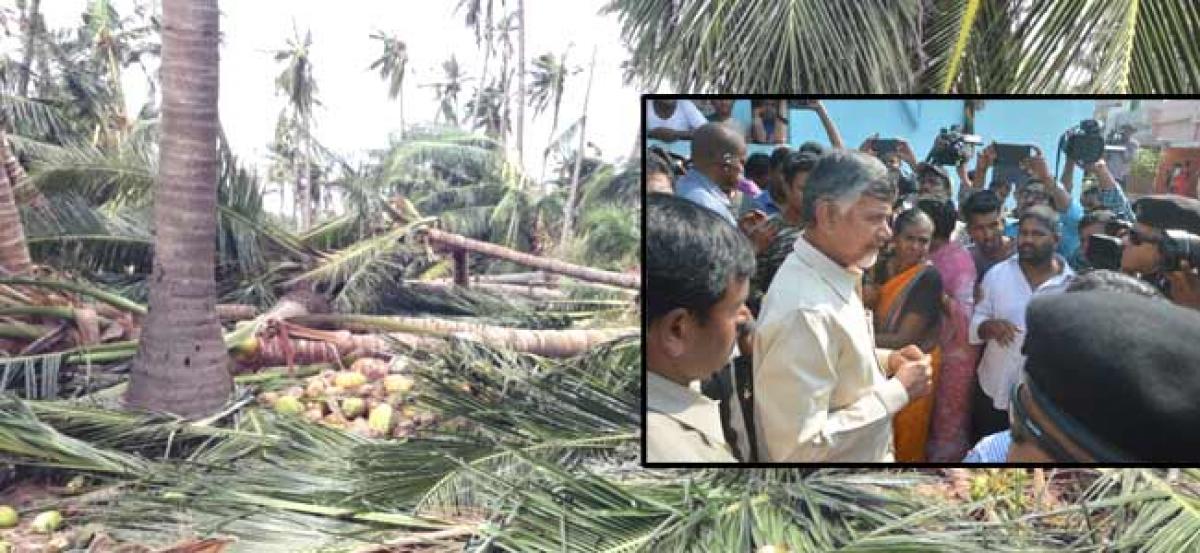 Highlights
Titli cyclone hits coconut and cashew farmers hardly in Itchapuram, Kaviti, Kanchili, Sompeta, Mandasa, Vajrapukotturu, Palasa, Meliaputti, Sitampeta and Tekkali mandals
Srikakulam: Titli cyclone hits coconut and cashew farmers hardly in Itchapuram, Kaviti, Kanchili, Sompeta, Mandasa, Vajrapukotturu, Palasa, Meliaputti, Sitampeta and Tekkali mandals. As per officials' estimations all horticulture crops banana, papaya, coconut, cashew damaged in 4,513 hectares total loss enumerated as Rs 580 crore. But on field it is more than the estimations as officials yet to start ground level enumeration and they prepared estimations tentatively.

Unlike other agriculture and horticulture crops coconut and cashew are required at least ten years for getting yields and it is long period and loss ridden farmers are unable to wait and invest for years together by leaving everything at the will of climate and nature.

Coconut and cashew trees fell on fields in all coastal and other mandals due to high velocity winds. In adjacent villages of sea coast Boddapadu, Iddivanipalem, Donkuru, Mathanapalli, Neelavathi, Gurudaspuram, Rangoyi, Lotturu, Bathupuram, Pallesaradhi, Dokulapadu, Gollapadu, Chinavanka, Kidisingi, Nuvvalarevu, Cehlloru, Geddavuru, Gollalapalem and other vilalges coconut and cashew trees carried with roots by high speed winds.
Removal of damaged cashew and coconut trees is required hard labour and expensive to avoid it state government assured to remove these trees under Mahatma Gandhi National Rural Employment Guaranatee Scheme (MGNREGS).
'For growth of a coconut tree required at least ten years period and yield started from eleventh year and we have to invest all the ten years period at this juncture we are unable to do it' farmers, Savara NarayanaRao, Maddila RamaRao, Thamada Sanyasi Rao explained their woes before The Hans India.
'Cashew tree reached to harvest stage after eight years of its plantation and it needs protection and conseravtion which involves huge investment how we can start fresh plantation of cashew plants and government need to provide financial aid to us' farmers, P.Kameswara Rao, K.Dhushyantha Rao, B.Purusottam demanded.
'Government should provide input subsidy for at least eight years for cashew and ten years for coconut then only farmers will overcome cyclone loss' demanded human rights forum state vice president, KV Jagannadha Rao.