Grand Alliance finalises seat sharing pact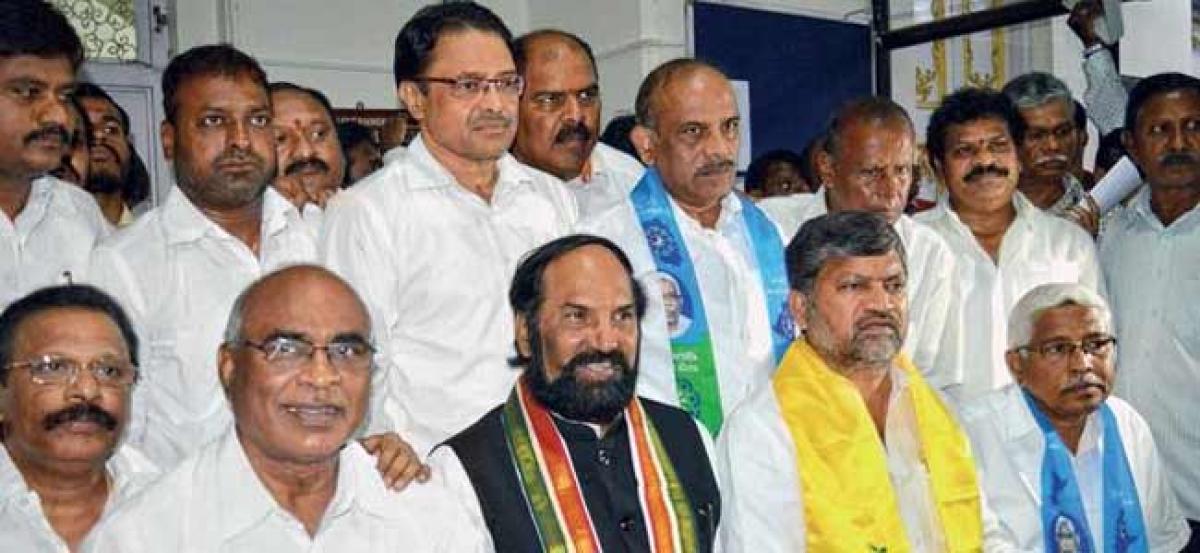 Highlights
The Grand Alliance of Congress, TDP, TJS and CPI has reportedly finalised the seat sharing pactAccording to sources, Congress party will contest on 94 seats while it left 25 seats for its allies Of this, TDP will contest on 13, TJS on 8 and CPI on 4 seats The Congress party has reportedly agreed to leave another 45 seats for the allies The final decision will be taken in Congress Election
Hyderabad: The Grand Alliance of Congress, TDP, TJS and CPI has reportedly finalised the seat sharing pact.

According to sources, Congress party will contest on 94 seats while it left 25 seats for its allies. Of this, TDP will contest on 13, TJS on 8 and CPI on 4 seats. The Congress party has reportedly agreed to leave another 4-5 seats for the allies. The final decision will be taken in Congress Election Committee meeting to be held in New Delhi on Thursday.

TPCC President Capt. N. Uttam Kumar Reddy has already reached Delhi on Wednesday while other senior leaders including Jana Reddy, Shabbir Ali and Bhatti Vikramarka have been asked to reach the national capital by Thursday morning.

According to sources, the Congress party is also likely to release the first list of 70-75 candidates on Thursday.

Meanwhile, Telangana TDP president L. Ramana, TJS president Prof. M. Kodandaram and CPI Secretary Chada Venkat Reddy held a meeting in the city on Wednesday to discuss on the seats offered by the Congress party. The meeting was reportedly called by Ramana who wanted to convince Kodandaram and Chada Venkatreddy on the seat-sharing pact. During the meeting, TJS and CPI have asked for increase in two more seats each. If the proposal is accepted then the Congress might have to sacrifice another four seats for its allies.

Speaking to media persons after the meeting, Kodandaram said that the Congress party would be playing the role of an elder brother in the alliance. He said the alliance has been formed to defeat the corrupt and dictatorial rule of TRS and Chandrashekhar Rao. He made it clear that the TJS has no plans to disassociate himself with the alliance and contest alone.