Amritsar grenade attack: Congress MLA lodges FIR against AAP's HS Phoolka for his remarks on Army chief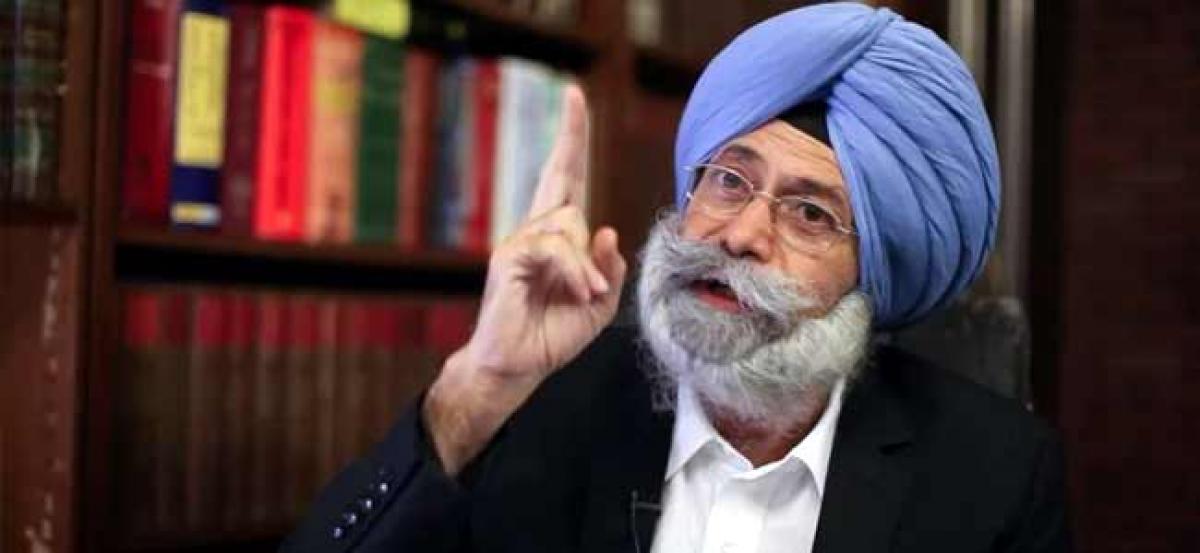 Highlights
A day after Aam Aadmi Party AAP leader HS Phoolka accused the Army chief of orchestrating an attack Congress MLA Rajkumar Verka has lodged an FIR against the former
A day after Aam Aadmi Party (AAP) leader HS Phoolka accused the Army chief of "orchestrating an attack" Congress MLA Rajkumar Verka has lodged an FIR against the former.
Speaking to ANI on Monday, Verka said, "On whose instructions is Phoolka giving such statements? Is Kejriwal going to answer? Is he in agreement with his statement? No one can tolerate such words for the army, we will register an FIR against Phoolka."
Phoolka, however, tendered an apology for his remarks against the Army Chief.
"My statement has been totally misunderstood. Please see the full video, the whole statement was actually against the Congress, and not against the respected Army Chief. Still, it was an inadvertent comment and I regret it," Phoolka told ANI.
On Sunday, Phoolka had said, "Army Chief came and made a statement. To prove his statement, he could have orchestrated the attack. This matter should be looked into. Did government do it (attack)? Did the earlier government do it now? It is wrong to repeatedly say that Punjab's atmosphere is not good. We must get to the root of it. Government must get to the root of it. Those who made false statements about Maur blast, what action has been taken against them? Punjab is a sensitive state. One must not make statements without facts. One must not make accusations. Get to the root of it - who did it?"
Later Phoolka tweeted to clarify: "Please see whole video. An inadvertent statement made standing on road is being blown out of proportion. I have stated that history is evidence of that fact that governments in the past have caused violence to further their interest. Like in last year's Maur blast no one should reach a conclusion without detailed impartial investigation. Even a moderate person like me who has always been against Khalistan thinks so. I regret statement that may have purported to be against the Army Chief."
The AAP leader stirred the controversy with his statement following a blast on Sunday at the Nirankari Bhawan in Rajasansi village in Amritsar.
In Phoolka's defence AAP leader Sanjay Singh told ANI, " HS Phoolka has regretted his statement, he shouldn?t be defamed on the basis of an impromptu comment. He?s been fighting for justice for 84 riots victims for last 35 years, he should be given credit for it. He shouldn?t be targeted in this manner."
Meanwhile, Punjab Chief Minister Captain Amarinder Singh on Sunday did not rule out the involvement of ISI-backed Khalistani or Kashmiri terror groups in the blast at Nirankari Bhawan in Amritsar's Rajasansi village that took place earlier on Sunday.
The Chief Minister said, "The possibility of involvement of Inter-Services Intelligence (ISI)-backed Khalistani or Kashmiri terror groups cannot be ruled out. Police teams have been rushed to raid suspected hideouts of the assailants and multiple teams are investigating various angles to crack the case."
Punjab Chief Minister has already announced a compensation of Rs 5 lakh for the kin of the deceased and free treatment for those who got injured in the blast.
Following the blast, Punjab's Director General of Police (DGP) Suresh Arora also visited the incident spot. He said that the incident was being "counted" as a terror act and more details would be found after investigation.
"We are taking this incident as a terror act. At this stage, it is difficult to establish the link but we will find out in further investigation. It will be too early to come to any conclusion. Overall we know that efforts were being made but in this particular case unless or until we come to the conclusive evidence we cannot say anything at this point in time. Let's not get into presumptions. As far as this incident is concerned, I would say that we will find out the truth and then will come back," DGP Arora said.
Two assailants on bike threw grenades at the Nirankari Bhawan, where few hundred people were gathered for a religious congregation, killing three and injuring as many as 20 people.
Subscribed Failed...
Subscribed Successfully...