60 drug peddlers paraded at the CCB office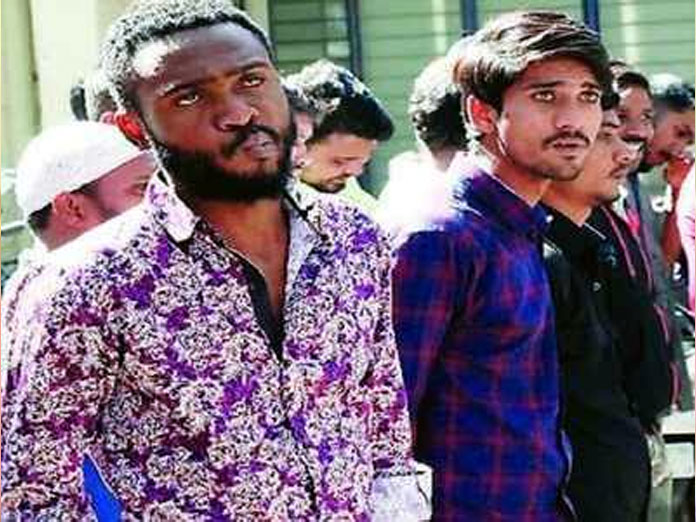 Highlights
On Friday during a police parade two drug addicts and peddlers had admitted that, around 80 of drug peddlers are addicts themselves and are in the trade only to fund their habits
ADVERTISEMENT
Bengaluru: On Friday during a police parade two drug addicts and peddlers had admitted that, around 80% of drug peddlers are addicts themselves and are in the trade only to fund their habits.
A man of the Nigerian nationality and a man belonging to the state of Tamil Nadu, were arrested for allegedly drug peddling, as they have come out on bail recently. They took part in the first-ever drug peddlers' parade which was held at the Central Crime Branch office. "We never dreamt of becoming drug peddlers. But our addiction to drugs and the related financial crisis forced us to enter the trade. At least 80 of 100 peddlers are addicts and take to peddling to meet their expenses."
The Nigerian national had said that, he entered the country five years ago on a business visa but turned into a drug peddler. "An Indian man from Kerala visited us and promised us a bright future in the garment business. He said he would offer us double the Nigerian market price for supplying him jeans material. Trusting him, we came to Kerala and started the business. For the first four months, everything was fine. But he cheated me of over Rs 1 crore. If I go back, I will be arrested as my business partners have filed a police complaint," he said.
The Tamil Nadu man said that, he had developed the addiction during college days. "I live in a village near Hosur on the TN border and am jobless. Addicted to ganja since college, I discontinued studies and became a peddler. I used to supply ganja to college students and IT professionals in Bengaluru and at rave and New Year parties. Now, I have quit everything and am looking for a decent job," he said.
On Friday 60 drug peddlers were paraded on the premises of CCB which is located on Goodshed Road near Majestic and additional commissioner of police (crime) Alok Kumar also interacted with them. As he counselled some young peddlers, who were caught for the first time, Kumar had warned of taking up rigid legal action against the repeat offenders. "We need to take stern action against drug peddlers as students and young professionals are falling prey to to the bad habit. But first-time offenders need counselling rather than punishment," he said.