Greed for power united imposers and critics of Emergency: PM Modi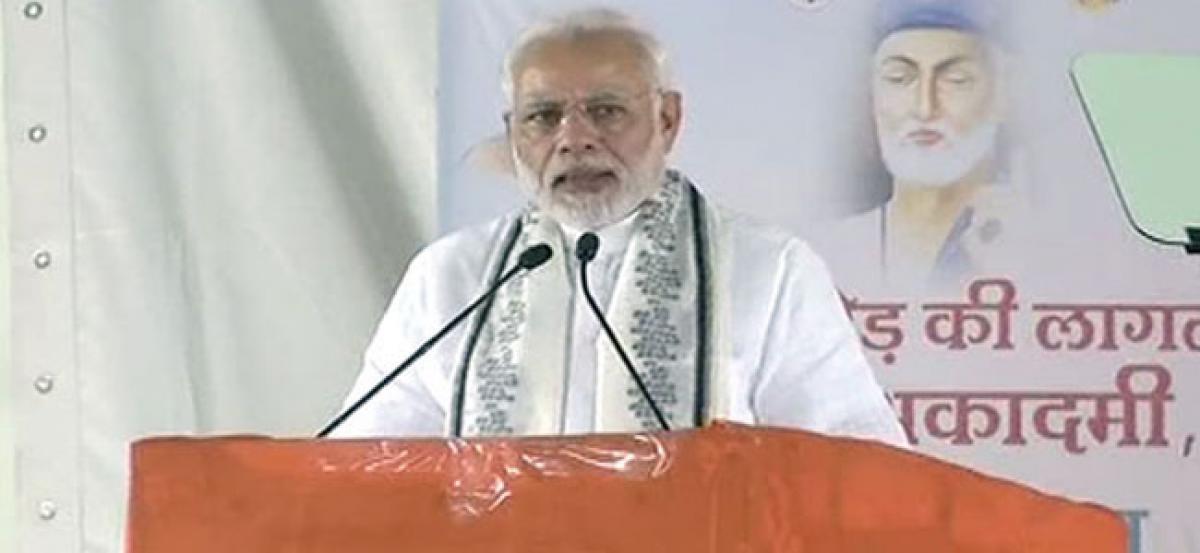 Highlights
Prime Minister Narendra Modi on Thursday said that the greed for power has united the imposers and critics of Emergency.While addressing a public rally in Sant Kabir Nagar district\'s Maghar he said, \"Two days ago, it was the 43rd anniversary of Emergency. It is the greed for power that those who opposed and those who opposed Emergency have come together today. They don\'t see the welfare of societ
Sant Kabir Nagar, (Uttar Pradesh): Prime Minister Narendra Modi on Thursday said that the greed for power has united the imposers and critics of Emergency.While addressing a public rally in Sant Kabir Nagar district's Maghar he said, "Two days ago, it was the 43rd anniversary of Emergency. It is the greed for power that those who opposed and those who opposed Emergency have come together today. They don't see the welfare of society but only the welfare of themselves and their families,"
Prime Minister Modi went on to say that some political parties that want unrest in India and urged them to learn from Indian legends and peace lovers, Sant Kabir, Mahatma Gandhi and Baba Ambedkar.
"There are some parties which do not want peace & development but unrest. They think if there will be unrest, they will benefit politically. Such people are cut off from their roots. They don't know the nature of this nation, where the likes of Sant Kabir, Mahatma Gandhi and Baba Ambedkar belong," PM Modi said.
During his public address, the Prime Minister also spoke about Pradhan Mantri Jan Dhan Yojana (PMJDY), the scheme that has benefitted over five crore people, by helping them open bank accounts. PMJDY has provided over 80 lakh women with free gas connections.
Pointing out Bharatiya Janta Party's achievements, Prime Minister talked about Swacch Bharat Abhiyan, under which around 1.25 crore toilets have been built.
He said this government is committed to working for the upliftment of the poor.Earlier in the day, Prime Minister Modi laid the foundation stone of Sant Kabir Academy in Maghar and also visited Sant Kabir's Mazar with Chief Minister Yogi Adityanath.