AIADMK might not back no-confidence motion against Modi govt: Palanisamy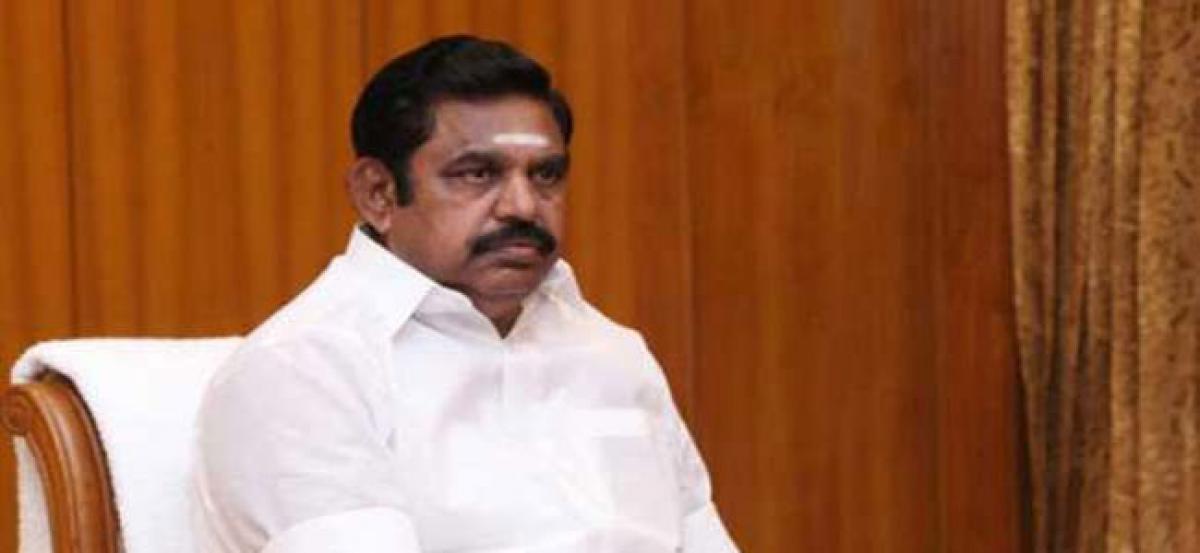 Highlights
Tamil Nadu Chief Minister K Palanisamy on Thursday hinted his party AIADMK might not back the noconfidence motion against the Narendra Modi government, saying the motion was moved by the TDP over an issue concerning Andhra Pradesh
Palanisamy said no party had backed TN when AIADMK had stalled LS seeking constitution of Cauvery Management Board.
Salem: Tamil Nadu Chief Minister K Palanisamy on Thursday hinted his party AIADMK might not back the no-confidence motion against the Narendra Modi government, saying the motion was moved by the TDP over an issue concerning Andhra Pradesh.
No party had backed Tamil Nadu on the Cauvery issue when AIADMK lawmakers had stalled Lok Sabha for nearly three weeks seeking the constitution of the Cauvery Management Board and the Cauvery Water Regulatory Committee, he said.
"You should understand. They (TDP) have moved the no-confidence motion for a problem concerning Andhra Pradesh. When AIADMK MPs from Tamil Nadu stalled Parliament (during the previous session), who did voice (support) for us, who came forward to solve the problems of Cauvery delta farmers," he asked.
"Which state came forward. No state did," he told reporters in Salem in response to a query whether the AIADMK will support the motion.
The AIADMK has 37 MPs in Lok Sabha, making it the third-largest party after the ruling BJP and opposition Congress. The BJP and PMK have one MP each from Tamil Nadu, which has a total of 39 parliamentary constituencies. The Opposition sponsored no-confidence motion against the Modi government moved by the TDP is to be debated in Lok Sabha tomorrow.
The N Chandrababu Naidu-led ruling party in Andhra Pradesh quit the ruling NDA coalition in March protesting against the government not giving special status to the state. Palanisamy said it was only his party MPs, "on behalf" of the state government, who had raise the issue of CMB and CWRC during the Budget session of Parliament to "ensure our rights."
"None stood by us then. So when it comes to their state, they are raising an issue. Did they support us when it came to our state's problem," he said.
Incidentally on Monday, a visiting delegation of the TDP claimed Palanisamy and his deputy O Panneerselvam declined to meet them despite giving appointment, a charge denied by the Chief Minister's Office.
The delegation, led by party MP C M Ramesh, had met DMK MP Kanimozhi as part of their efforts to garner support for their no-confidence motion. Ramesh had alleged that the AIADMK acted as per the directions of the BJP, although Palanisamy's office had said no such appointments were scheduled for the chief minister that day.