Karunanidhi's Health Suffers 'Decline', Tamil Nadu Ministers and Kamal Haasan Pay Visit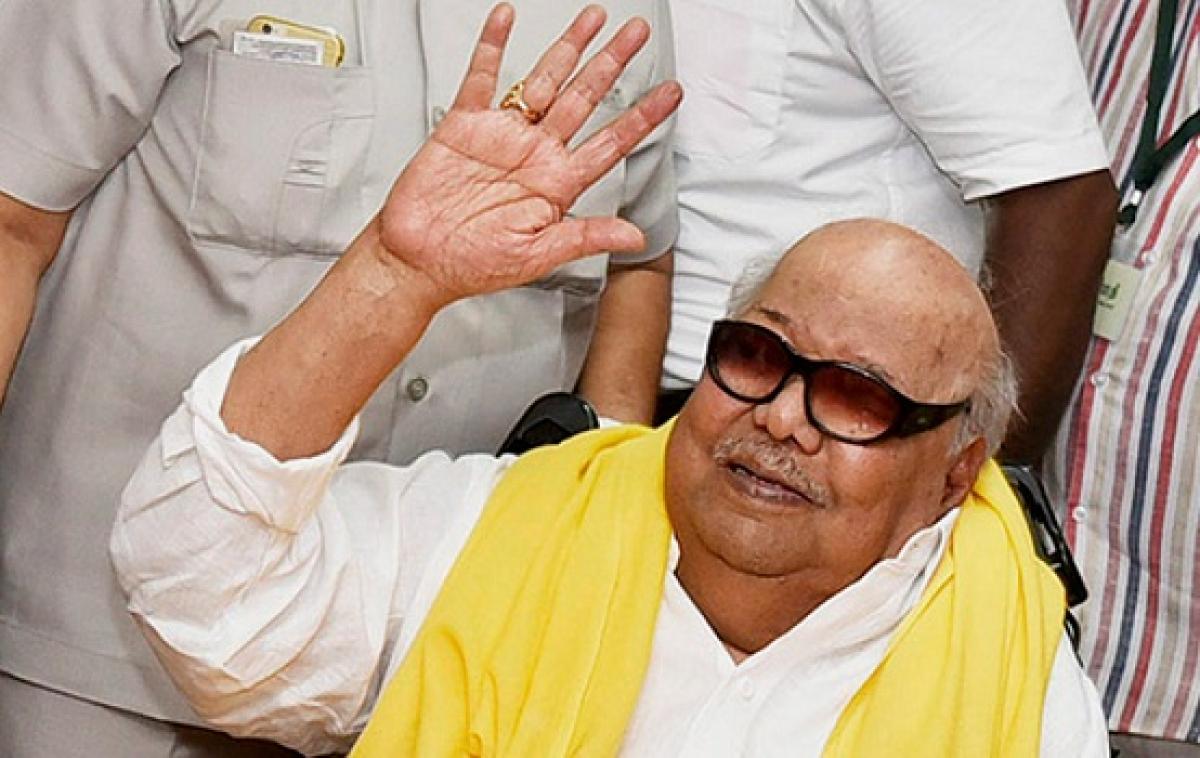 Highlights
Chennai DMK president M Karunanidhi is facing a slight decline in his health, a hospital bulletin said on Thursday evening and he is being monitored and treated roundtheclock at his Gopalapuram house by a team of doctors and nursing professionals from the Kauvery Hospital
The 94-year-old leader, DMK President, M Karunanidhi is currently being treated for fever due to urinary tract infection with intravenous antibiotics and fluids.
Chennai: DMK president M Karunanidhi is facing a "slight decline" in his health, a hospital bulletin said on Thursday evening and he is being monitored and treated round-the-clock at his Gopalapuram house by a team of doctors and nursing professionals from the Kauvery Hospital.
"There has been a slight decline in the health of DMK president M Karunanidhi due to age related ailments," a bulletin issued by Kauvery Hospital Executive Director Dr Aravindan Selvaraj said. The 94-year-old leader is currently being treated for fever due to urinary tract infection with intravenous antibiotics and fluids.
An AIADMK delegation led by Deputy Chief Minister O Panneerselvam and actor-turned-politician called on him at his residence. Panneerselvam and his cabinet colleague D Jayakumar said Karunanidhi was "doing well." "Karunanidhi will return in good health soon," Jayakumar told reporters.
Jayakumar said it was political decency for the ruling party to visit Karunanidhi's residence, adding that a DMK delegation visited the Apollo hospitals here when former chief minister J Jayalalithaa was undergoing treatment in 2016.
The AIADMK delegation, which included ministers S P Velumani and P Thangamani, held discussions with Karunanidhi's son and working president M K Stalin. Senior DMK leaders, including Duraimurugan and TR Baalu, were present during the meeting.
The hospital said considering his medical condition, the team has strongly advised restriction of visitors.
Earlier, in a letter to party workers, Karunanidhi's son and DMK working president M K Stalin said, "Let us celebrate the golden jubilee of our leader assuming office as party chief."
"Our beloved" leader shouldered the responsibility of heading the party as its president on July 27, 1969 after the death of DMK founder-leader C N Annadurai, Stalin said.
Hailing Karunanidhi for his 'tireless' work in steering the party for half a century, he listed the welfare initiatives launched by his father during his five terms as chief minister.
Karunanidhi worked "without any respite" all his life, Stalin said, adding that "time has given some rest," a reference to his age-related health issues.
The party was confident that "time and medical science," will fulfil the party workers' yearning to hear his 'magnetic' voice again, he said.
Karunanidhi has been not keeping well since October 2016 and days ago he had underwent a procedure to change his tracheostomy tube, provided to help breathing.
On Wednesday, Stalin had said Karunanidhi was suffering from fever and doctors were providing medication as he assured there was nothing to worry about his health.