SC legalises homosexuality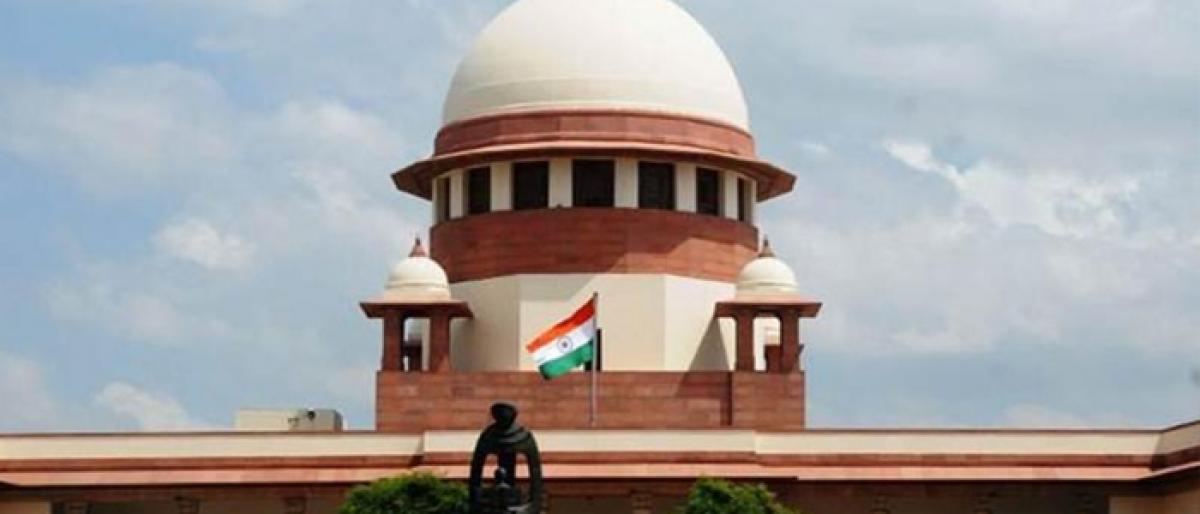 Highlights
n a historic verdict that the gay community rejoiced, the Supreme Court on Thursday decriminalised homosexuality between consenting adults by declaring as manifestly arbitrary Section 377 of IPC, the penal provision which criminalised gay sex
​New Delhi: In a historic verdict that the gay community rejoiced, the Supreme Court on Thursday decriminalised homosexuality between consenting adults by declaring as "manifestly arbitrary" Section 377 of IPC, the penal provision which criminalised gay sex.
In separate but unanimous verdicts, a five-judge Constitution Bench of Chief Justice Dipak Misra, Justice Rohinton Nariman, Justice A M Khanwilkar, Justice D Y Chandrachud and Justice Indu Malhotra struck down the British era law insofar as it criminalised consensual sexual acts of adults in private.
Chief Justice Misra began reading out the eagerly awaited verdict, quoting German thinker Johann Wolfgang von Goethe who had said: "I am what I am, so take me as I am." Misra said attitudes and mentality have to change to accept others' identity and accept what they are, and not what they should be.
"It is the constitutional and not social morality which will prevail. An individual has full liberty over his or her body and his or her sexual orientation is a matter of one's choice. "Time to bid adieu to prejudicial perceptions deeply ingrained in social mindset.
Time to empower LGBTIQ community against discrimination," said the Chief Justice, giving a final ruling on an issue that has been embroiled in legal battles since 1994. Section 377 will not apply to consensual same-sex acts between homosexuals, heterosexuals, lesbians, the court said, clarifying that sexual act without consent and bestiality will continue to be an offence.
The bench said it was no longer an offence for LGBTIQ (lesbian, gay, bisexual, transgender/transsexual, intersex and queer/questioning) community to engage in consensual sex between two adults in private. Justice Indu Malhotra said history owed an apology to the LGBTIQ community for all that they have suffered on account of the ignorance of the majority about homosexuality. "LGBTIQ people have a right to live unshackled from the shadow."
In a concurring judgement, Justice Nariman said homosexuality was "not a mental disorder or disease". He said the LGBTIQ community had an equal right to live with dignity and were entitled to equal protection of law. He directed the Centre to give wide publicity to the judgment to remove the stigma attached to homosexuality.
Justice Chandrachud said to deny the LGBTIQ community their right to sexual orientation was a denial of their citizenship and a violation of their privacy. "Sexual minorities in India have lived in fear, hiding as second class citizens," he said. "The state has no business to intrude on such matters". The verdict assumes significance as in an earlier round of litigation in 2013, the top court had reversed a Delhi High Court ruling decriminalising homosexuality.
The Delhi High Court in July 2009 legalised homosexual acts between consenting adults. But in December 2013, the Supreme Court set aside High Court ruling saying that it was for the legislature to look into desirability of deleting Section 377 of IPC.
The matter was resurrected in July 2016 when a fresh petition was filed by members of the LGBTIQ community -- dancer N S Johar, journalist Sunil Mehra, chef Ritu Dalmia, hotelier Aman Nath and business executive Ayesha Kapur. It was marked to a Constitution Bench.
Thursday's verdict sparked street celebrations in the LGBTIQ community across the country. The film world and activists too expressed their joy. The verdict was, however, greeted in silence by most political parties barring the Congress.
"We join the people of India and LGBTIQ community in their victory over prejudice. We welcome the progressive and decisive verdict from the Supreme Court and hope this is the beginning of a more equal and inclusive society," the Congress tweeted. Congress Lok Sabha member Shashi Tharoor said the "government has no space in bedrooms".
The UN also welcomed the verdict, saying it will help eliminate stigma and discrimination against the LGBTIQ community. "LGBTIQ persons across the world continue to be the targets of violent attacks and are affected by multiple and intersecting forms of discrimination based on age, gender, ethnicity, disability and social status," the UN said in a statement.