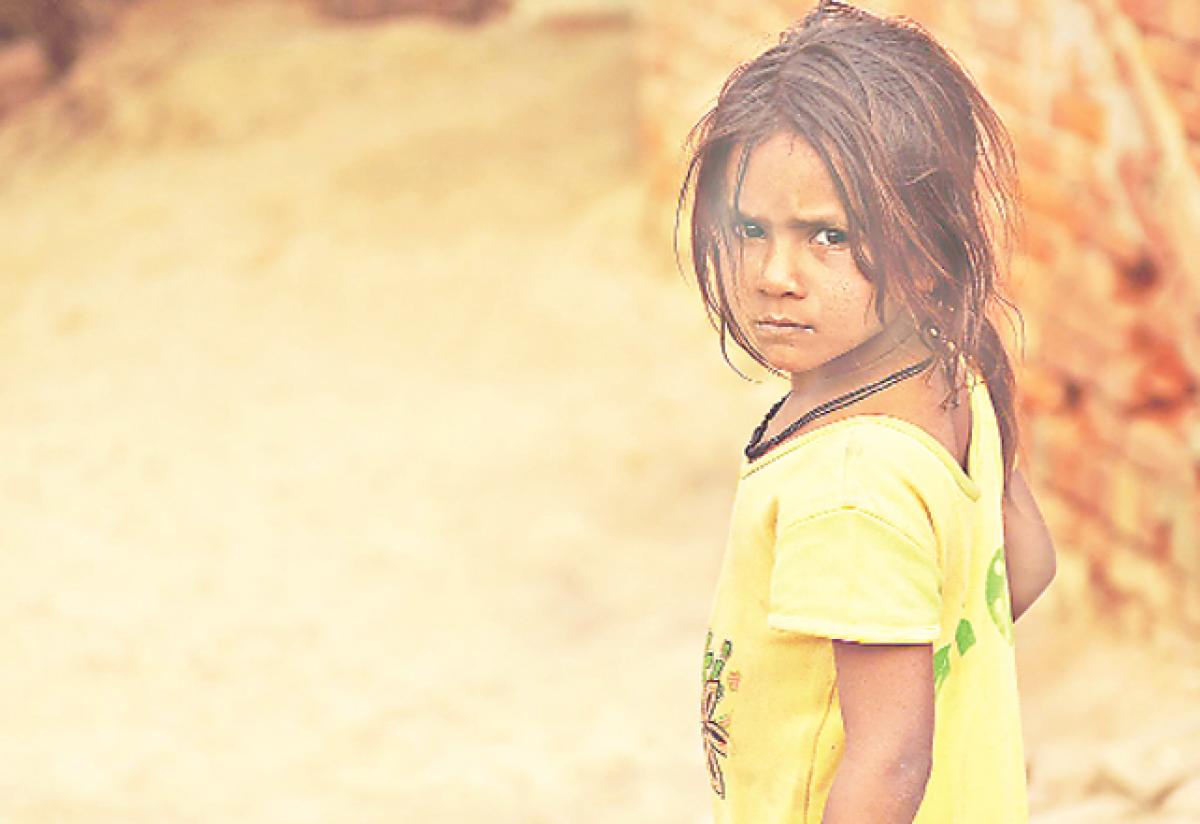 Highlights
An Incomplete Mission. A little boy wants to become a film star known for tough fights and lively dancing, when he grows up.
The success that has been achieved in the field of HIV/AIDS control in the last two decades seems to evaporate as the last of the external funding dries up in the next one year and people living with HIV/AIDS, especially children, face a bleak future with most services on verge of collapse.
'What do you want to be when you grow up?'
'Mahesh Babu. I want to be Mahesh Babu when I grow up.'
A little boy wants to become a film star known for tough fights and lively dancing, when he grows up. An answer to a casual question that as a rule should evoke indulgent laughter but actually stuns the questioner into silence. Because, the boy is a seven-yr-old child living with HIV. Shiva, orphaned after his parents died of AIDS, is infected himself and is receiving the first line of treatment.
At seven, the boy weighs as much as a four-year-old does, is frequently down with chills, cold and fever. His haemoglobin levels are low and he has rashes and other side effects of the toxic drugs that he is forced to take to keep alive. He can barely play, much less study, and the only time his small, tired face lights up is when there is a mention of his hero.
And his dream of becoming a hero is far less likely to come true now as the home where he was put up after his parents died had to be closed down and Shiva is now at the mercy of an NGO that is accommodating him at its office temporarily, before looking for a hostel to move him. The phasing out of funding for treatment for HIV/AIDS, set to dry up completely by next year, has already hit Shiva and hundreds of such positive kids, pushing them to an almost-certain death.
While the recommended course of treatment for a child born positive through mother-to-child transmission should begin as early possible, the treatment often does not reach a child until it is almost too late. The World Health Organisation recommends that a child should receive the anti-retroviral therapy well before his immune system gets damaged so that the virus levels can be reduced by the time the child reaches adolescence. But, the parameters are hardly considered while treating Shiva and many other kids like him. In a scenario where parents themselves are barely treated due to absence of funding, it is too much to expect that an extended plan would be implemented for kids.
Across the world, HIV/AIDS has drawn unprecedented attention during the last three decades and, in India, the last two decades have seen massive programming with billions of rupees pumped in both from international donor agencies and the Governments, with multi-sectoral involvement and planning. Extensive institutional infrastructure has been built up to deal with the epidemic, scary and strange in its scale and shape.
While globally, the mechanism of GFATM (Global fund to fight against AIDS, TB & Malaria) was also set up, directly funding the communities through Community-based organisations, under the fulcrum of the national AIDS agencies, private endowments such as the Bill and Melinda Gates Foundation and the Clinton Foundation too entered the arena with their own funding in vulnerable and susceptible countries like India, Thailand, several African countries including South Africa to provide extra funding for urgent mitigation.
Apart from prevention efforts, large amounts of funds were exclusively devoted globally to research and development of vaccinations and drugs. The World Bank and the US Govt agencies such as USAID and PEPFAR were also roped in. The United Nations stepped in for public advocacy on the disease.
When HIV/AIDS was to be tackled as a health issue in India in the early 1990s, a small AIDS cell was set up in the Department of Health, but had to be scaled up into a national nodal agency later as the various kinds of funding had to be accommodated and channelised. The National AIDS Control Organisation (NACO) was set up as a semi-autonomous agency. Over the next decade, separate units came up in various states and gradually took the shape of State AIDS Control Societies, acting as nodal agencies.
"What was initially perceived as some kind of an African aberration was slowly began to be seen as a health issue needing urgent attention, that too because it was alarming in its nature," recalls a former Project Director of the AP State AIDS Control Society. "It wasn't like malaria or TB as the transmission was mostly through the sexual route and hence an irksome issue in India," the official says.
But India got its act together with admirable alacrity and quickly launched comprehensive National AIDS Control Programmes (NACPs), three editions of which were run full-scale, with the fourth one now under implementation since 2012.
"The emphasis was on planning for HIV interventions based on epidemiological mapping and states with higher prevalence were given more funds," explains a funding expert and a former programme manager with a state lead partner organisation in the then Andhra Pradesh, which has been one of the high-prevalence states. The States identified what are known as the key populations, with a higher risk for infection and spread, such as female sex workers, men who have sex with men (MSMs), Transgenders, Injecting drug users and People Living with HIV/AIDS (PLHA), reaching out to them with prevention and treatment initiatives.
"We have indeed come a long way from the day AIDS was perceived as a scourge and the infected as some kind of immoral beings if not monsters. But for the huge scale of interventions, we would have been dying silent and miserable deaths," says Priya, Secretary of Cheyutha, a Women's CBO of PLHA.
"But, now we have come a full cycle," she adds. "The wave that dug us out of oblivion and gave us access to new life and care has now ebbed and we are back where we were, more or less," she says. Two decades of aggressive campaigning, funding, organisational services have petered away gradually as global focus shifted from HIV/AIDS. Even external donors such as the BMGF, which pledged the highest ever amounts towards public health, moved on to other issues such as maternal and reproductive child health.
While all HIV/AIDS programmes had inbuilt strategies to eventually empower the communities and equip and enable them to access services on their own and fight for their rights, it appears the hand-holding ended a little too soon and left the communities, especially the PLHA beleaguered.
Priya explains. "What really made a difference to the PLHA cause was open discussion on issues, debate on policies and decisions. Media paid attention to the complexities, the government addressed our problems. Virtually every sector helped us to emerge with a clear identity and confidence. But with the funding and programmes gone, it appears the PLHA are a forgotten lot again."
With CBOs such as Cheyutha and others formed by people living with HIV/AIDS on the last leg of funding from external sources, major questions on how to sustain clinical and counseling services, support mechanisms loom large.
"There are no care and support centres and the government hospitals still do not admit patients with HIV, there is no treatment for side effects. There is still no third line of treatment, surgeries on PLHA are still not done by hospitals. We still have to beg a handful of concerned doctors for deliveries. We are not made a part in policy discussions and even the media has a blasé attitude about the issues," says Priya.
Sundari, a PLHA leader, who is now struggling to find a proper shelter for the infected and orphaned kids, displaced by the closure of NGOs, homes and care and support centres, says, she is worried about the lives of children like Shiva. "There was an incident of sexual abuse of children in an orphanage in Keesara near Hyderabad and we had to fight so much to set things right there. How much do we fight?" she asks.
It is children who bear the brunt of the uncertainty. "A child's needs are not just food and shelter. They need to grow healthy, need schooling, recreation and all-round development. But, with their very survival a question, how can we even think of their development?" asks Supraja Murthy, who works as a counselor with schools in Hyderabad.
Priya recalls how she tried to get children admitted to Government schools but found the conditions so bad there that she was afraid the kids would fall sick given their vulnerability to infections.
The implementation of the NACP IV has been mainstreamed and merged into the Dept of Health and Family welfare and funding is now through the government channels, making it dependent on the state's priorities. PLHA / CLHA support programmes, ART treatment have been badly hit with many PLHA deaths reported in recent months due to non-availability of ART drugs.
"There have been many benefits of the concentrated intervention in the HIV/AIDS field. New treatment lines and drug regimens have been developed and many trials have been launched. India has emerged as the hub for generic life-saving drugs, reducing the cost of treatment to as little as Rs 5000 a month," points out the former SLP official. Thanks to the intervention, public health systems have been strengthened, community monitoring has improved, public awareness has improved, stigma and discrimination reduced, policy discourse changed, collaborations were spawned and sexual minorities gained a platform.
And yet, for children like Shiva, all the radical achievement make little difference. Caught in a policy warp that disables an entire population segment, the children, orphaned, semi-orphaned or just poverty-stricken, look to their emaciated parents or social workers to give them the promised life every child deserves. A life that seems to slip away from them for no fault of theirs.
Usha Turaga-Revelli