Syrian war enters tricky phase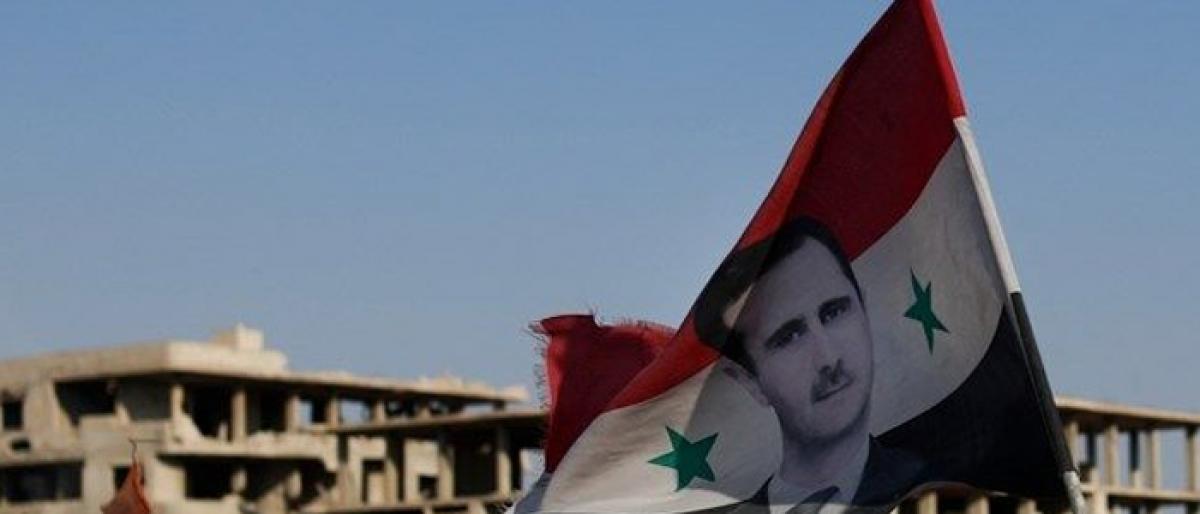 Highlights
President Bashar alAssads path to a final victory in the war in Syria is strewn with diplomatic landmines that will complicate his attempt to recover every inch of the country and may leave big areas out of his grasp indefinitely
​Beirut: President Bashar al-Assad's path to a final victory in the war in Syria is strewn with diplomatic landmines that will complicate his attempt to recover "every inch" of the country and may leave big areas out of his grasp indefinitely.
Assad's advances have accelerated this year in the conflict that began in 2011. Russian and Iranian military power helped deliver the defeat of the last rebels near the capital Damascus and the city of Homs and allowed him to recover the southwest in a matter of weeks.
Rebels who once reduced Assad's control to a small fraction of Syria now pose no military threat to his rule. With his allies' help, Assad controls the bulk of the country and is inviting investors from "friendly" nations to help rebuild it.
Declaring the return of "normal life", his Russian allies are urging refugees to come home, saying there is nothing to fear from Assad's government, though many people continue to flee areas that are falling back under its control.
But some are trickling back and Moscow is seeking international support for them, in the apparent hope that Western states that backed the opposition will now direct aid to government-held areas, spreading the burden.
But with Russia in the ascendancy, there is no sign of the kind of negotiated political transition which the West has said is needed to unlock its support and to encourage the bulk of the millions of refugees in Europe and the Middle East to return.
Assad has recovered the frontiers with Jordan and the Israeli-occupied Golan Heights, and says he will press ahead.
Almost all of northern Syria and much of the east remain outside his grasp. But in these areas a new test awaits: hostile Turkish and U.S. forces that have carved out separate spheres of control on Syrian territory.
Russian priorities, particularly its ties with Turkey, may largely determine how the war unfolds from here.
So too will U.S. President Donald Trump, who has given conflicting signals over how long American forces will maintain their foothold across a swathe of the east and northeast. U.S.-backed Kurds, wary of their unpredictable ally, are beating a path to talks with Assad, seeking to safeguard their autonomy.
"The conflict is entering a new phase. But it is hard to say the war is ending when so much of the country still remains outside the government's hands," said Noah Bonsey, the International Crisis Group's Senior Analyst on Syria.
"And it is still unclear to what extent an insurgency might emerge in parts of Syria that the government controls." Islamic State militants killed more than 200 people in the government-held Sweida region last week. The war is estimated to have killed hundreds of thousands of people.
Turkish Alarm
Assad has flagged his next target: the rebel-held Idlib province. "Now Idlib is our target, although not only Idlib," Assad told Russian media last week.
A sanctuary for Syrians who have fled government advances in other parts of the country, Idlib is controlled by an array of insurgents who have often fought each other. Turkey has aimed to roll back Kurdish groups which it sees as a national security threat, but also to prevent more Syrians spilling over its border: Turkey already hosts 3.5 million refugees. In agreement with Iran and Russia, it has set up 12 military posts in Idlib and adjoining areas.
The possibility of an Idlib offensive is ringing alarm bells in Turkey. A top U.N. official has warned another 2.5 million people could flee toward the border in the event of an attack. President Tayyip Erdogan has been pressing Russian President Vladimir Putin to make sure that does not happen.