Can Indra's Bow save 5 lakh kids from death?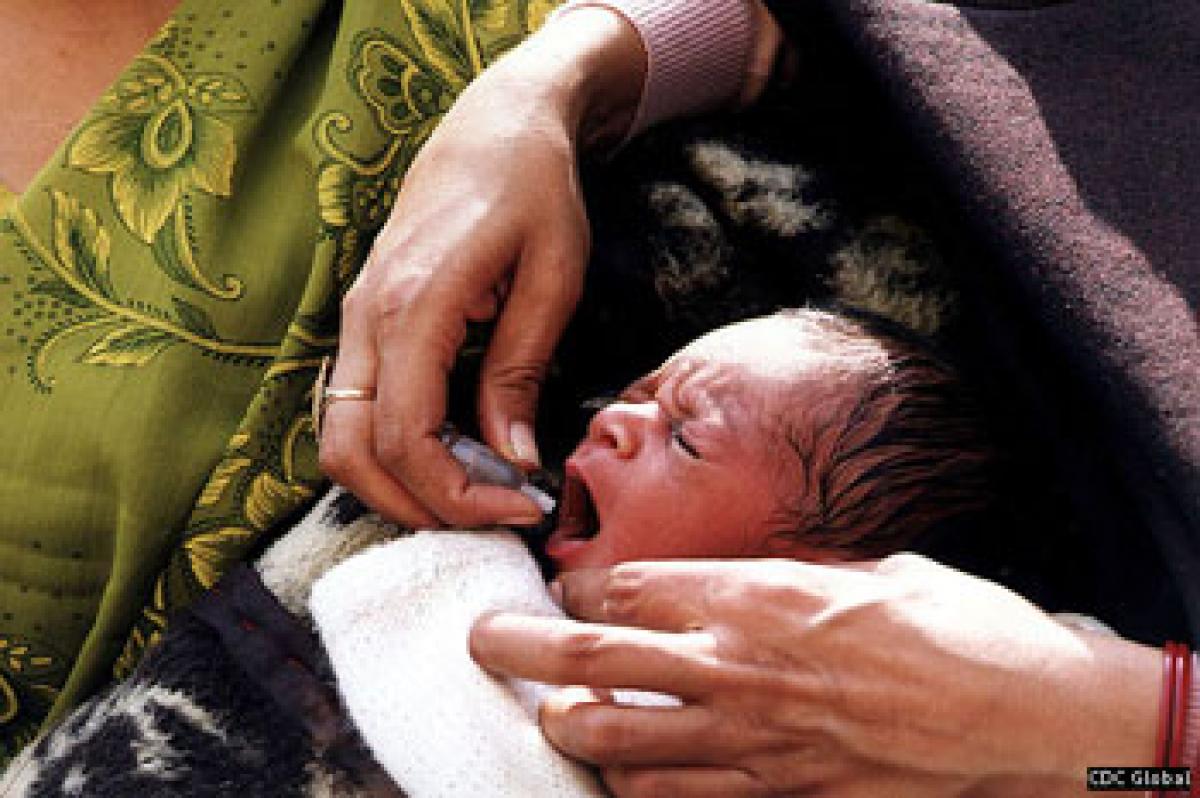 Highlights
As many as 500,000 children die every year in India due to vaccine-preventable diseases, despite a three-decade old, government-run universal...
As many as 500,000 children die every year in India due to vaccine-preventable diseases, despite a three-decade old, government-run universal immunisation programme. About 27 million children are born in India every year, but 1.8 million don't live to see their fifth birthday. Many of these deaths are preventable by vaccines.
No more than 72% of India's children get three doses of DPT (Diphtheria, Pertussis/whooping cough and Tetanus) vaccine, in comparison to 99% in Sri Lanka and 93% in Bangladesh, according to a 2015 study by Ramanan Laxminarayan and colleagues of the Center for Disease Dynamics, Economics and Policy in Washington DC.
When it comes to complete immunisation–against DPT, polio and measles–only 65% of Indian children are vaccinated. Immunisation coverage increased only 1% every year between 2009 and 2013. In December 2014, Mission Indradhanush(Indra's Bow) was launched with the goal of increasing immunisation by 5% every year, so that 90% of children can be immunised by 2020.
While 7.6 million children were immunised in the first phase of the mission, Health Minister JP Nadda rolled out the second phase of Mission Indradhanush in October. IndiaSpend had earlier reported about how the facts belie minister's immunisation prediction.
The ministry hopes to reach 352 districts across India, of which 40 are "high-priority" districts with the worst immunisation records, 33 are hard-to-reach north-eastern districts and 279 are "medium-priority" districts, included for the first time in the campaign.
"Through Mission Indradhanush, the government is attempting to strengthen vaccine supply chain and logistics, build a brand and logo for immunisation, strengthen surveillance for quality of immunisation services, co-ordinate all immunisation activities and add more vaccines to the portfolio of the programme," said Jyoti Joshi Jain of the Immunization Technical Support Unit – a collaborative project of Ministry of Health and Public Health Foundation of India (PHFI), a public-private initiative working on capacity building in public health in India.
26% Indians don't know about vaccines
There are several reasons for partial immunisation or a total absence of it across India; not feeling the need (28%) and not knowing about the vaccines (26%) are biggest contributors. The reasons vary from one state to another. For example, in Bihar, where full immunisation reaches 69.9% of children, 23% of the population do not feel the need for vaccination, 23% do not know about vaccines and 23% do not know where to go for immunisation.
In Maharashtra and Haryana, 32% and 31%, respectively, don't find the time for vaccination convenient. In Jharkhand, Madhya Pradesh, Maharashtra, Meghalaya, Nagaland, Odisha, Uttar Pradesh and Uttarakhand, not knowing about the vaccines is the biggest reason for missing vaccinations.
In better-performing states, such as Karnataka and Kerala, which immunise 78% and 82% of their children respectively, not feeling the need to vaccinate is the biggest contributor to partial or no immunisation.
Vaccines must be made available, and parents need to know why they must immunise children. There are two clear areas of intervention in making routine immunisations work; one on the demand side and the other on the supply side.
While supply side issues deal with making vaccines available where they are needed, demand side issues deal with increasing awareness, so that parents make sure their child is vaccinated. RSOC data (Rapid Survey on Children by the Ministry of Women and Child Development), leaked earlier this year, reveal that 83% of children in rural areas and 88% in urban areas get immunisation cards, but only 62% of rural and 72% of urban children complete vaccinations.
Among the richest Indians, 91% get immunisation cards made but only 80% complete vaccinations. Among the poorest, 76% get cards made but only 50% complete vaccinations. Why are children, including those from rich families, dropping out of the vaccination programme? Most likely because parents do not realise the importance of vaccination, and so do not go to doctors demanding it. Maternal health literacy is positively correlated with vaccination outcomes, according to a recent paper published in the Journal of Epidemiology and Community Health.
While parental education has often been linked to better child health, this is the "first primary study to examine the relationship between maternal health literacy and child health or child immunisation in a developing country", the authors note in their paper. They also say that health literacy can be "modified in the short-term" and "we must explore interventions around maternal health literacy."
Mira Johri, one of the authors of the study and Professor, School of Public Health, University of Montreal, said they are currently conducting research on how maternal health literacy can be increased in real time. "We are considering a variety of interventions that use simple, engaging methods to empower and inform, including home visits, community meetings and mobile phone technology.
The evidence is still being collected but it seems quite feasible to improve health literacy and community demand in a short period," she said. "We are searching for effective and scalable approaches, recognising that there are potential trade-offs between effectiveness and scalability."
During the course of her work in Uttar Pradesh, Johri has seen "gaps in implementation and delivery" despite "very good government policies". Since the recipients are often not very knowledgeable about immunisation, she said, they are unable to question the gaps and generate demand.
Johri cites the example of Bangladesh, which has "invested a lot in raising awareness in the community partly through NGOs using outreach workers, and even TV and media efforts. Under-served populations have become aware of immunisation and feel it is good for them. They demand it, which helps to raise coverage and also improve services".
Demand-side interventions can significantly increase immunisation rates, found another 2015 study, where Johri is a co-author. The paper analysed data from 11 studies conducted in low-middle income countries.
The operational guidelines for Mission Indradhanush have a section marked out for communication planning. Several ads on TV, radio and print have been run. It would now be worthwhile to see if this publicity blitz gets unvaccinated children to immunisation centres.
Govt sets ambitious goals
Union Health Minister J P Nadda recently said that the vaccination program under 'Mission Indradhanush' will reach a coverage of almost ninety per cent in next three years. 'Mission Indradhanush', launched by Nadda in 2014, aims to immunise children against seven vaccine preventable diseases.
"We came out with an ambitious program called Mission Indradhanush, which also includes (prevention of) Hepatitis B... Every year we used to increase our immunisation program by one per cent. We thought if we go at this speed then we won't be able to reach the goal till 2050...
"In one year time we will be able to cover 5 per cent and within three years we will be reaching from 65 per cent to 90 per cent of coverage," Nadda said. "In India, approximately 10 lakh children, on an annual basis, run the lifetime risk of developing chronic Hepatitis infections, leading to life-threatening issues including liver cancer, liver failure and a possibility of premature death", he said. The minister said four more vaccines will be added in the 'Mission Indradhanush' programme.
Manupriya - Courtesy: www.Indiaspend.com
Subscribed Failed...
Subscribed Successfully...