It's time Rahul emulates Akhilesh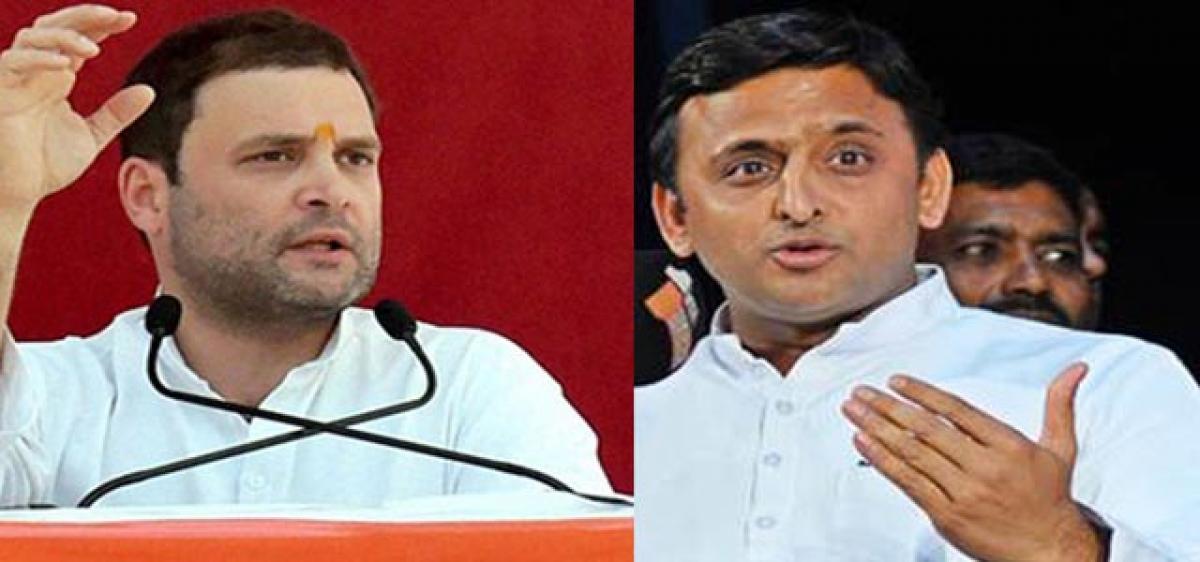 Highlights
The New Year has ushered in two young political leaders in Uttar Pradesh Chief Minister Akhilesh Yadav (43) amidst last week's modern-day...
The New Year has ushered in two young political leaders in Uttar Pradesh Chief Minister Akhilesh Yadav (43) amidst last week's modern-day 'Yadavasthali', and without a matching fanfare and controversy, Rahul Gandhi (46). Is this a game-changer of Indian politics? Only time will tell. It is still too early to declare the end of gerontocracy in a country where people are respected for their age. But the process, hopefully, has begun.
For Rahul, no formal takeover from ailing mother Sonia (70) is likely or is even needed. Health reasons and perhaps, instinct of one who is Europe-born have seen her slowly and silently moving into the background. Talk about Rahul, a bit later. An interesting nugget of the Lok Sabha elections way back in 1971 was about K C Pandey from UP. His father had been nominated by the Congress. On the day of filing of nominations, he simply locked up the father, filed his own papers and won.
Mulayam Singh Yadav, the Samjwadi Party patriarch who expelled his Chief Minister-son and took him back after an avalanche of support the son gathered, has met a similar fate. The son has since taken a logical, bold step forward and wrested the party, while keeping control of the government he heads. Akhilesh has toppled his father and wrested SP's leadership. Reports indicate that he has the majority of party legislators. He also has support of the party workers, the extent of which is difficult to assess.
Along with the youths, several Mulayam loyalists among the old guard have switched over to Akhilesh. This may remind the Telugu-speaking people of the way Telugu Desam leaders and cadres switching sides from the late N T Rama Rao to N Chandrababu Naidu in 1995. Akhilesh has also garnered the support of large sections of the intelligentsia (not that it would translate into votes for him) that perceive him as a man who is pushing development agenda in the impoverished state.
His education as a technocrat, brief terms in the Lok Sabha and over four years as the Chief Minister mark him out. He is seen as one emerging from the shadow of his father, ambitious uncle Shivpal and a host of squabbling Yadav clan members. How far he will sustain that image remains to be seen. The strife within the SP has exacerbated and promises to degenerate into a bitter dog-fight, come elections. Unless they patch up, which is likely, or one of the factions loses out badly, which is unlikely, Samajwadis will fight each other.
In toppling his father who had founded and nursed the SP for 25 years, Akhilesh has obviously gambled. The party's support base among the Muslims and Yadavs is bound to get divided. In any case, legal battles that have gun impinge on the party's identity and its polls symbol. All this is when crucial elections are due. Next few weeks will decide how far the party stays intact, strong enough to fight the incumbency factor and a determined, multi-pronged assault from out-of-power Mayawati, who could take away the Muslims. The Bharatiya Janata Party, in power at the national level, is raring to repeat its performance of 2014 of winning 71 of the 80 Lok Sabha seats.
Akhilesh's tenure has seen gory Muzaffarnagar riots and much else. He has much to explain to the voters where he will be judged not on how he distanced himself from the lathi-wielding criminal elements of the SP, but on how he maintained law and order. Similarly, not on how he managed the SP's leadership, but on how he governed for five years. That will decide if he will win the next election and a second term. As for Mulayam, it is too early to say whether this is the end of the political road. He has for long nurtured ambitions of becoming the Prime Minister some day. His record of somersaults and U-turns is long.
One would have thought that at the end of the day, Mulayam would like his son to succeed him. He was perceived as working for it when he made Akhilesh the state's youngest Chief Minister. But somewhere along the way, he got enmeshed in the internecine quarrels within his clan. It would seem, he over-estimated his ability to keep so many ambitious people under his own control. The leash he held snapped.
The inevitable has happened and there are indications that Mulayam may have anticipated this. He fell to the twin weakness of being pressured by his ambitious brother Shivpal and his own discomfort at his son becoming more popular than him. He betrayed the latter when he asked, at age 77, "Hum buddhe ho gaye hain kya?" He had the answer, but did not heed it.
Some others who ought to get this message are DMK's ailing chief Muthuvel Karunanidhi (92) who is still keen on becoming Tamil Nadu's Chief Minister yet again, many ageing and hobbling Congressmen and a bunch of BJP leaders who, with or without their knowledge/consent, are being talked about for the country's presidency.
As for Rahul, he has finally shed his long years or probation in politics. His performance in and outside Parliament still lacks punch and mature articulation (blame his elitist advisors), but it has undoubtedly begun. What one sees are still some biting TV bytes that do not add up to much on the political turf.
The hostility from the media persists and Rahul has himself given reasons to opposition parties to distance themselves in the campaign against demonetisation when in a totally ill-timed move, after weeks of jostling in Parliament, he met Prime Minister Narendra Modi. Rahul has an opportunity ahead in the Uttar Pradesh polls. Mulayam had opposed Akhilesh's reported move to get the Congress as a junior partner. Ironically, Mulayam, heading a clan of his own, had opposed any gain to "the Gandhi family" from such an alliance.
Now is the time for the two young leaders to hitch their bandwagon and benefit. The down-and-out Congressmen seem willing, but the Socialists need to shed anti-Congressism. It is time for them, now degenerated anyway into playing clan and casteist politics, to forge a front – leave everything else apart for their own survival. Both the Congress and the SP need each other. Both the young leaders appear to realise this and can work in that direction.
This is easier said than done. On its part, the Congress will have to roll back its campaign "27 saal UP behaal" that was primarily targeted against the SP government. How it will do it and try to appear credible remains to be seen. A Samajwadi (Akhilesh) alliance with the Congress in Uttar Pradesh could send a strong signal to Punjab where stakes in the polls are high. Of course, Rahul's task is not confined to Uttar Pradesh. He has to stem the withering away of his party all across the country. But UP can be the starting point.
He needs to take a lesson or two from Akhilesh the way he has acted boldly, taking risk. He has defied not just his father but much of the clan that resents his growing power and popularity. He has come out of the shadow after over four years of running what was derisively called "the government of four-and-a-half Chief Ministers."
Akhilesh taking the fight to another plane debunking the old guard and projecting his own actions as those taken in the interest of the larger public good reminds one of the 1969 Congress split. The late Indira Gandhi revolted against the old guard and charted her own course that found acceptance by the younger leaders and the voting general public. That way, Congress history is repeating in the Samajwadi Party. Rahul can take the cue from both, Akhilesh and his grandmother.
By Mahendra Ved
Subscribed Failed...
Subscribed Successfully...