Middle East now a powder keg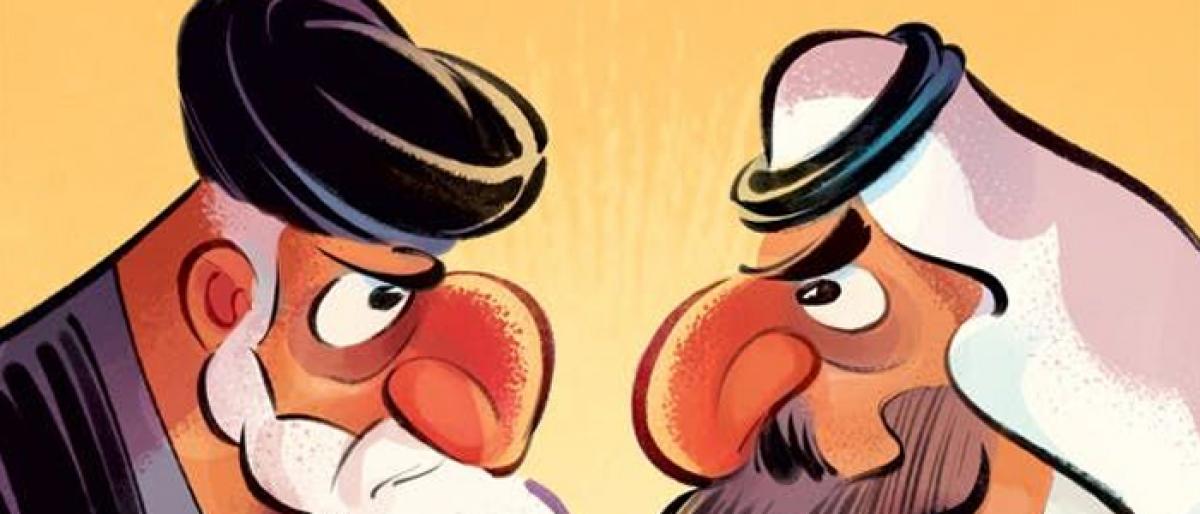 Highlights
When it comes to politics, I am always interested in the plan, design and pattern of events on display, to understand the plot. Generally, in the time...
When it comes to politics, I am always interested in the plan, design and pattern of events on display, to understand the plot. Generally, in the time continuum, it is said, of plot the continual question operates in three tenses: Why did that happen? Why is this happening? What is going to happen next - and why?
Aristotle always included plot as one of the six elements in tragedy and as the 'soul of a tragedy' and always sought it to be as a 'whole' (to have a beginning, a middle and an end). The beauty therein is that you cannot dislocate or displace any one action or part and still understand the whole. One move goes unnoticed, then the whole becomes complex for us to understand.
Similarly, the peripeteias in the Saudi Arabian drama is accompanied by anagnorises - the Saudi Crown Prince has initiated moves to change the course of the Middle East history alongside by targeting corruption identifying the bad characters of the nation. He has also identified his enemy "Iran" as resorting to an act of war against his country. All this, perhaps, as part of his Vision 2030, a post-oil dependence plan for his economy. He is seeking greener solutions, he says, by giving a thrust to manufacturing sector which would create jobs and employment to strengthen common man's economy.
That must put to rest all speculation about the future of the Middle East. As discussed in one of the write-ups in this paper earlier, Saudi Arabia is drawing its neighbourhood perilously close to a much larger conflict. The war-theatre this time around could prove disastrous to some nations
There seems to be a commonality to the rulers in many parts of the world today. While the Russia's Putin and China's Xi Jinping seem to have contributed immensely to the plot being scripted by the Saudi Crown Prince, Mohammad bin Salman (MBS), in getting the members of the Royal family arrested on charges of corruption, the contribution of Donald Trump is no less.
It should be noted that while Putin and Xi branded leaders and businessmen as corrupt and got them arrested to consolidate their positions in the past, MBS arrested his cousins and branded them corrupt.
Corruption charges in Saudi Arabia cannot be taken on the face-value, as, here, the family is the State and vice-versa. Not content with the moves, the Crown Prince has accused Iran of waging a war against his country by arming the Houthi rebels of Yemen who fired a missile towards his country the other day.
This came during the visit of the Lebanese Prime Minister, Saad Hariri who only landed in the kingdom to announce his resignation and claimed a threat to his life, complicating the plot further. However, Iran has accused Saudi Arabia of strengthening ISIS and flaming hostilities in Yemen. Iran President Hassan Rouhani questioned MBS intentions, asking "why are you interfering in Lebanon's internal affairs?"
Now Lebanon needs a new Prime Minister and it is not easy to pick one as its constitution says that only a Sunni could head the government. Hezbollah cannot find a Sunni politician who will have the blessings of Saudi Arabia. In fact, Iran and "its arm" as the Saudis call Hezbollah, feels that Hariri's resignation was at the behest of Saudi Arabia.
Both Iran and Saudi Arabia have huge investments in Lebanon. The former which has withstood Iraqi invasion in the eighties only to grow militarily since, has threatened Saudi Arabia now against any war designs. "You and your allies (US) can do nothing to us. Beware of our mighty hit," Rouhani warned. This is about the conflict brewing. But closer to our neighbourhood, it is worry-time for Pakistan.
The Islamic Military Alliance floated by the Saudis' is headed by its former army chief of Pakistan, Raheel Sharif. The alliance consisting of 37 Islamic countries of the world to protect them from the ISIL and other terror forces of Iraq, Syria, Afghanistan, Libya and Egypt, is an alliance of Sunni governments. Iran's growing influence in Syria, Yemen and Iraq is perceived as a threat by the Saudis and hence the alliance, it is said. Iran which shares a 900 km border with Pakistan disliked General Raheel taking over as the chief of the alliance.
Pakistan's Parliament, in the past, had passed a resolution against indulging in the Middle Eastern conflicts. In 2015, it also passed a unanimous resolution asking the country to stay out of a Yemeni conflict where the Saudi-led coalition was bombing the Houthi rebels to dust.
In addition, US and Russia meddling is always there. It is here that Pakistan treads the unknown. It cannot offend Iran further as the geopolitical situation in the region is already worrisome for Pakistan with three of its four neighbours – Iran, India and Afghanistan –accusing it of harbouring terrorists attacking their land.
Coming to Syria, the Saudis are working alongside the US to oust its President, Bashar al-Assad, whom Iran and Russia keep defending. If the situation escalates further in the theatre of conflicts, Pakistan invariably bleeds more with its own Shia-Sunni conflict in addition.
Pakistan's cup of woes is full to the brim; it cannot remain neutral in this war. Even if the Saudis and the Iranians want to come together, the US and Russia would not allow it, as these countries have become the latter's primary playgrounds.
Pakistan has signed three separate short-term loan agreements worth $700 million with the Islamic Development Bank, in which Saudi Arabia holds the largest shareholding (23.5 per cent shares). In fact, Pakistani media has been warning the country against getting pulled into the neighbours conflicts owing to pittance of a financial help. Similarly, when Pakistan accepted a 'gift' of $1.5 billion earlier from a friend –later identified as Saudi Arabia – questions were raised on the quid-pro-quo nature of it.
The moot question in Pakistan now is what if Lebanon turns out to be another Syria? Pakistan keeps seeking financial bailouts from everyone including the Americans and the Saudis. It has done so in the past and it will do so in future. The all-weather friend of Pakistan, China is not known to dole out anything to anyone free of cost in its hunger of enslaving economies and territories. Will Pakistan be in a position to say no to lenders and investors?
And the danger for India?
Well, as is known, Pakistan will always try to push terrorists into India to divert people's attention from its foreign policy failures. If its Western borders get murkier, it would like to make its eastern borders gloomier. It will try to mislead the Kashmiri youth further using its agent provocateurs on this side of the border to fuel greater unrest.
What about China?
In case of a Saudi-Iran conflict either direct or via Lebanon, China cannot remain untouched. When the conflict sucks Pakistan into it, China, which has billions of dollars of business interests in the former as well as in the Middle East, cannot afford unstable regimes and would like to step in anyway. In fact, many of the Islamic countries will get drawn into the conflict at some point of time. This sectarian Shia-Sunni war thus has the potential to escalate into a major marker of our times!
Subscribed Failed...
Subscribed Successfully...