Who is saying No to Telugu?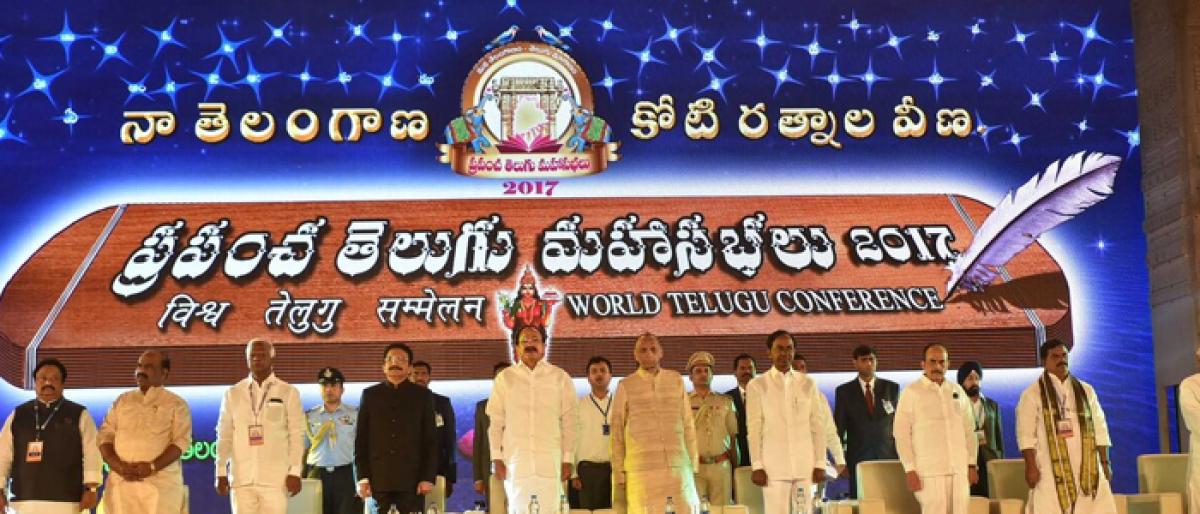 Highlights
The World Telugu Conference, a spectacular extravaganza took place last week. As is customary on such occasions, the glory of the Telugu language was...
The World Telugu Conference, a spectacular extravaganza took place last week. As is customary on such occasions, the glory of the Telugu language was praised to the skies, and all eminent personalities present reiterated the greatness of Telugu culture. Not that the proceedings were bereft of controversy. Those who inevitably level the criticism that such celebrations are a ruse to divert public attention from other burning issues did so it once again.
This time it was that regionalism came to the fore, so much so that the Chief Minister of the other Telugu speaking state was not extended the courtesy due to him. On the whole, however, some good effort was made to promote the cause of the Telugu language.
To that extent one must be happy. Also surfacing during the celebrations was the allegation that, although made the official language as long ago as in 1966, Telugu, for over 50 years, has not come to be implemented as such – thanks largely to the indifference of the official machinery. So this columnist and his community (of civil servants) were hauled over the coals on one more count!
"Though 200- 250 government orders and memos that are being issued per day, total number of orders in Telugu did not exceed 500 is the composite state of Andhra Pradesh. And, during the last 3 1/2 years, in the Telangana State (TS), this number was a mere 20!
The number of Telugu speaking members of the All India Services, such as the IAS and the IPS, has increased in recent times. Still the situation has shown no considerable improvement, largely on account of a lack of resolve on the part of the government of the day.
In many States like Tamil Nadu it has for long been the practice for orders to issue in both the official language and in English. This, sadly, is not the case in AP or TS," so goes media report!
Yes. It is a fact the use of Telugu in administration is not as much here as it is in many other states. The governments of those states have made instruction in the official language compulsory. And the parents also are encouraging their children to learn the mother tongue. And here? Parents feel that if children get used to reading Telugu their knowledge of English might suffer.
Even Telugu newspapers and magazines are not purchased in their homes. They send their children to English medium private schools, and do not want to have Telugu even as a subject. Even the few children, who learn Telugu as a subject up to the 10th standard, promptly change over thereafter to learn French or Sanskrit, to score highly.
Parents feel unhappy if children make mistakes while speaking in English but do not mind if their children cannot speak proper Telugu and in fact they take pride in it! They criticise the governments of neighbouring states for allowing Telugu medium schools to close down, but demand the very same thing within their own state. Noticing that government schools are not in demand because of Telugu medium, the governments are switching over to English medium.
Coming back to use of Telugu in government offices, how can children raised in such circumstances speak/write good Telugu? Brought up in an atmosphere that frowns upon the use of Telugu, how can they, the after joining government service, where from they can learn correct usage of Telugu words?
And, in any case, it is no mean job translating government orders which are full of complexities. Even a word this way or that can substantially alter the meaning and the context, creating avoidable ambiguity and unforeseen complications. The language needs to be precise and crisp, and such as to withstand the rigour of scrutiny even by a court of law. Obviously causal or half-baked translations will create unending litigation, and adversely affect public interest.
I now look at people with other languages as their mother tongue, such as Bengali, Tamil or Malayalam we find a completely different picture. Even after having been exposed to the highest levels of education in English, and holding exalted public offices, they are able to speak fluently in their mother tongue whether on the stage or on the TV etc., for hours together. How many of us Telugus can do that?
Ultimately, it in it all boils down to the saying "yatha praja tatha raja" twisted from of the original saying which says people follow their leaders. In this case, 'As are people, So is Government'. If the general public love Telugu, make their kids proficient in Telugu, then they can force government to use Telugu extensively in administration, Once it is accepted in principle, the nitty-gritty about where and how can follow thereafter.
But, for all this to happen, fundamental change has to come about in the attitude of the parents. To begin with we should stop looking down upon people who have not studied in English medium. And children should not be encouraged to believe that studying in Telugu at the high school level will make it difficult for them to learn other languages.
Take my own example for instance. It was only after leaving school that I learnt other languages – and learned them fairly well, even if I do say so. In fact, the truth is that the art of communication, once it is developed in one language, becomes an advantage in any other language. Many of my batchmates in the civil service can read and write with great facility in their mother tongues.
I can state with authority, and with the knowledge of actual examples, that it is not merely in the IAS, but in many other fields of human endeavour, those who the highest places were educated only in their mother tongue.
In recent times I have had experience with assisting enough civil service aspirants who are going to take their examinations in Telugu. With that exposure I can state confidently that ability to perform well in the public sphere does is not proportional to one's knowledge of English. This is something parents have to understand.
As in the case of machines, I have my own views regarding the selective usage of Telugu. A language ought to have three purposes; one as a means of communication, then as a means of recreation and, finally, a means of learning. Telugu does fine in the first two areas. There are several dialects and they convey our feelings very well.
So far as the second is concerned the language has a wonderful repertoire of excellent prose, and melodious poetry. But in the case of third category, regretfully the language is at least a century behind European languages such as English or German; or Asian languages such as Chinese or Japanese. The other languages have taken care to see every book of knowledge is translated into then.
No such major endeavour has taken place in the case of in any of the Indian languages. After all, how many encyclopedias of different disciplines are available in Telugu?
One needs to have a good command over English, spoken as well as written, to enlarge one's area of knowledge.
On the whole, it would appear that the most sensible and practical approach would be to settle for learning Telugu up to the high school level and, thereafter, switch over to English medium, in order to stay in the race for employment or a professional career.
After all, beyond a point in the domain of learning I have just referred to, the word, language, must be understood to have a limited and restricted definition.
The decorous or bejeweled form of a language is more like a precious ornament, to be taken out and used on special occasions, and carefully preserved - a valuable possession that represents one's legacy of a rich culture. Its utility as an instrument for modern day learning that can lead to a fruitful career, however, has to be accepted as having severe limitations.
Subscribed Failed...
Subscribed Successfully...