Living a life of uncertainty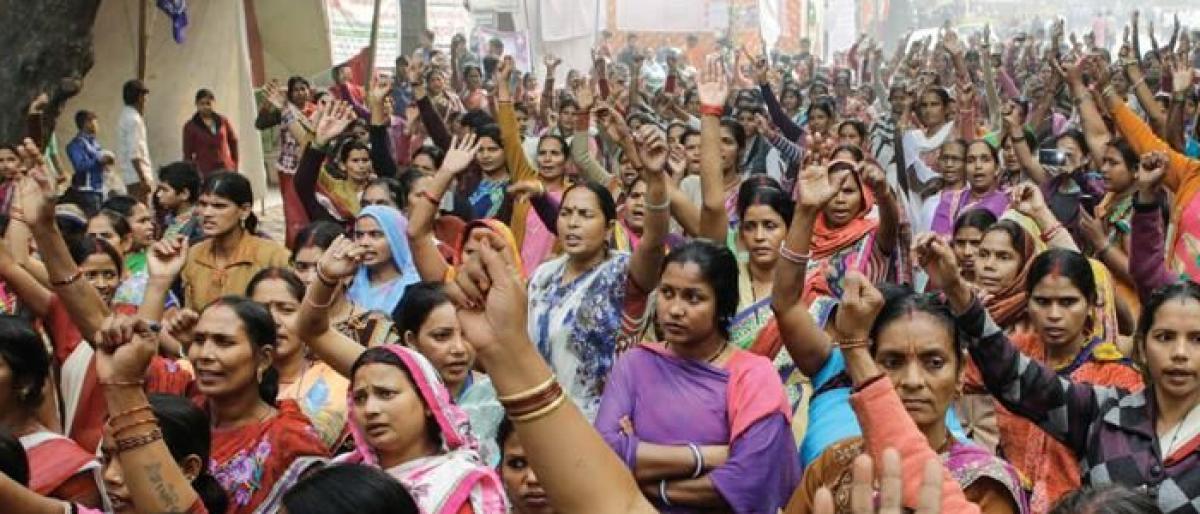 Highlights
Rekha Patel, an Accredited Social Health Activist (ASHA) in Madhya Pradesh's Khajuraho village, wants to change her job. The reason: despite playing...
Rekha Patel, an Accredited Social Health Activist (ASHA) in Madhya Pradesh's Khajuraho village, wants to change her job. The reason: despite playing the crucial last link to India's rural healthcare delivery system, she has no fixed salary or social security. She is responsible for maintaining the health of the pregnant women in her community, encouraging them to undergo institutional delivery, ensuring newborns get immunised at the right time and the mother gets the right nutrition after child birth.
In other words, ASHAs such as Patel play a crucial role in the well-being of the new born and the mother in the country where infant and maternal mortality rates are high and the last link in rural healthcare is shaky. Yet, on many days, she leaves her home in the morning without any money and walks for several hours to reach the household that needs her help. She gets fixed incentives for every individual she caters to, which on most months do not add up to even the minimum wages for a skilled labourer.
Like Patel, there are over 0.87 million ASHAs across India and all of them face similar challenges. Little wonder, in the past three years, ASHAs from at least 17 states have demanded fixed salaries, higher incentives and inclusion in social safety schemes such as pensions. The most recent and probably the largest agitation happened on November 9, when thousands of ASHAs teamed up with anganwadi and mid-day meal workers and travelled to Delhi to participate in a three-day protest. The agitation was an extension of a protest that happened in August when ASHAs from 11 states rallied in the capital.
They even brought signatures of 5 million people demanding a bigger health budget and better incentives. The signatures, along with a list of demands, were submitted to the Union health secretary. "ASHAs should be recognised as workers and get at least Rs 18,000 per month. They are the cheapest healthcare providers in India and exist even in areas where government health facilities are non-existent. Yet they get less than a daily wager," says Ranjana Nirula of the Centre of Indian Trade Unions (CITU) and the leader of the Delhi protest...
It has been 12 years since ASHAS were introduced by the Union government under the National Rural Health Mission (NRHM). The primary role of the volunteer, selected from within the community, is to act as an interface between the community and the public health system. Under the scheme guidelines, there are 43 different functions along with specific remuneration for each of them. They range from a maximum of Rs 5,000 for administering medicines to drug-resistant tuberculosis patients to just Rs 1 for distributing an ORS (oral rehydration solution) packet. But ASHAs say they normally earn through antenatal care (Rs 300), institutional delivery (Rs 300), family planning (Rs 150) and immunisation rounds (Rs 100) as cases of other diseases are far and few.
A crucial link
Despite their deplorable working condition, ASHAs have played an important role for the rural healthcare sector. Several studies credit them for the improvement of critical health indicators in the country. A paper co-authored by Abhay Mane of the Pune Medical College titled, 'Primary Health Care,' in 2014 says institutional delivery in Bihar, Madhya Pradesh, Odisha, Rajasthan and Uttar Pradesh increased from 12 per cent in 1992-93 to 55 per cent in 2008 due to the introduction of ASHAs…
Still, they are among the worst paid. Usha, an ASHA from Bihar's Ratanpur village, says there are many months when she earns no incentive. "The maximum I have earned is just Rs 6,000 a month," says Usha, who has been a volunteer for the past seven years. Neha Shukla, another ASHA from Gujarat, highlights the problem with incentives when she says that to earn just Rs 300, an ASHA has to make four visits to the house of the pregnant woman before her delivery.
"Several women shift to their maternal houses in another village towards the end of their pregnancy. So they get registered in another centre and we get nothing for the period we assisted them," says Shukla…"There is emerging qualitative evidence that delays in reimbursement of incentives hurt the self esteem of ASHAs and has a bearing on her service delivery," warns Rajib Dasgupta, professor, community health department, Jawaharlal Nehru University.
Not just that, all the ASHAS who spoke to Down To Earth from Bihar, Madhya Pradesh, Gujarat and Karnataka say that even though not mentioned in the scheme guidelines they are regularly expected to carry out surveys for free…
Time to act
Experts say the government should immediately fix the salaries for ASHAs and include them under social security schemes. "Fixing a salary will not only help the ASHAs, but also bring economic security to their families," says Kavita Bhatia, member of the World Health Organization's advisory body on community health workers. Experts also say salary would mean the volunteers will be able to say no when they are made to work for free.
At least four states have introduced a scheme where the state governments contribute a top-up amount to the Union government's incentives. In Chhattisgarh, the top-up amount is 50 per cent, which means an ASHA for antenatal care receives Rs 450 instead of the usual Rs 300. The top-up scheme is also implemented in West Bengal, Tripura and Sikkim but the percentage varies… T Sundaraman, dean, health system studies, Tata Institute of Social Sciences, Mumbai, says skill upgradation should be an integral part of the scheme. He says the volunteers should be encouraged to take short-term courses on auxiliary nurse mid-wives/general nursing and midwifery. This will not only help the volunteers in getting a better incentive, but will also ensure that the people living in remote areas have better health access.
Currently, nursing schools in 11 states give preference to ASHAs for auxiliary nurse mid-wives and general nursing courses. However, most ASHAs say they are not even receiving the existing trainings regularly…Nirula feels government apathy is at the heart of the problem. "There should be a dedicated fund for ASHAs, which will ensure timely payment of the incentives and boost the morale of the volunteers," she says. The CITU leader says her organisation is waiting to see the government response to the recent protests. "We have a plan to sit on a hunger strike in February next year if the government fails to act," she says.
By: Banjot Kaur
(Courtesy: Down To Earth; full article at http://www.downtoearth.org.in/news/why-social-health-activists-in-india-live-a-life-of-uncertainty-59352).
Subscribed Failed...
Subscribed Successfully...