Paddler Soumyajit bags double at Chile Open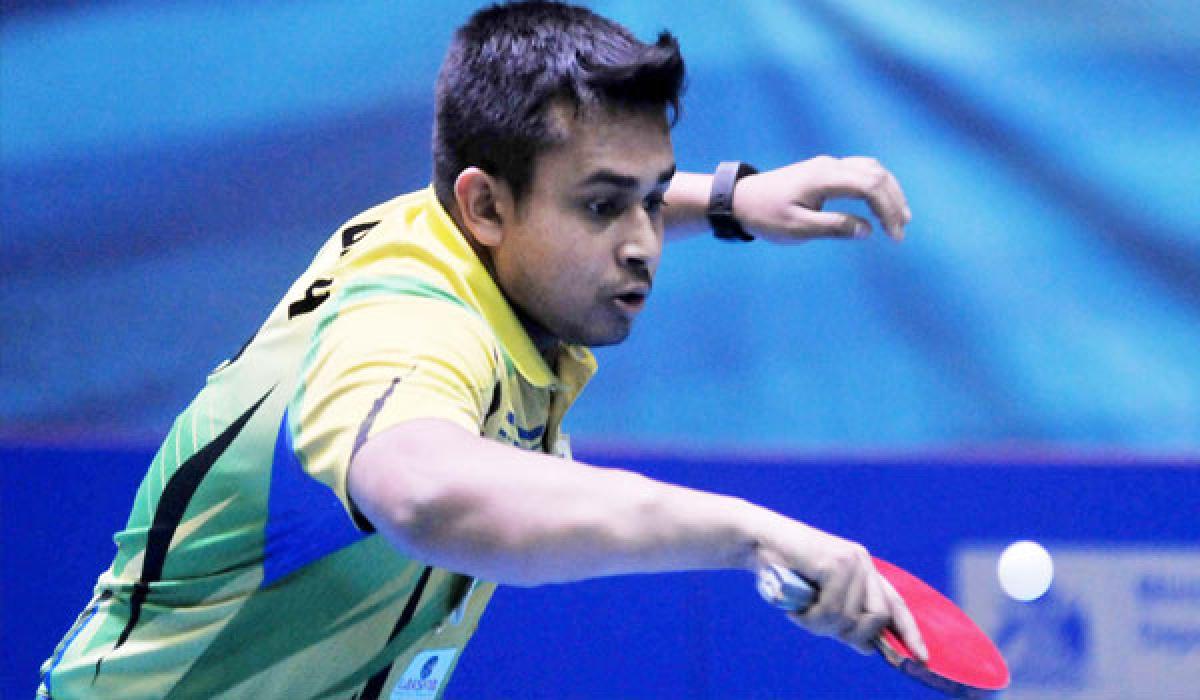 Highlights
Indian top seed Soumyajit Ghosh beat compatriot Anthony Amalraj in the men\'s singles final at the Seamaster ITTF Challenge Chile Open Table Tennis Tournament here. He had a memorable outing in the Chilean capital as he partnered Amalraj to capture the doubles title as well
Santiago: Indian top seed Soumyajit Ghosh beat compatriot Anthony Amalraj in the men's singles final at the Seamaster ITTF Challenge Chile Open Table Tennis Tournament here. He had a memorable outing in the Chilean capital as he partnered Amalraj to capture the doubles title as well.Somyajit on Sunday defeated Amalraj 4-2 (8-11, 13-11, 11-6, 11-9, 4-11, 11-7) to become the third Indian to win a men's singles title at an ITTF Challenge Series or ITTF World Tour tournament while Amalraj became the fourth Indian to reach such a final.
Soumyajit and Amalraj later combined brilliantly to win the men's doubles title when the Indian pair accounted for the Bulgarian combine of Philipp Floritz and Romania's Hunor Szocs 4-0 (13-11, 10-12, 14-12, 11-9).In the singles final, third seed Amalraj made a better start winning the opening game but lost a close second which helped the momentum to swing towards his adversary. Undoubtedly the second game was crucial. But Amalraj had another chance coming his way in the fourth which, like the second, he could have turned to his advantage.
Trailing 8-9 in the fourth, Amalraj opted for time-out and even managed to win the next point to level the score only to let the opportunity slip by. Yet to Amalraj's credit, he won the fifth game being the more consistent player but in the sixth Soumyajit emerged on top, all guns blazing.
Attacking quickly from the backhand and staying close to the table, Soumyajit won the opening four points. Amalraj secured the next two. Soon confusion prevailed and Ghosh, who was awarded the next point, advised the umpire that the ball had hit his shirt. With the score at 4-3 in favour of Soumyajit, a determined Amalraj attacked well to recover and level 7-all. But that was all he could do as the next four points went Ghosh's way and with that the title was secured.
"I had to start the sixth game aggressively because I kept thinking about my first big international title. It was hard to win against Amalraj. It took some time to adapt to the ball, harder than the one we used before enabling more power but less spin," said Soumyajit in a release.
"Now I'm the third to win such a tournament. I'm really happy. But being the top seed, I felt the pressure all through."
Amalraj, even though he lost the singles final, said he was pleased to bag the winners medal in the doubles.It is for the first time that India won a men's doubles title on either the ITTF Challenge Series or ITTF World Tour.
Subscribed Failed...
Subscribed Successfully...