Pro Kabaddi: Telugu Titans hand Tamil Thalaivas second straight defeat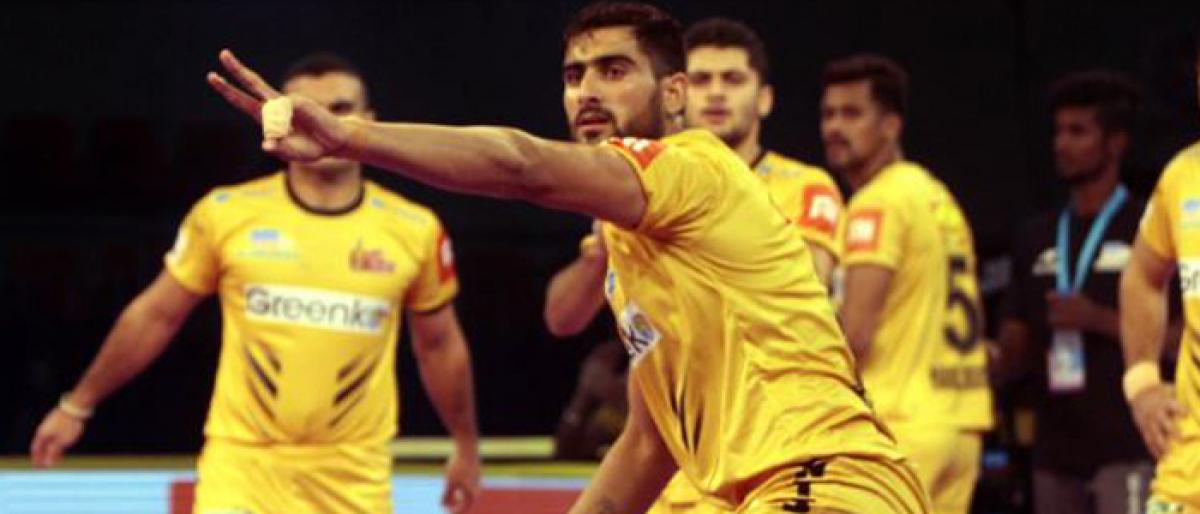 Highlights
Tamil Thalaivas succumbed to their second successive defeat in a row as they lost to Telugu Titans 2833 on the third day of the Pro Kabaddi tournament at the packed Jawaharlal Nehru Indoor Stadium here on Tuesday
Chennai:Tamil Thalaivas succumbed to their second successive defeat in a row as they lost to Telugu Titans 28-33 on the third day of the Pro Kabaddi tournament at the packed Jawaharlal Nehru Indoor Stadium here on Tuesday.

Playing their first game of the sixth season, Telugu Titans rode on star raider Rahul Chaudhuri's nine raid points and Iranian Mohsen Maghsoudlou's all round effort (three raid points, four tackle points) to down Tamil Thalaivas.

Chaudhari scored nine points and made crucial raids for the Titans. Ajay Thakur (9 raid points) and Amit Hooda (5 tackle points) were the top players for TamilThalaivas but their effort wasn't enough.

The home team, looking to take inspiration from their remarkable back against U.P.Yoddha last night where they fought back from 7-27 to lose 32-37, raced to a two-point lead riding Athul MS's successful raid and Titans' star raider Chaudhari being sent out of the mat in his first attempt.

Tamil Thalaivas led till 8-7 in front of a vociferous home crowd who were lapping up the south Indian derby.

But from there on, they lost ground as the Titans fashioned a late all out to take a healthy 16-9 lead and go into the break 17-11.

Chaudhuri, who stepped down from his captaincy ahead of this season to hand over the reins to young all-rounder Vishal Bharadwaj, started the second half by getting the back of Manjeet Chhillar in the first raid to further extend Titans' lead.

Manjeet Chhillar was a rock at the back for Tamil Thalaivas as they mounted a comeback in the second half.

After 25 minutes, Telugu Titans led 21-16 and the match hung in balance.

The fatigue was showing on Tamil Thalaivas as they played their third match in three days.
Telugu Titans were the fitter team with their defence and raiders looking sharper.

It was a Titans Tuesday Tho for Chaudhari's team as they maintained their composure in the last few minutes of the match and didn't give Thalaivas a chance to make a comeback.

Amit Hooda attained a high five in the last minute of the match but it wasna¿t enough. Tamil Thalaivas made critical errors throughout the match and crashed to 28-33 defeat.