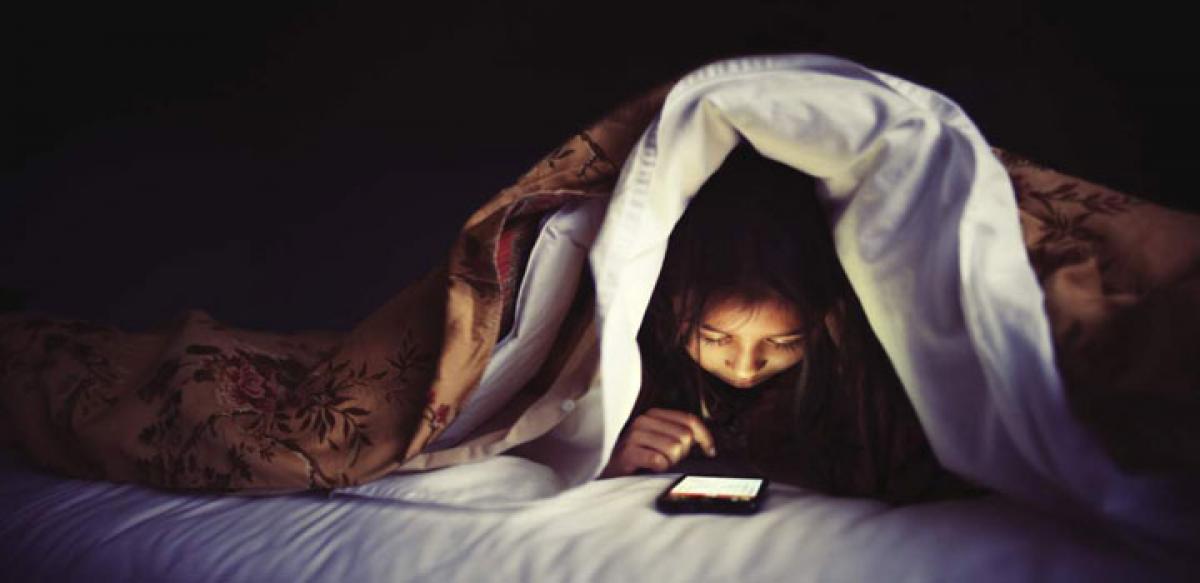 Highlights
A saying goes, "A sad soul is always up past midnight". However, with changing lifestyles, it is not uncommon for most people – whether happy or sad – to be awake until past midnight. While sleep is vital to one's health, and is known as the elixir that repairs the body
ADVERTISEMENT
Early to bed and early to rise… is a passé. With advent of technology many youngsters are compromising on sleep and catching up on life all through the night, ignoring the health hazards caused due to lack of proper sleep. And this new fad seems to be only increasing by the day, err...night
A saying goes, "A sad soul is always up past midnight". However, with changing lifestyles, it is not uncommon for most people – whether happy or sad – to be awake until past midnight. While sleep is vital to one's health, and is known as the elixir that repairs the body, we find that most people don't get it sufficiently, especially in modern times. Statistics reveal that the average adult gets about 7 hours of sleep every night. However, a population comprising of 33 per cent gets fewer than 6.5 hours per night.
Navneet Singh, a freelancer, enjoys catching up on TV series that he has missed out, such as 'Modern Family' or even grabbing a bite with friends at eateries in the city that are open late into the night. He usually stays awake until 4 or 5 am and then wakes up the next morning at 10 am. He ensures he gets about 6 hours of sleep, because, when he gets more than 8 hours, laziness creeps in, and he ends up sleeping 10 hours. While some days it is fun that keeps him up, some days it is work.
Despite being aware of the consequences he can face in terms of health, he enjoys the peaceful atmosphere of the night, as well as not having any restrictions over sleep times. After years of this, it has now become a habit, he says. Evidently, there is a Navneet in every set of friends.
While there could be several contributing factors to sleep not sleeping enough, a surprising majority of people lose their sleep due to what is known as "voluntary bedtime delay", just as in the case above. Losing out on sleep and tending to other activities that may or may not be important such as watching movies, texting or browsing has become increasingly common.
We often find that browsing the internet and social media sites are often the last thing done before falling asleep. In the morning too, we wake up to an alarm, snooze it or turn it off and then check Facebook, WhatsApp, and Gmail while still lying on the bed. This is ample proof that social media has certainly dominated most of our lives. And, telecom companies don't seem to help much. Airtel in its latest advertisement is offering a 50 per cent cash-back on night internet usage between 12 am and 6 am, thus cashing in on the sleep patterns of youth.
Sleep deprivation, insomnia, lack of appetite, inability to concentrate and make decisions as well as other more detrimental health problems like heart failure, weight gain, high blood pressure and diabetes – these are the various troubles one might find themselves caught in due to lack of proper sleep. Looking a bit closer at the phenomenon that results in such behaviours, we find that the routine of life is one facet that leads to monotony.
Daily waking, dressing, working several hours at office, returning home exhausted, wanting to do something fun at least by the end of the day, is often chosen over sleep. Moreover, it doesn't help that the tough day at work doesn't allow your mind to shut down as it should, especially so if one is working night-shifts. Says Krishitha Gunti, an employee at Thompson Reuters, "Although I don't work night-shifts, I reach home around 10:30 pm, after which I actually sleep only at around 2:30 am. I find that I am most productive during the night, so I tend to research for colleges and courses I could apply to next."
Tina Fernandes, Head of Department, Psychology, St Francis College for Women says, "Sleep is a physiological need of the body, which helps in processing information. Listening to the body and its underlying needs is important."
IndianJournals.com records an abstract from 'Sleep habits and associated phenomenon in Indian adults' by Sharma Vidur K, Dwivedi Sada Nand, Tripathi Manjari, who state that there is scant data available regarding the topic. For their study, subjects in the age range of 21-50 years were taken. It was found that most of them slept around 11 pm and woke up at 6 am the next day. Women in general, were reported as having taking longer to fall asleep and then woke up earlier as compared to men. It is but natural to be left with feelings of burn out in such a case.
However, it doesn't take research or survey to point out the consequences one experiences without proper sleep or worse, some days of inadequate sleep that is increasingly found in youngsters of the day. Drowsiness, irritability, a blow on the immunity system and a toll on one's appetite are the all-too-common sensations.
Whether you're a long-haul trucker driving through the night or a student pulling an all-nighter, or simply group-chatting with friends, compromising on sleep exacts a heavy toll, both emotionally and physically. Priyanka Prasad, a freelance graphic designer from Hyderabad, is another example of someone who suffers with sleep issues. Priyanka has been diagnosed with sleep paralysis, and explains, "I sleep around 4 am and wake up by 7 am. Of course I can't concentrate on my work, lose my appetite and other things, but I have tried everything – even sleeping pills. Soothing music and audio books help me manage to get some sleep every night."
"When social media usage affects the quality of life with family and friends, it is time to take notice. If you are glued to your phone when people are around, it is a sign that although there is a tempting world out there, our bodies are present here and now – after all, we are social beings. Our bodies need time to enjoy nature and the sun," explains Tina Fernandes. She further says, contemplating and taking the time to listen to your own body and thoughts is important. And adequate sleep is paramount need of human body.
This is not to say that technology is all bad. However, with ease of access to the internet and wearable technological devices, we spend lesser time in their absence, which could serve as an explanation to some of the cases of irregular sleep patterns. In the long run, many factors prove that it is beneficial to be well-rested and listen to the original body clock, even at the cost of missing out on an episode or two from your favourite TV show.
By:Elita Enoch