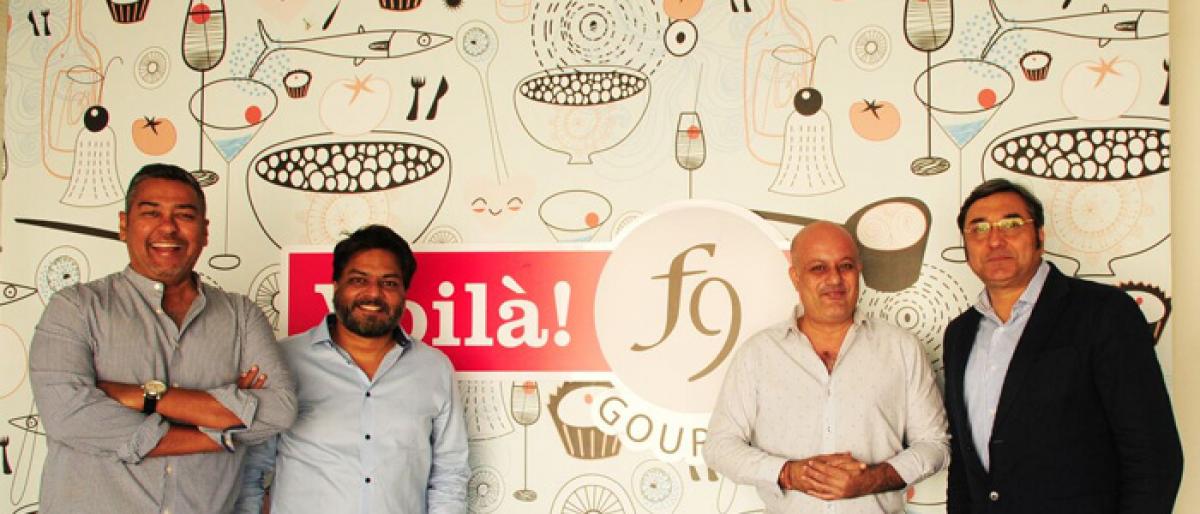 Highlights
Located in the heart of Financial District, in Hyderabad, in sprawling two-acre plot, is Viola F9 Gourmet's commercial kitchen. Spread over 60,000 sq....
Located in the heart of Financial District, in Hyderabad, in sprawling two-acre plot, is Viola F9 Gourmet's commercial kitchen. Spread over 60,000 sq. ft, it is India's largest commercial kitchen. The facility has a peak capacity to produce a whopping 50,000 meals every day.
Enter the kitchen (with all safety gear, of course) and an aroma of various dishes welcomes you. One can see busy cooks diligently preparing food on huge stoves, vessels and machines. And the sight of it surely makes one go Ooh! "We are round the clock company and have multiple shifts. We provide breakfast, lunch, and dinner to our clients," shares Vijay Amritraj Partner and CEO Voila F9 Gourmet.
"We are witnessing an increasing trend in commercial catering segment as food becomes a differentiator not only to strengthen Employee Value Proposition but is also for improving Employee Satisfaction and Retention. This massive facility gives us the bandwidth to double our existing production capacity and provide the best-in-class F&B experiences to our clients," he says.
Voila F9 Gourmet is an award-winning company and has been in the institutional catering space since 2007. Over the years Voila has emerged as one of the largest players in this category and this homegrown company directly competes with global F&B giants for market share.
About starting the huge commercial kitchen in Hyderabad, Vijay informs, "Hyderabad is a unique market where you have these large campus-based companies and within campus-based companies, product-based companies believe in providing their employees with good and healthy food. The city has been a pioneer in the market. Our stint in commercial catering started 10 years ago when an MNC started providing free meals to its employees. We have been handling that company from initial days and later top companies came in and started replicating the model making contract catering a big market."
"Viola F9 Gourmet only handles premium high-end company paid models. And with the merger of Voila Cuisine with Fusion Hospitality (Known for popular outlets like Fusion 9 and Deli 9), we have been operating three different kitchens. After the merger, the company became big, and we were coming close to be Rs 100 crore company. That is when we decided that we consolidate the operations under a single kitchen, which brings us the efficiency of scale and economy.
We have captured Hyderabad market, giving a tough competition to many international companies. We also built capacity for future expansion too. We are now only operating at 25,000 meals per day, as, many lines have not been added. But, we are built future proof for at least three years," he adds.
With employee strength of 850+, the company produces over 25,000 meals every day for corporate employees in leading multinationals in Hyderabad. All the meals are produced at the new central kitchen in Gachibowli, and then transported through a fleet of trucks and served onsite at company cafeterias in buffet formats.
The company follows internationally acclaimed food safety processes like Hazard Analysis and Critical Control Points (HACCP) and ISO 22000:2005 and also runs an in-house microbiology lab to test and monitor every food item that is produced. "Food safety is our major agenda and we are proud that we follow international safety standards like HACCP and ISO. That helps us to deliver safe, healthy food to our clients."
This facility has specialised zones for receiving, stores, sorting, pre-prep, hot kitchen, confectionery, butchery, quality control, dispatch, temperature-controlled refrigeration and also RO and STP / ETP plants. This large state-of-the-art kitchen, together with an integrated supply chain provides Voila with an unparalleled advantage in the premium contract catering space in India. "We are planning to expand to Bengaluru this year and to Gurgaon in 2019," Vijay signs off.
Subscribed Failed...
Subscribed Successfully...