A timeless voice: Vani Jairam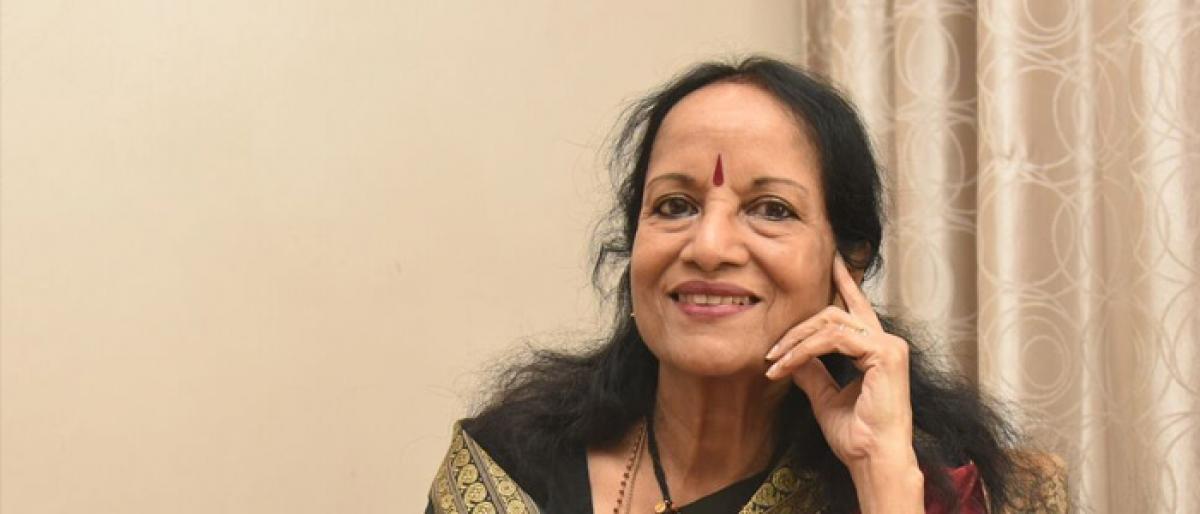 Highlights
Her first song for a film was recorded in 1970 for the Hindi movie 'Guddi'. It was a Meera bhajan that was later replaced by a hit film song from 'Madhumati' – "Aajare Pardesi". However, the other two songs – "Humko Man Ki Shakti Dena" that later went on to be adapted as school prayer in remote corners of India, and "Bol Re Papi Hara" – the semi-classical song, made the singer, Vani Jairam, a hous
Her first song for a film was recorded in 1970 for the Hindi movie 'Guddi'. It was a Meera bhajan that was later replaced by a hit film song from 'Madhumati' – "Aajare Pardesi". However, the other two songs – "Humko Man Ki Shakti Dena" that later went on to be adapted as school prayer in remote corners of India, and "Bol Re Papi Hara" – the semi-classical song, made the singer, Vani Jairam, a household name, overnight.
A south Indian, trained in Carnatic classical music, who grew up listening to Hindi film songs, went on to become a sought-after playback singer, who had the opportunity to sing with the stalwarts – Mukesh, Rafi, Manna Dey, Mahendra Kapoor, Hemant Kumar, Talat Mehmood, Kishore Kumar. There were days when she would be at the studio through the day singing in Marathi, Marwari, Gujarati, Oriya and Hindi, of course.
Now, 47 years later, her title track from the hit Malayalam film, 'Puli Murugan' was longlisted among the 70 songs to be represented at the Oscars, out of 200 entries. She recorded a song for the latest Malayalam film, 'Captain' composed by Gopi Sundar, a happening music director. The song, a beautiful duet with Jayachandran is yet again a super hit. She continues to receive awards as best playback singer amidst the Gen Y, quite a feat by this ageless singer.
"Most of you will call my life a boring one; I lead a strict, disciplined life. I do my 'pooja path', I do all my housework, I practice my music while cooking, I eat simple food, I have no other habit," she shares.
It is interesting that despite her roots she first gained prominence in Bombay film industry before beginning to sing in south films. "Everyone thought I was a North Indian. My surname is not even Jairaman (she smiles). It was in 1971, when 'Sampoorna Ramayanam' was being dubbed into Hindi.
I was recording the songs along with Manna Dey ji at Madras Studios. It was then that KV Mahadevan garu realised I am a south Indian, and asked me why I was not singing for south films – I am dying to sing if only they call me – I replied. Once MS Viswanathan sir saw me sing at a concert and praised me.
He said – 'Here is our singer, whom we failed to recognise. We must surely utilise her talent'." True to his words, the legendary music director recorded a song with her for the film – 'Deerga Sumangali' – the song that became an instant rage – "Malligai En Mannan". She went on to sing "Yezhu Swarangalukkul" in Rajinikanth's debut film, 'Apoorva Raagangal'. And there was no looking back ever since.
"Incidentally, for the great actress we recently lost, Sridevi, I sang for every first film she acted – In Tamil, it was 'Moondru Mudichu' that also had Kamal Hassan and Rajinikanth in the lead, Telugu film, 'Anuragalu' composed by Satyam garu and her first Hindi film 'Solvasaal'."
Vani Jairam also sang for Juhi Chawla in her first Kannada film, Shabana Azmi's 'Parinay', Jaya Bachchan's debut, 'Guddi', Parveen Babi's entry film, 'Dhuen Ki Lakeer' – all these actresses went on to rule the box office.
"I look at everything in a positive way. But for my work in Hindi film industry, I wouldn't have done this much work in the south Indian films. My popularity in Hindi films opened the doors in south. And I got to sing some great compositions of KV Mahadevan Garu in Telugu and Tamil, great MS Viswanathan, Dakshinamurthy and Arjunan master in Malayalam, and Vijay Bhaskar sir, Rajan Nagendra in Kannada."
Down south, she sang in every language. In fact, compared to the massive body of work she has in Malayalam, Tamil and Kannada, her Telugu songs are limited in number, but each one has been memorable.
"All my songs went on to become hits. Songs from 'Sankarabharanam' ''Dorakuna Itu Vanti Seva", 'Swathi Krianam' – "Anathi Neeyara Hara", 'Sruti Layalu' – "Alokaye Sreebalakrishnam" and 'Maro Charitra's "Vidhi Cheyu Vintalanni" are all close to my heart."
Sobha Naidu, the famous dancer had said on stage, "Vani Jairam is capable of singing a song like "Yezhu Swarangalukkul", "Aanathi Neeyara" and even a folk number like "Nuvvadigindi Enadayina". She is versatile."
"Capacity of a playback singer has to be judged based on the efficiency and ease with which she is able to render every form, be it a disco, folk song, a lilting duet, a happy song or a sad song. You are expected to give the required expressions and excel," says Vani.
Vani Jairam's stint as concert singer is equally a fulfilling one. She has been giving concerts and bhajan programmes since even before she began singing for films. She trained with Ustad Abdul Rehman Khan in Thumris, Ghazals, Bhajans – Upa Sastriya Sangeet and was active in the Bombay Bhajan circuit around 1969. She continued travelling across India. Once on the invite of Jodhpur Maharaja, she sang at the temple in Chittorgarh where the saint Meera used to sing in the worship of Lord Krishna.
The crowd was mesmerised and the next day, newspapers wrote that it felt like Meera herself had come down to sing her bhajans. She shares, "I couldn't have asked for more. Yet another time I was singing at the Ganga ghat and they said – it was as if Mother Ganges stopped to listen to Vani's voice. Music director Naushad saab in his 'Naushaad Nama' stated – 'Vaniji is the most trained voice.
Her diction in Urdu is excellent. I wanted to record a Ghazal album that unfortunately didn't materialise.' When Gulzar saab made 'Meera', which is sheer poetry on celluloid, he made me sing all the songs that were composed by maestro Pandit Ravishankar," she reminisces.
She adds, "As Chinmayananda said, in 'heart' there is art. Whoever has 'Art' should definitely have a good heart. There is no need to feel jealous, or undercut anybody, or manipulate; there is room for everybody, one has to just live and let live."