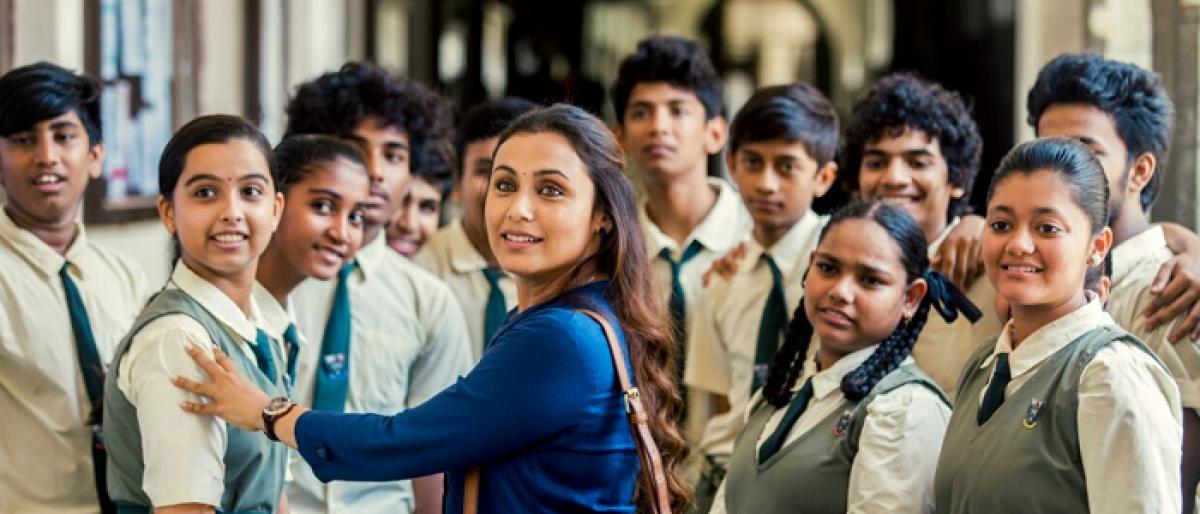 Highlights
You may be a rich man with a happy family You may be accomplished, famous, widelytravelled and talented Yet, if you could not find a Guru at whose feet your mind could be centred, what is the use of all that Tatah Kim Adi Shankara had asked unequivocally in the Sri Guru Ashtakam verse
ADVERTISEMENT
You may be a rich man with a happy family. You may be accomplished, famous, widely-travelled and talented. Yet, if you could not find a Guru at whose feet your mind could be centred, what is the use of all that? Tatah Kim? Adi Shankara had asked unequivocally in the Sri Guru Ashtakam verse.
Such is the position accorded to the teacher in all human civilisation. A teacher who is venerated on par with parents, in whom a pupil should see the divine Trinity and bow down in absolute surrender for him to rise as a human with a justifiable existence.
The teacher-student dynamics are not just holy, they are also highly emotional with potential for a great deal of drama. As film-makers who made intense teacher-centric films will show you. Cinema has cast its eye on corners and depths where even sun could not reach, and it is no surprise that movies unravelled the labyrinth of emotions that is shared by teachers and their wards.
Who is a good teacher? One who is scholarly and intellectual? One who is a great communicator or one who leads by example? The textbook zealot or the field explorer? The lovable or the imposing? The probing one or the reticent one?
Hollywood had some stunning films on these dynamics such as 'Mr. Holland's Opus', 'Half Nelson' and the contemporary 'Karate Kid' and 'School of Rock', though 'Dead Poets Society', the poignant tale of a teacher shunned by the establishment but owned by the students, remains on the top of memory.
"Carpe diem. Seize the day, boys. Make your lives extraordinary," the maverick teacher's words epitomize the essence of mentoring that all teachers strive for across the world. Hindi cinema too extensively used the relationship to portray touching stories. From 'Do Aankhein Baara Haath' that showed what keen mentoring could achieve to 'Parichay', with shades of 'Sound of Music', from the oddball 'Munnabhai MBBS' to 'Taare Zameen' par that held a lesson to both parents and teachers on handling kids with difficulties, Hindi cinema panned a whole range of subjects concerning teaching, including the 'hot teacher' temptations such as 'Main Hoon Na' and 'Mohabbatein'.
While 'Black' was a deeply stirring ode to the rare bond between a mentor who challenges his student to extreme test of human capability, 'Chak De' and 'Iqbal' looked more gently at how a teacher can inspire his mentees to excellence. More recent 'Stanley Ka Dabba' and 'Hichki' get into the subtext of psychology of the school.
Telugu cinema did no less in spreading out narratives on teachers, starting from NTR's 'Badi Pantulu', where devoted students rescue a headmaster from penury and ungrateful offspring and repay their debt. Chiranjeevi in 'Master', Venkatesh in 'Sundarakanda', Balakrishna in 'Simha', Sumath in 'Golconda High School' have all played roles that lent glamour to the teaching profession.
Kamalini Mukherjee in 'Happy Days' and Swathi in 'Golconda High School' are again cameos that pay a tribute to the charming but harmless student crushes during college years. If Rajendra Prasad had a reflective role in 'Onamalu' and MS Narayana in 'Pilla Zamindar', Ravi Teja in 'Mirapakay' was the teacher who fooled around too much popular effect. Dharmavarapu, LB Sriram and Brahmanandam, who really was a teacher, have all added tickle and tinsel with their funny portrayals.
The Telugu field also did not hesitate to depict teachers in a raunchy show with a plethora of titillating titles such as 'Sorry teacher', 'Rowdy teacher', 'I love you teacher' etc. More recently, Venkatesh's 'Guru' had closely examined the volatile bond that a reticent coach and a hardy ward shared in a sensitive tale of sport.
Vijayashanti of 'Pratighatana' needs a special mention as her character stands out as a representative of angst among teachers at the insensitivity and indifference of students and their struggle to retain a hold on their important yet onerous responsibility to impart education to a young mass that is least receptive.
But, the most unique take probably on the equations, comes from Telugu cinema in delving into an extension of what could be seen as the Gurukula system, in movies that had maestros and artiste wannabes in highly charged relationships. The school of filmmaking that Vishwanath and Jandhyala had entrenched into unshakeable institutions not only spread a wide canvas to tell their stories but also reached into the innermost folds of such relationships to touch, probe, torment and dig out dramatic secrets.
The unconventional bond of 'Shankarabharanam', the stormy relationship of 'Ananda Bhairavi', the teacher who isn't in 'Swarna Kamalam', the fallen mentor of 'Swati Kiranam', the alcoholic dance exponent in 'Sagara Sangamam' are all pen portraits of a teacher who is at the same time noble and human.
'Guru Devo Bhava'. The many shades of teachers; the many hues of relationships between teachers and students; the many nuances in their shared emotions. Cinema is doing a good job in telling these stories and, no doubt, will continue to do so for years to come.