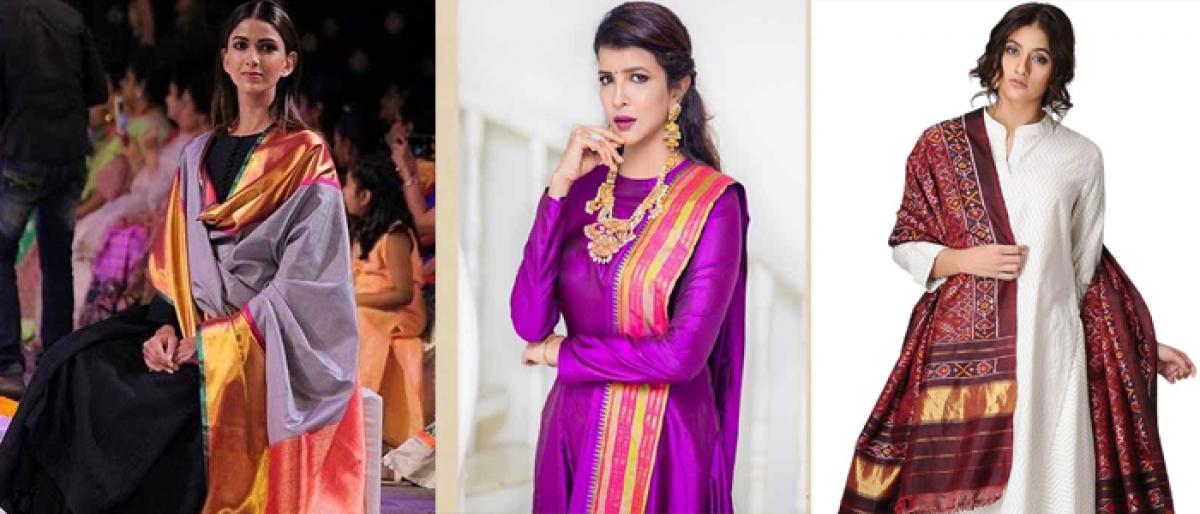 Highlights
Dupattas have been a closet favourite since ages Our grandmothers had it, so did our mother and so do we We love to drape dupattas on various outfits many a time we end shopping an ensemble of dupattas Most of us adore them and always eye them while shopping Now, make that dupatta your best accessory ladies and dont limit dupatta styles with suits
Dupattas have been a closet favourite since ages. Our grandmothers had it, so did our mother and so do we! We love to drape dupattas on various outfits; many a time we end shopping an ensemble of dupattas. Most of us adore them and always eye them while shopping. Now, make that dupatta your best accessory ladies and don't limit dupatta styles with suits! A handloom dupatta is a cheat code to enhance basic and simple outfits. so here are some splendid handloom dupattas that match with all outfits!
Banarasi
These dupattas reflect a royal choice, rich and heavy-duty zari work that exudes grandeur. Team up with a simple white salwar-kameez, kurta-pyjama, lehenga or an Anarkali, and see the difference. You can always opt for sophisticated and minimal worked chunnis for your casual days and are awesome for layering. Add an old vintage look to your pretty appeal with this staple.
Chanderi
Chanderi Dupatta is known for its elegance and simplicity. It adds sheen and luxury to your outfit and is one of the classiest dupattas you can own. These dupattas feature sheer and fine luxurious lightweight feel. Wear them with a Kalamkari suit, palazzo or a lehenga.
Ikat
Ikat is in vogue these days. It defines Bohemian fashion in the truest sense. Ikat follows resist dyeing on the yarns prior to dyeing and weaving the fabric. They are sophisticated, you can try these pretty staples with terracotta jewellery, tribal accessories and handmade bags. You can use ikat dupattas as a turban as well.
Kalamkari
Kalamkari is a hand-painted technique, the design depicts our culture and heritage. Kalamkari dupattas are a classic example of the mix-and-match style. You can wear these with simple everyday kurtas to parties, and work with tribal jewellery to stand out. Wear them with terracotta jewellery and carry an embroidered folded clutch.
Patachitra painted dupatta
It is the pride of Odisha. The Patachitra paintings are famous not only in India but throughout the globe. Patachitra painted dupattas showcase amazing pictures of common people and their daily lifestyle. The raw and rich texture will surely flatter you. These dupattas work great on plain or simple embroidered outfits.
Buti
Buti dupatta showcases the delicate designing and decoration of natural elements and events. Buti dupattas feature this intricate design work on the borders and sometimes over the bodice. Pick out intense hues when wearing this type of dupattas. Buti dupattas look magnificent on simple Indian or fusion outfits.
Phulkari
They are highly intricate multicoloured embroidery, which is done on either jute or khadi and are popular everywhere. Street style to designer labels, all have come to pick this style up. The best part about these dupattas, you can mix and match them and just keep your outfit simple.
Bandhani/Bandhej
They are knotted and dyed dupattas that come in a variety of fabrics. Rajasthan and Gujarat are famous for their authentic bandhani dupattas. These are timeless, and you can wear it with a black or a white kurta and pair them with tribal jewellery to look effortless.
Deepika Sarode - The writer is founder of PikaLove, a sustainable fashion label.