Cong leaders instil 'fighting spirit' in students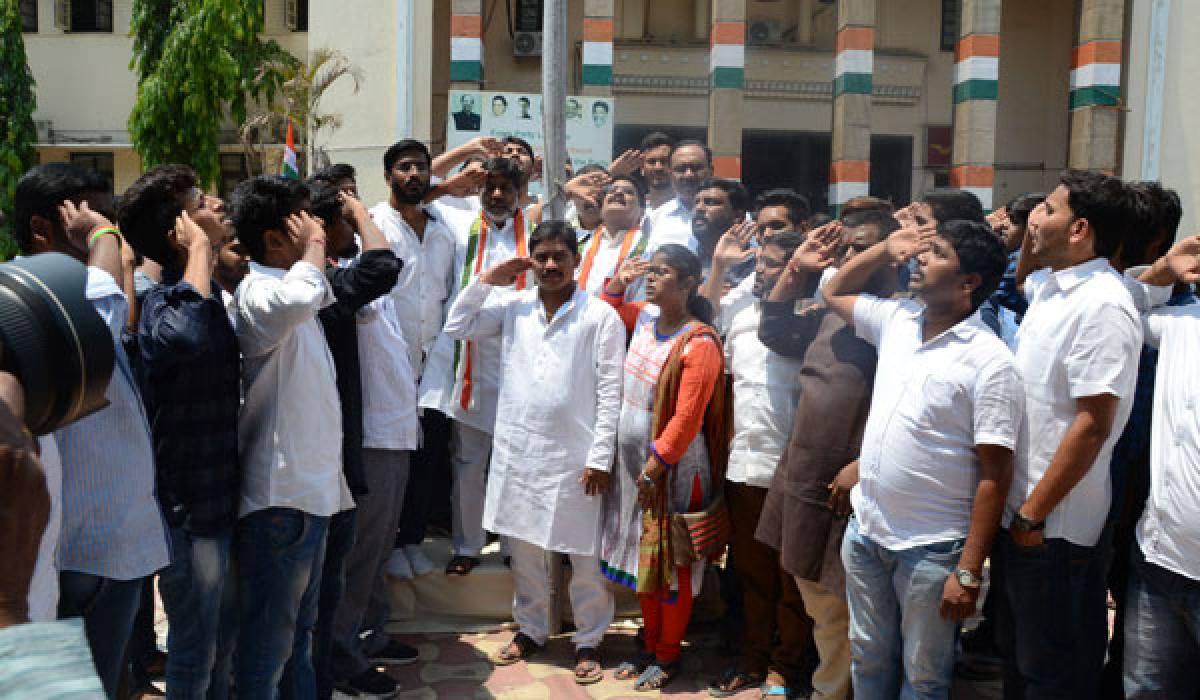 Highlights
Telangana Pradesh Congress Committee (TPCC) president N Uttam Kumar Reddy came down heavily upon the State government for not responding to the EAMCET, SSC examination papers leak.Addressing students on the occasion of 46th foundation day of National Students' Union of India (NSUI) here on Sunday
TPCC chief Uttam Kumar Reddy and other senior leaders exhort students to wage a war against the State government over myriad students' issues, at the 46th foundation day celebrations of NSUI
Hyderabad: Telangana Pradesh Congress Committee (TPCC) president N Uttam Kumar Reddy came down heavily upon the State government for not responding to the EAMCET, SSC examination papers leak.Addressing students on the occasion of 46th foundation day of National Students' Union of India (NSUI) here on Sunday, Uttam Kumar Reddy extended greetings to the students and said the Telangana Rashtra Samithi (TRS) had government failed to fulfil the assurances given to the students before the elections. He also said there was no sign of implementing the KG-to-PG education scheme.
He called upon the students to wage movements against the State government on students' issues.Speaking on the occasion, senior Congress leader and former Union Minister Sarvey Sathyanarayana called upon the NSUI, Youth Congress and Mahila Congress activists to work actively and ensure that the Congress regained power in the 2019 elections. Satyanarayana ridiculed Irrigation Minister Harish Rao for predicting that the Congress would not win the ensuing 2019 elections.
He wondered how Chief Minister K Chandrashekar Rao, who took political birth in the NSUI, was now criticising the Congress. Terming IT Minister K T Rama Rao as a child, Satyanarayana alleged that there was rampant corruption under the TRS regime. He said the Congress accorded Telangana State respecting the sentiments of the people of the region, who were yearning for a separate State for the past six decades.
He also lamented that Rama Rao and Nizamabad MP Kavitha, who had no political experience, were criticising the Congress.Alleging that Chandrasekhar Rao's family members were constructing castles in the air, TPCC working president Mallu Bhatti Vikramarka said Telangana, which was achieved through movements, was facing a tough time. He said the TRS government was destroying the education sector in the State.
Expressing anger at the TRS government, Bhatti alleged that it did not allocate a single paisa for KG-to-PG education scheme though it introduced four budgets.Stating that the Congress had seen many leaders like Chandrasekhar Rao, Irrigation Minister T Harish Rao and K T Rama Rao, Bhatti exuded confidence that the Congress would win the elections in 2019 elections.
Taking a jibe on Chandrasekhar Rao's grandson taking part in a temple ritual, Youth Congress State president M Anil Kumar Yadav said the Chief Minister had no leisure to participate in the programme conducted on behalf of the State government. While addressing the students, Anil alleged that the KCR government had deceived the youth.
K T Rama Rao and K Kavitha, who said the Congress did nothing, should ask their father what the Congress did to the State, he suggested and exuded confidence that the Congress would come to power in 2019 elections.

Interested in blogging for thehansindia.com? We will be happy to have you on board as a blogger.