Faculty recruitment drive at RIMS put on hold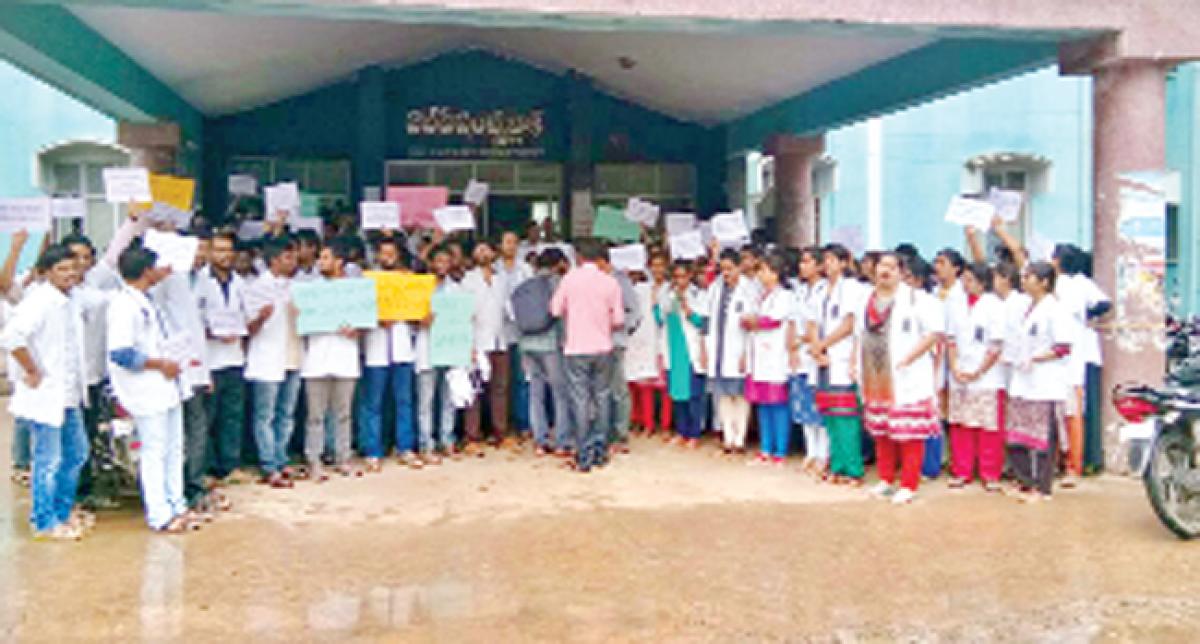 Highlights
Its tense time for the administration of RIMS Rajiv Gandhi Institute of Medical Sciences, Adilabad as it awaits crucial MCI Medical Council of India reinspection for the renewal of recognition to the medical college
Hyderabad: It's tense time for the administration of RIMS (Rajiv Gandhi Institute of Medical Sciences), Adilabad as it awaits crucial MCI (Medical Council of India) re-inspection for the renewal of recognition to the medical college.
The faculty recruitment process has been delayed as authorities are in a bind over vast difference in salaries (almost 50 per cent) between the existing contract faculty and the proposed new contract recruitments that will be done in the next few weeks.
The Health department's decision to give a steep rise in salaries so that doctors fraternity find it attractive to join teaching jobs in remote RIMS is being welcomed but what is the fate of the existing contract faculty of nearly 50 members, who have been working for a period of five to eight years in this college.
For fresh recruitments, nod was given to RIMS to offer a consolidated pay of Rs 1.90 lakh for Professor, Rs 1.50 lakh for Associate Professor, Rs 1.25 lakh for Assistant Professor and Rs 55,000 for Tutors. Compare with this package being offered to present teaching faculty which is Rs 1 lakh for Professor, Rs 90,000 for Associate Professor, Rs 75,000 for Assistant Professor and Rs 40,000 for tutor.
The pay disparities are there for everyone to see. And rightly so, this issue was brought to the notice of District Collector D Divya, who immediately responded and wrote to Principal Secretary (Medical and Health) Shanti Kumari seeking her response.
RIMS being a semi-autonomous institution, contract recruitments, on all-India basis, are being taken up so that Professors, Associate and Assistant Professors from neighboring states like Maharashtra show interest to join teaching jobs as senior doctors from Hyderabad have always been reluctant to shift to remote Adilabad for family and children education reasons since its inception in 2008 .
In the inspection done in June, the MCI highlighted the teaching faculty deficiency following which the Health department and RIMS administration have decided to go for a fresh all-India recruitment offering plum packages to overcome this hurdle.
The challenge before authorities is they have to meet shortcomings pointed out by MCI at the earliest and send compliance report to MCI for a re-inspection soon afterwards or else renewal recognition is at stake.
RIMS Director Dr K Ashok said that they have sought clarification from government on how to address pay anomalies issue. A GO number 52 was issued this May approving pay for RIMS faculty on par with NIMS faculty.
The question is whether this scale can to be applied to contract teaching faculty or only for a few regular teaching staff, who were deputed to this college from colleges like Osmania, Gandhi etch when RIMS was started in 2008.
Dr Ashok said that NIMS pay scales for different cadres and the proposed pay for newly recruited staff are almost identical. The existing teaching faculty said that it would be fair if government would decide to implement G.O-52 for the old staff which is serving for a long time.
"We do not want to delay the recruitment so that MCI re-inspection could take place at the earliest. The present staff has pinned its hopes on government and RIMS administration to come to our rescue," a faculty member said.
Meanwhile, students pursuing M.B.B.S at RIMS are understandably anxious about their future as any delay could result in losing MCI recognition, which would risk future of final year students especially.
They want authorities to expedite all processes by taking care of concerns of all stakeholders. To make their voice heard, students even held a protest in the college campus holding banners and placards highlighting their demand.