Despite disabilities, couple finds love in a silent world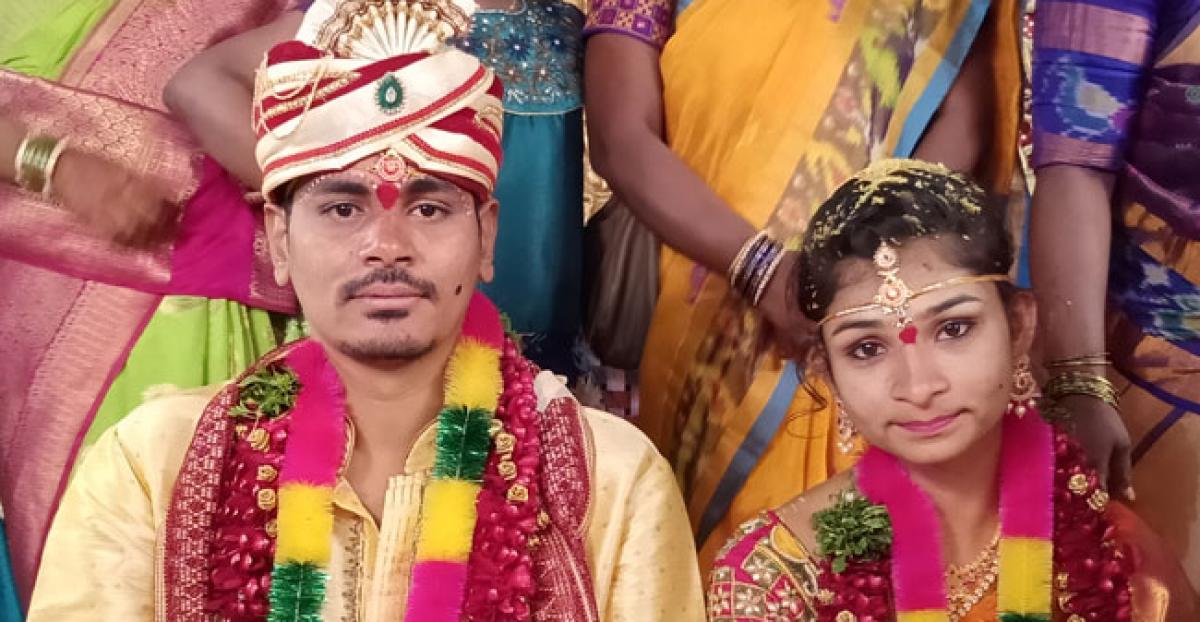 Highlights
It was love at first sight for Padala Vikram, who felt his first encounter with an unknown girl last year, and never thought that it could bloom into something much bigger
Warangal: Even in the world of eerie silence, eyes speak volumes. It was a pleasant pre-noon with the orchestra playing melodies of yesteryears; it's an occasion to remember for Sowmya-Vikram, both hearing and speech impaired, as they entered into wedlock as their hands moved animatedly like players in a pantomime.
It was love at first sight for Padala Vikram, who felt his first encounter with an unknown girl last year, and never thought that it could bloom into something much bigger.
It all started when Vikram went to Mallikamba Manovikasa Kendram, a centre for mentally retarded, along with his elder brother Vinay, who wanted to help the needy children, on November 24, 2017. There he first saw Sowmya. Noticing that she is also a hearing and speech impaired like him, Vikram felt that she is the one for whom he was looking for ages.
A B Com (Computers) graduate Vikram, who is busy preparing for competitive examinations and very narrowly missed a couple of government service jobs, told his parents Rajasekhar-Sridevi to put in their efforts to get him married to Sowmya, who is also a B Com graduate.
It may be noted here that there was a huge barrier of caste both the families have to surmount for any sort of marriage alliance. While Vikram is from Padmashali community, Sowmya belongs to Munnuru Kapu.
Against this backdrop, one fine morning Vikram had his dream come true when their family Purohit walked into their residence with an alliance proposal. Much like a filmy narration, the alliance the Purohit came up with was of Sowmya, daughter of Pulyala Swaroopa-Ramesh.
Vikram, who studied in Little Flower School for Deaf and Dumb at Pedda Pendial, a suburban village of Warangal, up to SSC, did his graduation from the famous Helen Keller's Institute of Research and Rehabilitation for the Disabled Children. It was Mallikamba Monovikasa Kendram that looked after the academics of Sowmya.
On Thursday, Sowmya and Vikram entered into wedlock amid fanfare at a private function hall in Hanamkonda. Speaking to The Hans India, Telangana Vikalangula Cooperative Corporation chairman, who blessed the couple, said: "The challenged needs a helping hand not just from the government but also from the society.
It's a heartening to see that even the orthodox families coming forward to accept marriage alliances irrespective of caste, community or region for the happiness of their disabled offspring." Apart from extending benefits of inter caste marriage and others, I will also help them get jobs, he added.
Deputy Director of Information and Public Relations (I&PR) DS Jagan said: "The couple is very interactive in sign language and a perfect match." Tourism Promotion Officer Kusuma Surya Kiran was among others, who blessed the couple.