Stage set for Pragati Nivedana Sabha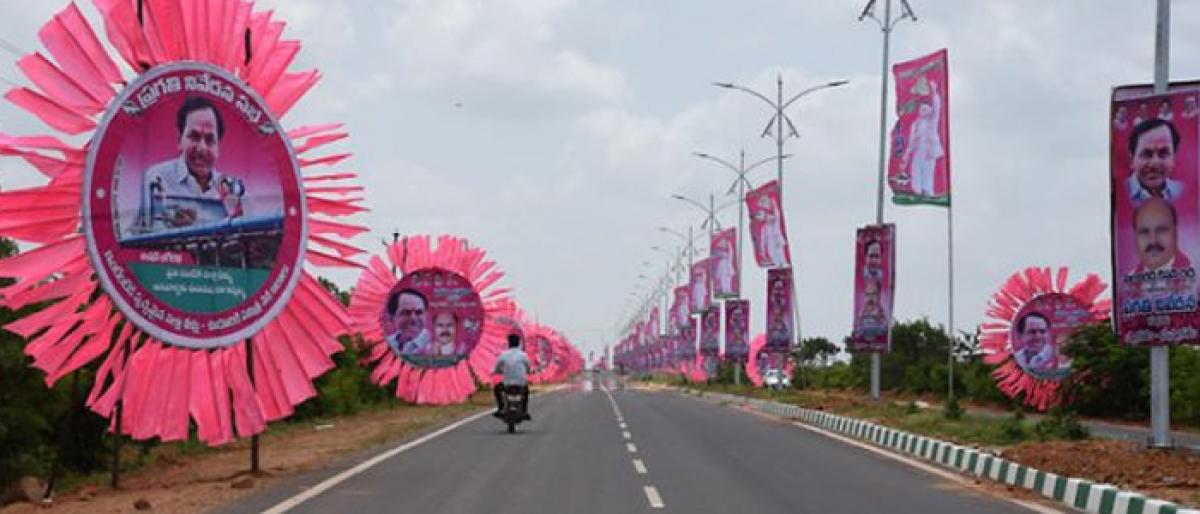 Highlights
Stage is set for the biggestever TRS public meeting Pragati Nivedana Sabha with a gathering of people in lakhs on Sunday Chief Minister K Chandrashekhar Rao in his twohour long speech will showcase his governments performance during the last four and half years Apart from making elaborate arrangements with regard to security and food supply, special medical teams have also been deploye
​Hyderabad: Stage is set for the biggest-ever TRS public meeting - Pragati Nivedana Sabha - with a gathering of people in lakhs on Sunday. Chief Minister K Chandrashekhar Rao in his two-hour long speech will showcase his government's performance during the last four and half years. Apart from making elaborate arrangements with regard to security and food supply, special medical teams have also been deployed at the venue in Kongara Kalan on the outskirts of Hyderabad.
Anti-Snake Venom (ASV) vials are being kept in sufficient quantities by medical teams (apart from regular medicines and drugs) that are deployed at Kongara Kalan to provide medical assistance, including emergency care, for scores of people attending TRS's Pragati Nivedana Sabha. Usually medical teams setting up health camps at public meetings keep ORS sachets, paracetamol tablets (for fever, headache, etc) apart from tablets for vomiting or stomach upset symptoms, but Kongara Kalan meeting is an exception as ASV vials are being kept additionally to give emergency aid to anyone affected by snake bite.
This step was taken as the meeting is being held in a more than 1500 acres of open isolated area, devoid of any habitations and proper roads. Apart from the main venue, dozens of temporary parking lots have been created to park vehicles. Presence of snakes in bushes and thick grass cannot be ruled out and hence ASV vials are being stocked up as a precautionary measure. The Police department alerted health officials in this regard and accordingly necessary steps are being taken.
Health machinery from Ranga Reddy district has been assigned health camps responsibilities for this meeting. According to officials, they have put up six health camps comprising doctors, nurses and paramedical staff along with medicines to extend medical assistance to the needy. These camps would start from Saturday evening till the end of the meeting on Sunday evening.
Even some private medical colleges and super-specialty hospitals like Malla Reddy hospitals and Star Hospital have decided to do their bit in view of a large public gathering expected. Dr Ch Bhadra Reddy, director of Malla Reddy Institute of Medical Sciences, Suraram said that they are deploying 100 doctors and 100 nurses apart from other health staff at Kongara Kalan.
"20 ambulances will be kept at 20 parking lots. Also, three health camps, including one behind the main stage, with makeshift rooms, to even treat patients having heart attack or any such problems. Also, ASV vials are made available to treat snake bite victims. This injection prevents spread of venom inside the body for some time providing breathing time for ambulances to rush to them to a hospital for further treatment," he added.
Even the 108 emergency services are being deployed at all four directions that lead to the venue. P Brahmananda Rao, Telangana Operations head of GVK-EMRI services, informed that 50 ambulances would be on duty to give emergency first-aid or health assistance to the needy and shift them to nearest hospitals. He added that 20 ambulances have latest Life Support Systems to give emergency treatment for respiratory or cardiovascular problems so that their health stabilises and they can be shifted to hospital at the earliest.