Hyderabad's youngster shines at global stage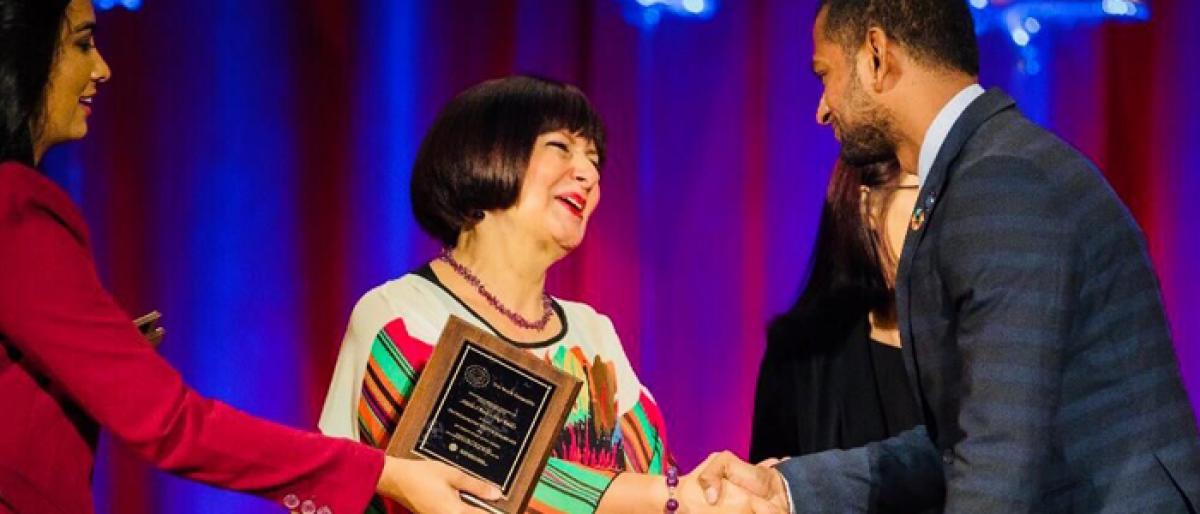 Highlights
Hyderabadbased Singi Reddy Akhilesh Reddy has shone on the global stage for his excellent contribution towards the United Nations Sustainable Development Goals SDGs by 2030 For his efforts, Akhilesh Reddy has recently awarded Outstanding Youth Delegate by the United Nations Youth Assembly UNYA I was interested in social activities since my childhood
Hyderabad-based Singi Reddy Akhilesh Reddy has shone on the global stage for his excellent contribution towards the United Nations Sustainable Development Goals (SDGs) by 2030. For his efforts, Akhilesh Reddy has recently awarded 'Outstanding Youth Delegate' by the United Nations Youth Assembly (UNYA). "I was interested in social activities since my childhood.
After my master's in computer science from the University of North Carolina at Charlotte, USA, I wanted to do something for the society and participated in many social activities. Two years back, I participated in the United Nations Youth Assembly for a seminar, and at that time, I decided to work hard on SDGs," said, Akhilesh Reddy.
The United Nations 17 SDGs cover social and economic development issues including poverty, hunger, health, education, global warming, gender equality, water, sanitation, energy, urbanisation, environment and social justice.
To promote the UN's SGDs, he started an initiative 'Goals on Wheels' and went over 100 schools in the city and conducted various workshops. "Goals on Wheels is an ambitious initiative that I have embarked on to build a humongous workforce from India to fight for United Nations Sustainable Development Goals. It aims at building an aware, capable and willing youth force to fight for UN SDGs.
In that regard, I have travelled to 100+ schools in the city and conducted workshops to aware students on the global goals. Through this initial phase of the campaign, I aimed to work on grassroots to bridge the awareness gap. In the second phase of the initiative, I am now moving from awareness to implementation, trying to develop localized solutions to the community issues. This would as well be youth/children-centric," shared, Akhilesh Reddy.
About United Nations Youth Assembly's programme, Akhilesh said, "Every year, United Nation conducts a special programme 'Youth Assembly' to give a global stage for the young people who work on social issues to share their views on different issues. They select young people based on the social work done by them and invites to attend the global event,"
Akhilesh Reddy added, "In the meet, I explained how I work to achieve the global goals into reality. I shared my plans of achieving the SDGs by 2030 with other delegates. More than 150 countries delegates have attended the youth assembly and shared their views on the same. During the event, I was awarded the 'Outstanding Youth Delegate' for my contribution to achieve SDGs. I received the award on August 13 in Manhattan City, New York,"
About politics in India, he said, "The future of any country lies in the hands of its young people. But most of the young people see politics as a dirty game and filled with corruption. India is the second largest country in population in which 70 percent are youth. If we guide our youth in a right way, then India would definitely become world number one within no time in every sector. In the present politics, 90 percent of the leaders are above the age of 50, and it is not a good sign for a developing country.
We must encourage youth to involve in politics by providing them opportunities," When asked about whether he would contest in politics as an awardee of 'Outstanding Youth Delegate', Akhilesh said, "To recognise and realise the needs of youth, young people must actively and meaningfully be involved in democratic practises. With the current political situation in the state, I would like to contest for the legislative assembly if given chance under the leadership of any leader in the Telangana state," He concluded that he would like to expand his 'Goals on Wheels' initiative all over India to achieve the SDGs as early as possible.
Interested in blogging for thehansindia.com? We will be happy to have you on board as a blogger.