Parties adopt new strategies in selecting candidates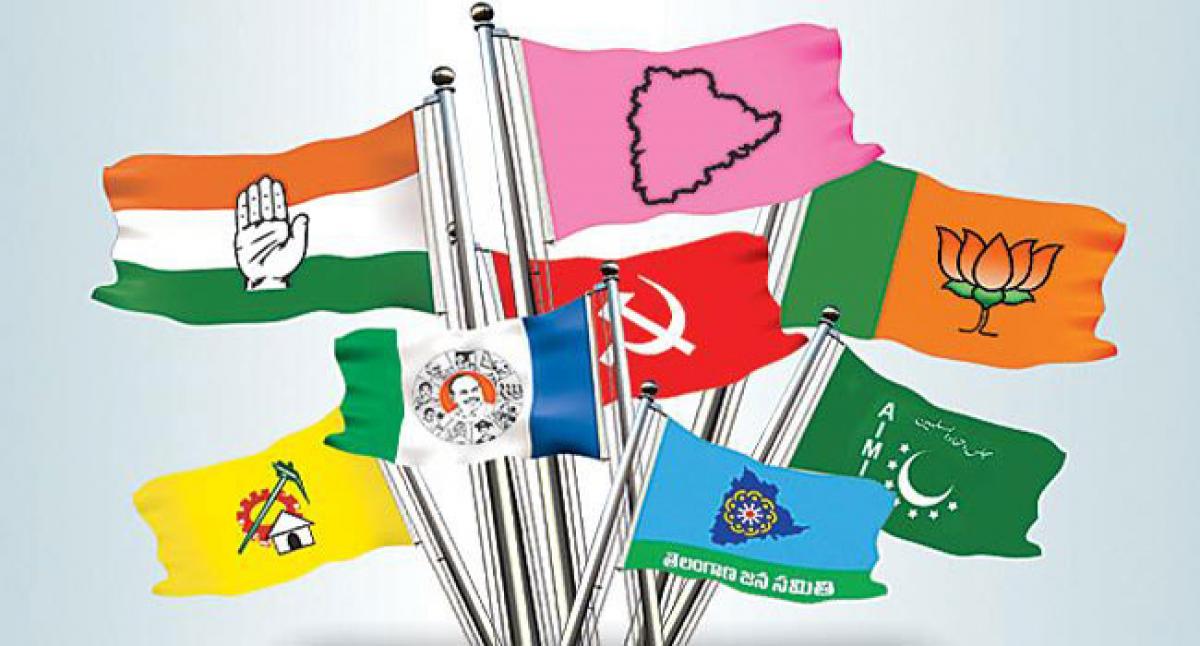 Highlights
Political parties in the State are adopting stringent guidelines and chalk out new strategies in selecting candidates The parties have been pursuing the process to win the elections by any means
Khammam/ Warangal/ Karimnagar: Political parties in the State are adopting stringent guidelines and chalk out new strategies in selecting candidates. The parties have been pursuing the process to win the elections by any means.
The TRS has taken the lead in announcing the first list of candidates after conducting several surveys and decided not to change the candidates already announced. The Congress, BJP, TDP and Left parties are expected to announce candidates in a week after deciding to go it alone or forging an alliance among themselves.
The sources in the Congress party said several District Congress Committee's (DCC) are rocked by groupism. Several party leaders, who have following of their own, were fielded in the past.
But now, the State party leadership is believed to have streamlined the process of selecting candidates and thus burying the culture of groupism in the party. The party is likely to field those who won in the previous elections and those who are influential in their respective constituencies.
Meanwhile, the BJP party starting its election campaign on a grand note in Mahbubnagar district. It is all set to take on the TRS by adopting a new strategy. BJP party National President Amith Shah along with other top leadership will select candidates for all 119 constituencies in consultations with the local leaders.
On the other side, the Telangana TDP party backed by its national president and Andhra Pradesh Chief Minister N Chandrababu Naidu is adopting new strategy by carrying out poll survey in the constituencies where the TDP cadre is strong by deploying the officials of intelligence wing from Andhra Pradesh for finalising the list of candidates.
The Left parties which contested unitedely until 2009 elections are making efforts to establish their own identity. The CPI is trying to join in the grand alliance and is waiting for seat-sharing agreement.
The CPM party, which has gained strength in the recent times with the programmes like 'Mayapada Yatra' led by the State Secretary Thammineni Veerabhadram is trying to contest in all 119 constituencies under the banner of 'Bahujana Left Front, a group which has been formed with the union of 28 people's organisations. It is now busy in selection of candidates who can give tough fight.
Political analysts say, "The electoral reforms that have come into play over the last two decades made it imperative for political parties to elicit adequate information on the background of a candidate with winnability of the person in the elections being one of the very many factors." It is, however, a sad reflection that those with financial clout, are still considered as suitable candidates to fight the elections.