KCR has no respect for women: Surekha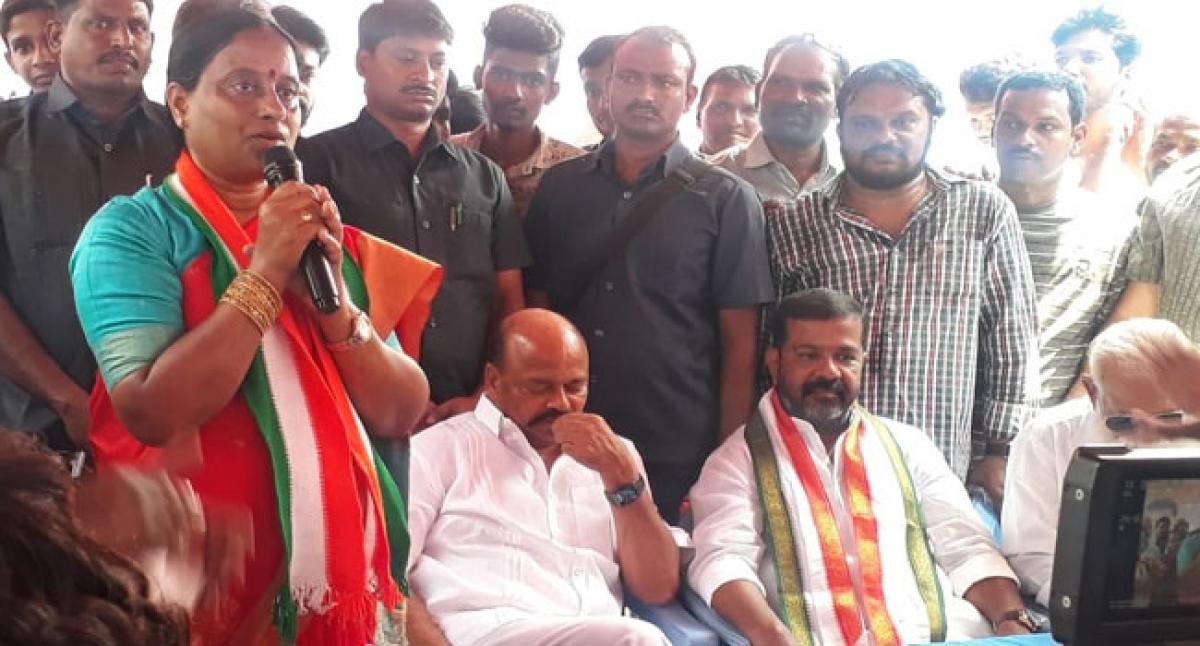 Highlights
TRS chief K Chandrashekar Rao needs to respect women, former MLA Konda Surekha said Addressing a gathering at Rangampet here on Sunday, she launched a scathing attack against KCR accusing him of insulting women She along with her husband and MLC Konda Muralidhar Rao and Warangal District Congress Committee President Naini RajenderReddy participated in the partys flag hoisting ceremony
Warangal: TRS chief K Chandrashekar Rao needs to respect women, former MLA Konda Surekha said. Addressing a gathering at Rangampet here on Sunday, she launched a scathing attack against KCR accusing him of insulting women. She along with her husband and MLC Konda Muralidhar Rao and Warangal District Congress Committee President Naini Rajender Reddy participated in the party's flag hoisting ceremony.
"KCR needs to explain why he didn't accommodate even a single woman in his cabinet. Moreover, KCR humiliated me without offering Warangal East ticket to me. This shows the attitude of KCR towards women," Surekha said.
She said that people, who are watching the TRS government's failures, will teach a fitting lesson to KCR. Referring to Praja Ashirvada Sabhas of TRS chief, she said that these rallies are only meant to criticise Congress. KCR, who once hailed Sonia Gandhi as goddess, is now mincing no words to abuse her, Surekha said.
It's time for KCR to explain why he had gone for early polls even though his government has opportunity to rule the State for about nine months, she demanded. TRS chief, who totally failed to fulfil his promises, is trying to hoodwink the people, she added.
"KCR family is the only beneficiary of Statehood fruits. In the name of construction of irrigation projects and their redesigning, KCR family members looted the people's money," Surekha said.
Referring to Warangal DCC President Naini Rajender Reddy, she said that Reddy has a clean record and a dedicated party worker. She expressed confidence that Reddy would easily win the Warangal West seat if he was given the ticket.
She urged the cadres to support Reddy, who has been with the constituency people. Speaking on the occasion, N Rajender Reddy accused the TRS leaders of creating terror among the Congress cadres by way of extortions and foisting false cases.
KCR, who had poll pact with the Congress in 2004 and Telugu Desam in 2009, is now questioning the sanctity of Maha Kutami (Grand Alliance), Reddy said. He said that TRS would bite the dust in the hands of Maha Kutami. Senior leaders M Sukumar, M Sarangapani, Rahath Parveez, Jameeruddin, Sangeeth Kumar, Azghar, Jyothi Prakash, N Sarala, N Kishan Kumar, N Laxma Reddy and B Sampath Yadav were among others present.