TRS can't stop my victory: Rajgopal Reddy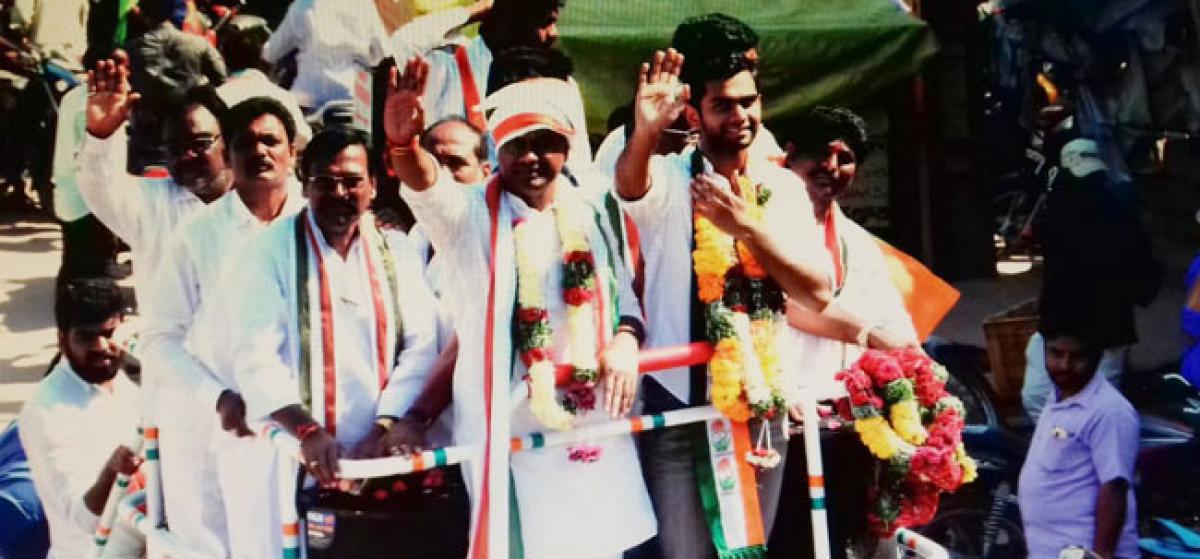 Highlights
MLC and Congress MLA candidate from Munugodu Assembly constituency Rajgopal Reddy stated that both Kalvakuntla and Kusukuntla cannot stop his victory from Munugodu constituency and predicated that KCR will take rest at his farmhouse after December 11
Choutuppal: MLC and Congress MLA candidate from Munugodu Assembly constituency Rajgopal Reddy stated that both Kalvakuntla and Kusukuntla cannot stop his victory from Munugodu constituency and predicated that KCR will take rest at his farm-house after December 11.
On Thursday, he offered puja at Andhole Mysamma Temple located at Dandu Malkapuram village of Choutuppal mandal in Munugodu constituency and took blessings of the priests to win the seat with thumping majority in the forthcoming election.
Later speaking to media, he said KCR's failures and betrayal of all sections of people with false promises in last four years are going to become curse for in the elections.
He exuded confidence that Congress, which carved Telangana, will win all 12 Assembly seats in erstwhile Nalgonda district the elections. He predicted that after elections, TRS nominee from Munugodu constituency Kusukuntla Prabhakar Reddy will spend his rest of life at home with pension.
Meanwhile, party workers took out a huge rally on his arrival to Choutuppal. He participated in party workers meeting held at Lakkaram village of Choutuppal mandal. In this programme , local party leaders, Rajgopal Reddy's son Sankeerth Reddy participated.