Deccani sheep on the brink of extinction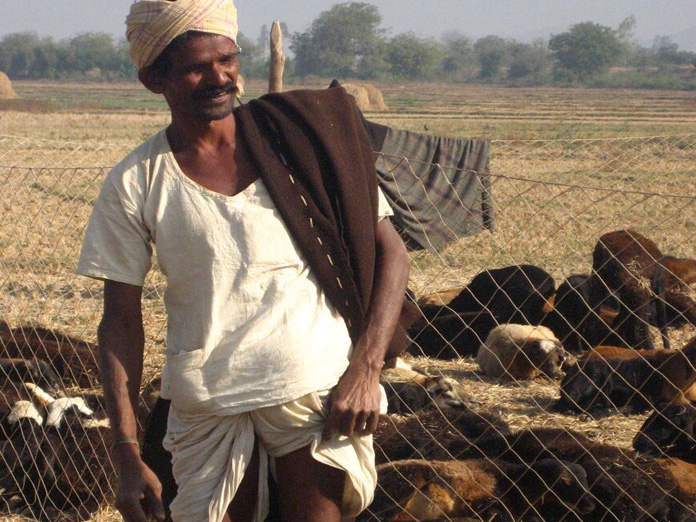 Highlights
The introduction of nonwool hairy mutton sheep breeds from coastal Andhra since the 90s is now resulting in the near wipe out of the Deccani breed, which patronises the craft of making gongadi a rug and thereby the livelihood of shepherds who have been practising the craft for hundreds of years
​Sangareddy/ Medak: The introduction of non-wool hairy mutton sheep breeds from coastal Andhra since the 90s is now resulting in the near wipe out of the Deccani breed, which patronises the craft of making gongadi -- a rug and thereby the livelihood of shepherds who have been practising the craft for hundreds of years.
The Telangana government sanctioned Rs 398 crore for sheep breeding and to bring non-indigenous breeds from neighbouring states resulting in the decline of the Deccani breed. Shepherds have been demanding the government to give them Deccani breed sheep but to no avail.
Yadagiri Gunda, member of Deccani Gorrela Mekala Pempakadharla Sangham (DGMPS) says, "We submitted a proposal to the Animal Husbandry department to utilise the central government grant to support wool production. Despite several rounds of dialogue between 2014 and 2016, the department returned the unutilised funds."
The number of Deccani sheep is dwindling by the day. The members of DGMPS say that the population could be around 40,000 and there are just 14 active weavers in the sangham. Only 30 out of 100 shepherding castes (Kurma/ Golla) in a village are continuing rearing sheep and the skill of weaving too is waning. The emphasis on pushing red sheep for meat and exports is affecting the gongadi-makers. The last time a survey was conducted in 2010, the Deccani sheep population stood at 6 lakh.
Today, the number has fallen to just a lakh in the state with a majority of the sheep in Sangareddy and Medak. Dr Sagari R Ramdas, veterinary scientist, who is an advisor to DGMPS, avers, "Deccani sheep or nallagore as it is known needs to graze on pastures. The new-found enthusiasm for stall grazing will not help." Fashion designer Meghna Rout says, "The gongadi is unique in more ways than one.
It can be used as a rug, wall hanging and could be placed anywhere to add value to a space. What is more, the colour does not fade and on the contrary deepens over time as it is a natural colour of the sheep." She adds, "The gongadi was once used by the Armed Forces, the government should revive the gongadi by giving orders to the armed forces and give a new lease of life to the shepherds."