Gadkari warns party cadre against oppn propaganda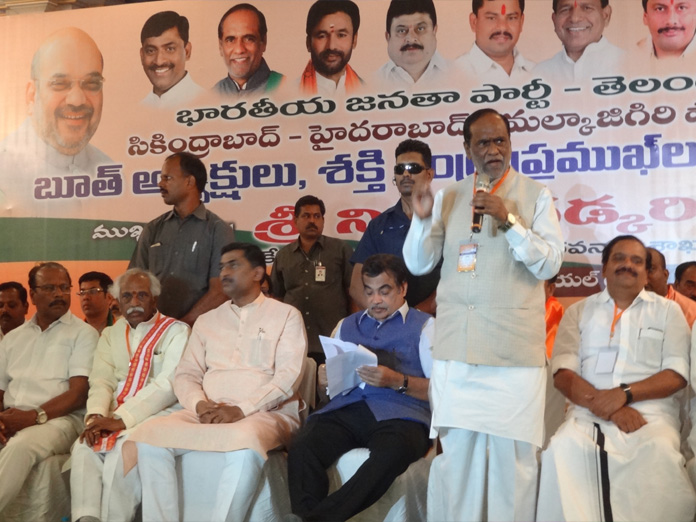 Highlights
Union Minister Nitin Gadkari on Tuesday asked the party cadre to work with selfconfidence for the ensuing Parliament elections in Telangana as people are ready to bless the party
​Hyderabad: Union Minister Nitin Gadkari on Tuesday asked the party cadre to work with self-confidence for the ensuing Parliament elections in Telangana as people are ready to bless the party.
Addressing the party in-charges of polling booths and Shakti Kendra's at a private function hall in Secunderabad, he said the 21-century politics is meant to make India a super power. And, "The BJP has been working for the same with equal respect for all and providing good governance to all, irrespective of region, language, community and faith," he said.
The Centre provided 10 per cent reservations to address the economic inequalities among the people, Gadkari said, adding that "the BJP government is mulling to increase the annual health coverage under Ayushman Bharat to Rs 10 lakh, from the existing Rs 5 lakh."
Listing out the development works taken up after BJP formed government at the Centre, he said, under the guidance of Prime Minister Narendra Modi the country has been developing at fast pace. Daily construction of roads touched 18 kms brining marked change in the country and the post offices have been converted into a banking system.
Women were not only provided with gas connection under Ujwal Yojana but also, provided double LPG cylinders in last five years, besides, electrification of houses. However, "We realized doing good works also brings a number of enemies to us." And, the opposition parties unleashed propaganda that Muslims would be sent to Pakistan if Modi comes to power. They tried to create a rift between Adivasis and Dalits.
Those who had never on good terms even greeting each other are forming alliances against Modi. The opposition parties' alliance means that development would not be on the agenda in the ensuing elections, he said. While the State Assembly elections in TS were about who should be elected to run the State, the ensuing Lok Sabha elections are about who should come back to Delhi.
However, he cautioned the party cadre about politics which will play to confuse people. BJP State president Dr K Laxman, party general secretary P Muralidhar Rao and other senior party leaders among others attended the meeting.